Pleasantly soft and full of fruit flavours, these dried fruit cookies are the best morning or afternoon breakfast during the winter! If you are looking for a cookie recipe to prepare for Christmas or simply want to enjoy some more interesting cookies with your coffee or tea, I recommend you to try these ones.
I love the winter holidays almost as much as I dislike the winter. There is nothing more depressing for me than the cold, the short days and the lack of sun. Sometimes I wish I could fall asleep on January 1st like a bear and wake up only in March or whenever the weather is good again… Unfortunately sleeping is not among my virtues and even if it was I don't have the luxury of doing it for so long. That's why normally in January and February I just keep quiet and comfort myself with cakes whenever I have time to bake them.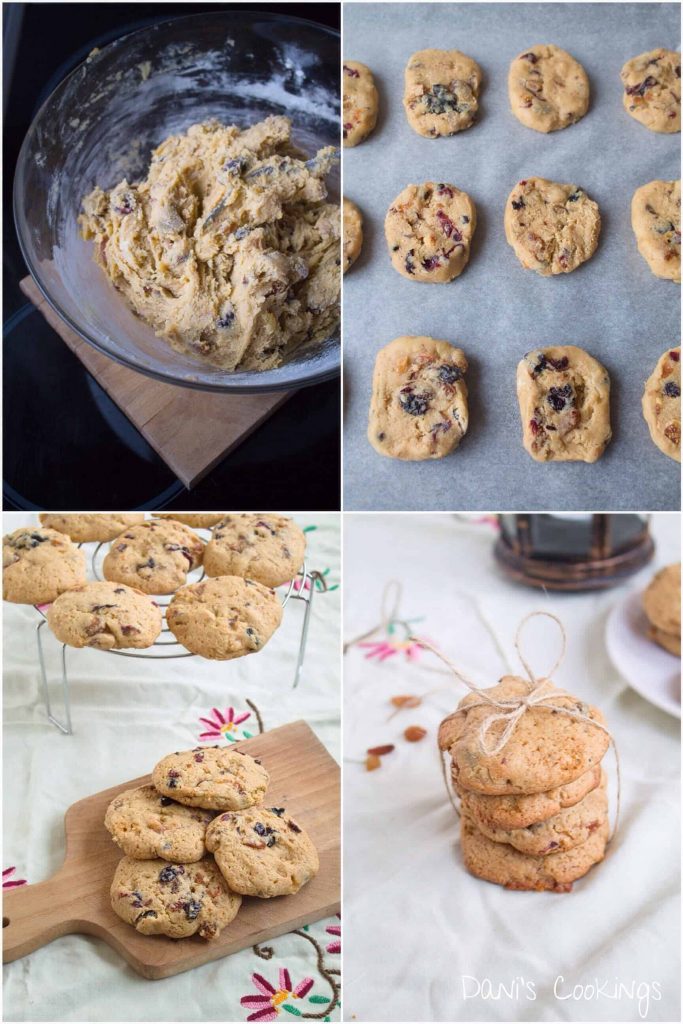 But it is still December, so today I have prepared for you a recipe for dried fruit cookies that would make you happy for Christmas and would comfort you in January (in case you need a comfort like me J). These are the most aromatic cookies that you could imagine: full of dried cherries, cranberries, figs, dates and raisins, everything well soaked in morello cherry liquor. Pure joy in every bite!
I must confess that before preparing them, I was expecting something different from these dried fruits cookies. My initial idea was to make them similar to biscotti: a bit harder and crunchier. This didn't happen, as I realized soon, but actually the result was much better than my expectations. The cookies became soft and incredibly tasty!
This cookies could work also as a great Christmas gift idea for friends and family. Just put them in a large and pretty jar and the present is ready!
Dried fruit Cookies
Ingredients
½ cup / 100

g

butter

,

soft

2 cups/ 250

g

flour

3/4

teaspoon

baking powder

1/3

teaspoon

salt

1/2 cup / 100

g

brown sugar

1/3 cup/ 50

g

powdered sugar

2

eggs

3

dried figs

5

dates

1/8 cup / 30

g

dried cherries

1/4 cup / 30

g

raisins

1/3 cup / 30

g

dried cranberries

1

tbs

honey

3

tbs

cherry liqueur

1

teaspoon

orange zest
Instructions
Chop all the dried fruits and place them in a bowl. Add honey and morello cherry liqueur and stir. Cover with a plastic wrap and let stay overnight or for at least 4 hours.

In a bowl combine flour, baking powder and salt and stir to blend.

In a large bowl cream butter, brown sugar and powder sugar. Add eggs and orange zest and beat until homogeneous. Gradually add the dry ingredients, mixing with a spatula just until absorbed. Carefully fold in the soaked dried fruits, including any remaining liquid.

Wrap the dough in a cling film or baking paper and let stay in the fridge for at least 2 hours.

Preheat oven to 360 degrees F/ 180 degrees C. Line 2 large baking pans with parchment paper. Roll balls out of the dough and flatten them a bit. Place the cookies on the baking sheet with enough space in between. Bake for about 15 minutes or until the edges of the cookies start getting brown. Remove the pan from the oven and let the cookies cool for 5 minutes before transferring them to a wire rack.
Notes
The quantity of the flour is approximate. You might need a bit more than that, depending on how dry are the fruits.
Keep the cookies in airtight container. They should remain good for at least 1-2 weeks.