If you have never tried a dessert made out of pumpkin, you probably don't even realise what you have been missing until now! And I am not referring to cooked or baked pumpkin chunks with sugar which some people (including me) honestly dislike. I am talking about the delicious desserts made with pumpkin puree: pies, cheesecakes, tiramisu and even layer cakes! Yes, you surely won't believe how delicious could be a layer cake made out of pumpkin!

Last year at around this time I made my miracle Pumpkin Tiramisu and I was simply amazed by its taste. As the pumpkin season approached this year, I decided to go one step forward and to prepare a luscious six layer pumpkin cake with pumpkin mascarpone frosting. Of course, the decoration of this cake also had to be appropriate so I made several little marzipan pumpkins. And believe me, pumpkins are one of the easiest figures you can make out of marzipan! If you are still suspicious, check below the photos with instructions how to make the same ones on your own.

The special thing about this cake is that it is very moist and aromatic. I added a little bit of pumpkin spices to the batter but I didn't miss the vanilla. In addition the rum extract in the frosting is bringing a great finish. All the flavours are combined in a wonderful way, making this cake a real pleasure for the palate!

It is very important that you don't miss any of the spices as this will certainly make the cake slightly less flavourful. If you don't have rum extract and the cake is not going to be consumed by kids, you can enhance its flavour with real rum instead.

One thing about the decoration: don't place fondant figures on that frosting! This is a very important point to keep in mind and here is the reason why: fondant is made almost completely out of sugar and we all know that sugar melts in water. That's why we use fondant only on top of buttercream frosting or chocolate ganache, as they are greasy enough to isolate the moisture. Another option is to use fondant directly on solid baked goods like cookies and muffins, but they should not have any frosting. On the other hand marzipan contains almond flour so it is in fact a solid product, therefore a bit of moisture will not melt it. In my case I left the cake in the fridge together with the decoration for several days. The little pumpkins became kind of wet on top due to the moisture in the fridge but didn't melt and the food colouring did not dissolve around.

Make your autumn celebration a great success with this luscious Pumpkin Layer Cake with Mascarpone Frosting! And if you don't have a reason to celebrate, here is one: it is fall and pumpkins are everywhere on the markets! And don't forget to share with me your experience from the recipe. I am always happy to hear from you 🙂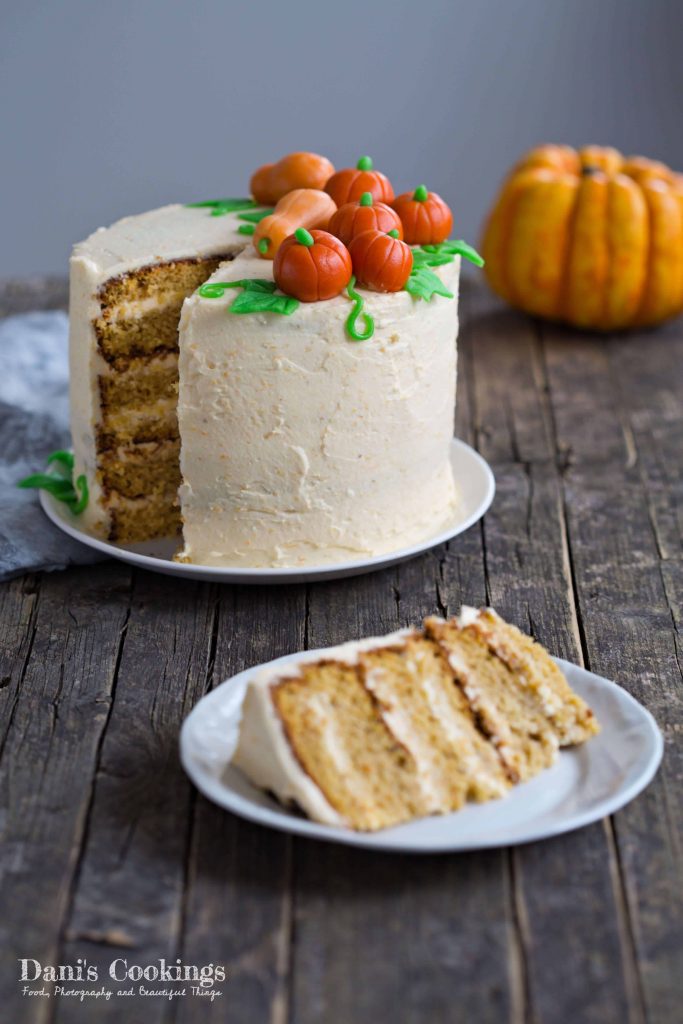 Pumpkin Layer Cake with Mascarpone Frosting
Ingredients
For the cake:
4

eggs

150

g

sugar

150

g

brown sugar

300

g

self raising flour

3/4

teaspoon

baking powder

1/3

teaspoon

salt

1

teaspoon

vanilla extract

250

g

pumpkin puree

1/2

teaspoon

ground cinnamon

1/3

teaspoon

ground ginger

1/4

teaspoon

ground nutmeg

120

ml

sunflower oil
For the decoration:
200

g

marzipan

orange and green food colouring
Instructions
Cake:
Preheat oven to 180 °C (350 °F). Line the bottoms of two 18 -20-cm (8-inch) cake pans with circles of baking paper and then grease them well.

In a bowl combine flour, baking powder, salt, cinnamon, nutmeg and ginger and set aside.

In a large mixing bowl beat eggs and the two kinds of sugar at high speed for about 10 minutes, until the mixture thickens. Add oil and beat for 2 more minutes. Add pumpkin puree and vanilla and beat shortly, until combined.

Using a rubber spatula fold the dry ingredients into the mixture. Continue mixing gently until all the flour is absorbed

Divide the batter between the two prepared pans. Bake for 45 to 50 minutes or until a toothpick inserted in the centre comes out clean. Let the cakes cool for 10 minutes in the pans before removing them. Transfer to a wire rack to cool completely. When the cakes reach room temperature, refrigerate for few hours before cutting them.
Frosting:
In a large bowl beat together mascarpone, powdered sugar, rum extract and pumpkin puree until all ingredients are well combined and the mixture becomes creamy.

In a separate bowl whip the cream until very thick.

With a rubber spatula carefully add the whipped cream to the mascarpone mixture. Fold gently until the two are combined.
To assemble and decorate:
With a long serrated knife cut horizontally each cake into 3 equal layers. Place one layer on a cake stand or on a serving plate and cover with some mascarpone frosting. Place another layer on top. Continue the process until finishing all the layers. Cover the cake all around and on top with the rest of the mascarpone frosting. Decorate with marzipan pumpkins - see photos below for instructions how to make them.