Have you ever heard of Tutmanik? This is a kind of breakfast bread popular in my country. It has many varieties but this particular recipe is among the nicest and easiest cheese breads you can make at home from scratch!

For some reason in the first days of the new year I started craving Tutmanik. You might have noticed that apart from sweets I love savoury breads as well. However this particular kind of bread got stuck into my head for several days and I just had to make it in order to satisfy my craving!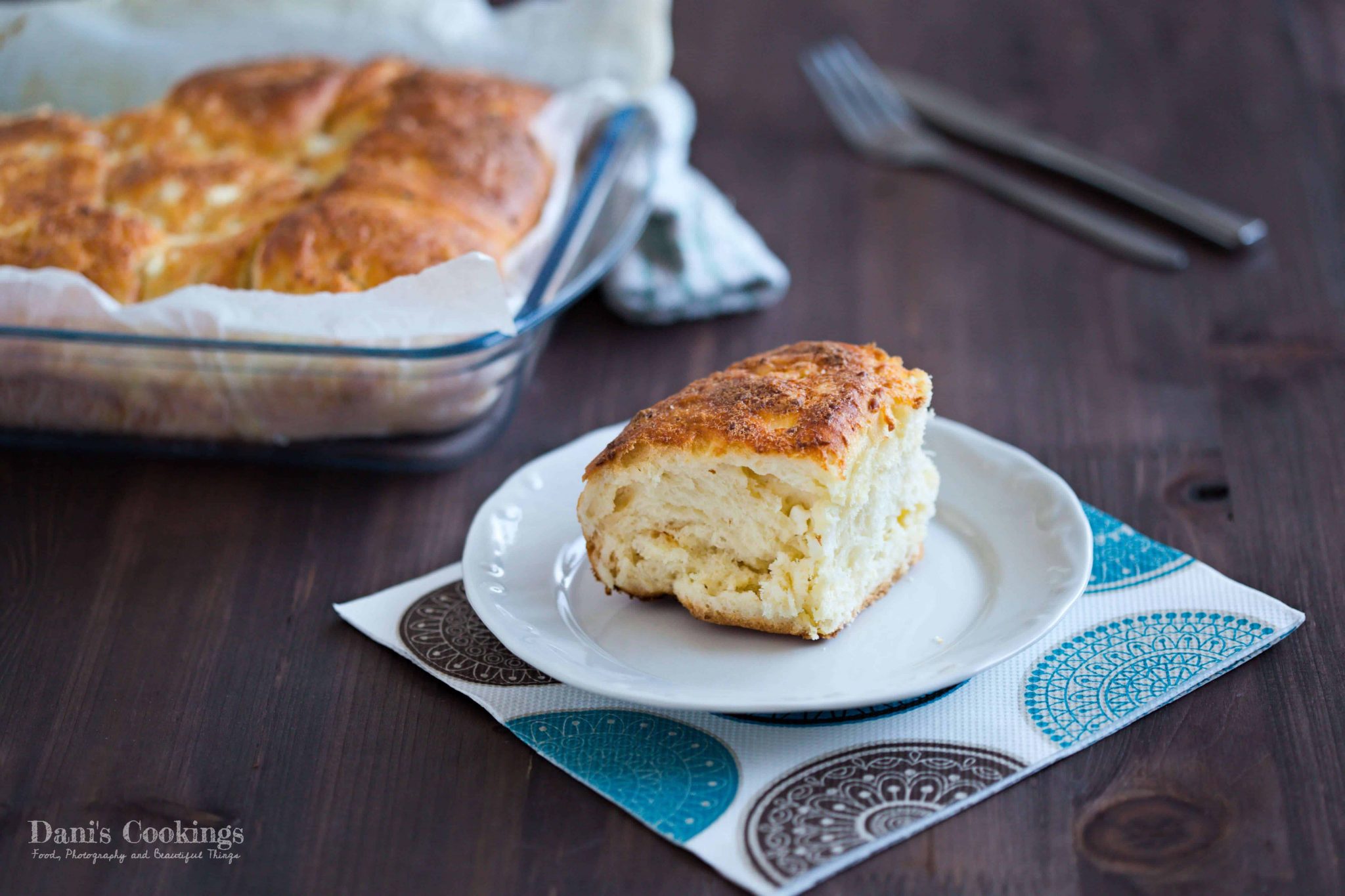 I baked it on the same day when I was also preparing not one but two cakes! As you can imagine, I didn't have much time to spend on the bread so I had to choose an easy enough and straight forward recipe. I didn't even have time to search for a particular one so I simply followed my inner feelings.

And so I made a kind of a "lazy" Tutmanik (as we tend to call dishes and bakes that require little effort) but still fluffy and tasty. After preparing the dough and letting it raise, you simply need to make several balls out of it with greased hands, then to mix each one with cheese and to arrange them tightly on the baking pan. The very important moment here is that your hands must be greased well with melted butter as the dough would be very soft and sticky.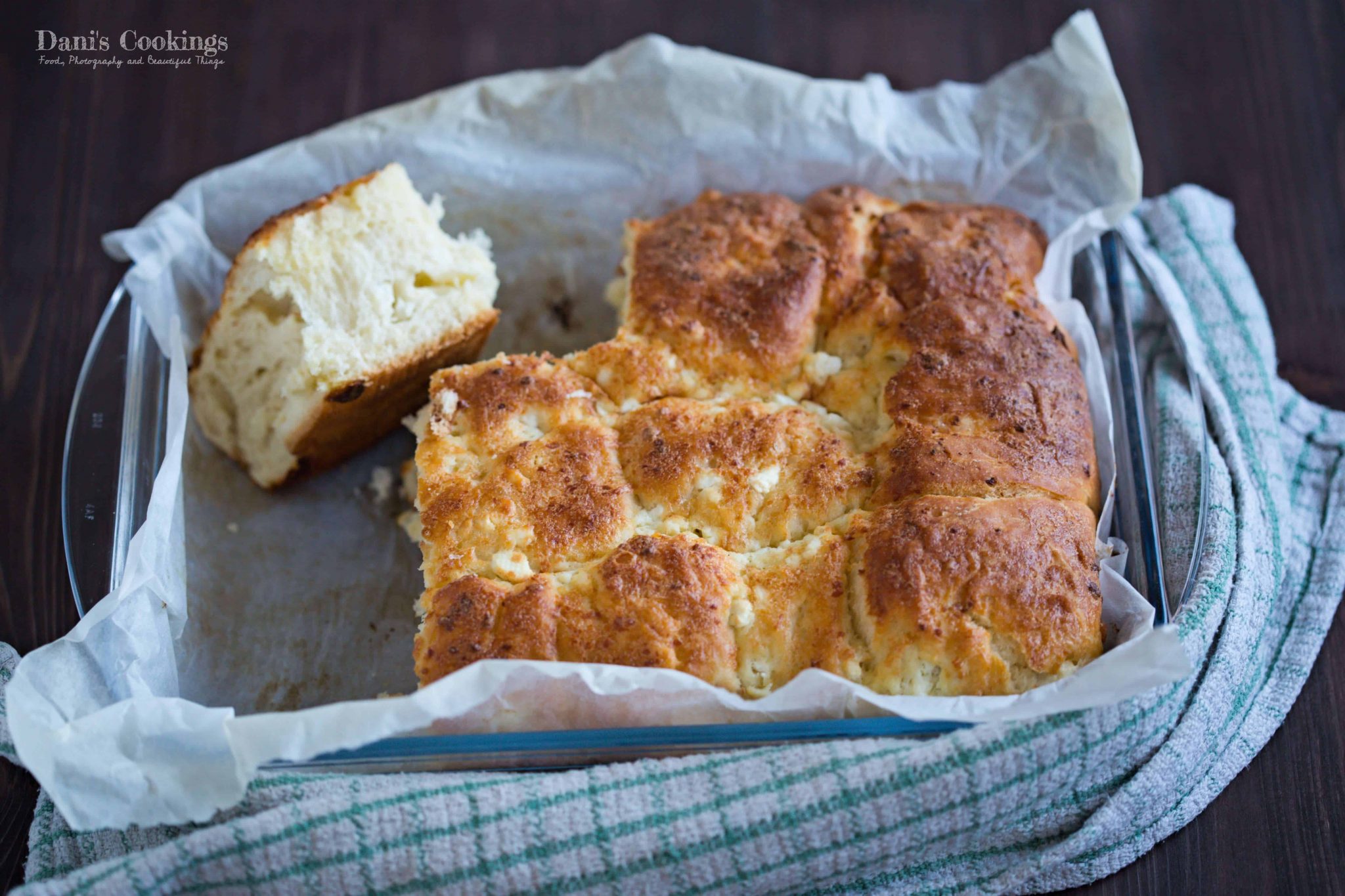 When the balls are arranged on the pan, it is only about waiting half an hour for the dough to raise a bit more and then baking it. Oh, and of course, before that you need to spread on top any remaining butter and cheese, mixed with an egg. That's how you create the yummy crust.

If you like breads with white cheese, you will certainly love this recipe! It is normally made with Bulgarian white cheese, which is similar to feta, but you can also prepare it with feta, cottage, ricotta or any other cheese which can be easily broken into small chunks.

If you want to see more recipes of savoury bakes, check also my fluffy Ham and Cheese Bread Rolls and the delicious Cheese and Olive Breads
Easy Cheese Bread (Tutmanik)
Ingredients
100

ml/ 1/2 cup

milk

,

warm

7

g

1 pack active dry yeast

1

teaspoon

sugar

3

eggs

200

g/ 7/8 cup

plain yogurt

1

teaspoon

salt

,

+ 1/2 if the cheese is not salty

3

tbs

vegetable oil

500

g/ 4 cups

all purpose flour

250

g/ 1/½ cup

feta cheese

,

or cottage, ricotta and similar

70

g / 1/3 cup

butter

,

melted
Instructions
In a cup combine warm milk, sugar and yeast. Stir and cover with tea towel or kitchen paper. Let stay for for 5-10 minutes until foamy.

In a large bowl beat 2 eggs shortly. Add the yeast mixture, yogurt, 1 teaspoon salt and oil and whisk until combined. Gradually add the flour, mixing gently with a wooden spoon or with the dough attachment of the mixer at a low speed, until the whole quantity is absorbed.

When a soft dough forms, cover the bowl with tea towels and leave it in a warm place for 1 h or until it doubles its size.

Line the bottom of a rectangular baking pan (approximately 19x29 cm) with a sheet of parchment paper.

Break the cheese into crumbs (if needed). If it is not salty, add 1/2 teaspoon salt and stir.

Grease your hands with the melted butter and start taking small pieces out of the dough. Extend one piece in your hands and put some cheese on top. Cover the cheese by folding the dough and then knead the dough in your hands to distribute the cheese around it. Extend the dough again and place some more cheese on it. Distribute again the cheese into the dough. Shape the piece as a ball, grease it well and place it on the prepared pan.

Repeat the process until using all the dough and until the pan is filled with tightly arranged dough balls. Set aside any leftover cheese and butter.

Cover the pan with baking paper and then with tea towels. Leave the pan in a warm place for 30-60 minutes until the bread increases its size.

Preheat oven to 200 degrees C (400 degrees F). Bake the bread about 30 minutes covered with parchment paper. Remove the paper and bake uncovered for another 10-15 minutes or until golden brown.

Let cool for 10-15 minutes covered with tea towel before serving.