Enjoy two of the best summer fruits with this eggless Peach Raspberry Tiramisu! It is full of wonderful flavours which will give you a great taste experience.

This year July was a very hectic month for me, unlike previous years. Too many things happening at work and too little time to enjoy summer. Actually this summer is very rainy and even cold which is also unusual here…Last but not least my son got quite sick for more than a week which I found almost shocking – I thought kids don't catch viruses in the summer, or at least not as bad as the winter ones. That added more to my tiredness and increased my need to get some rest.

But despite the challenges, it is still summer and that is really great! It's the best season for me: long days and warm nights. Everywhere you find juicy fruits… This year my number one fruit is her majesty The Peach. Not that it is my most favourite (I love all summer fruits), it's just that this year somehow it went into my culinary focus.

Having in mind my love of Tiramisu, I decided to make one with peaches. But later I thought that the peach flavour needed something additional to enhance it. Raspberry was the natural choice for me as I love raspberries so much… In fact the current dessert is very similar to the Apricot Tiramisu with Blueberries from last year but this time for a change it is made in a rectangular pan.

If you never combined peaches with raspberries, you will miss the fantastic taste combination they bring together! The mascarpone cheese and marsala wine compliment them additionally, so the overall experience is really great. And if you don't find marsala wine, you can get creative and use other flavoured liquors: cognac, port wine or amaretto could go well. Just don't forget that this dessert is meant for adults as it contains coffee and alcohol.

This Peach Raspberry Tiramisu is not complicated to make. Same as other tiramisu recipes, the longest and most challenging part is letting it stay in the fridge for 6-8 hours or overnight before serving. Don't believe it? Try making it and I will be very glad if you share your experience with me 🙂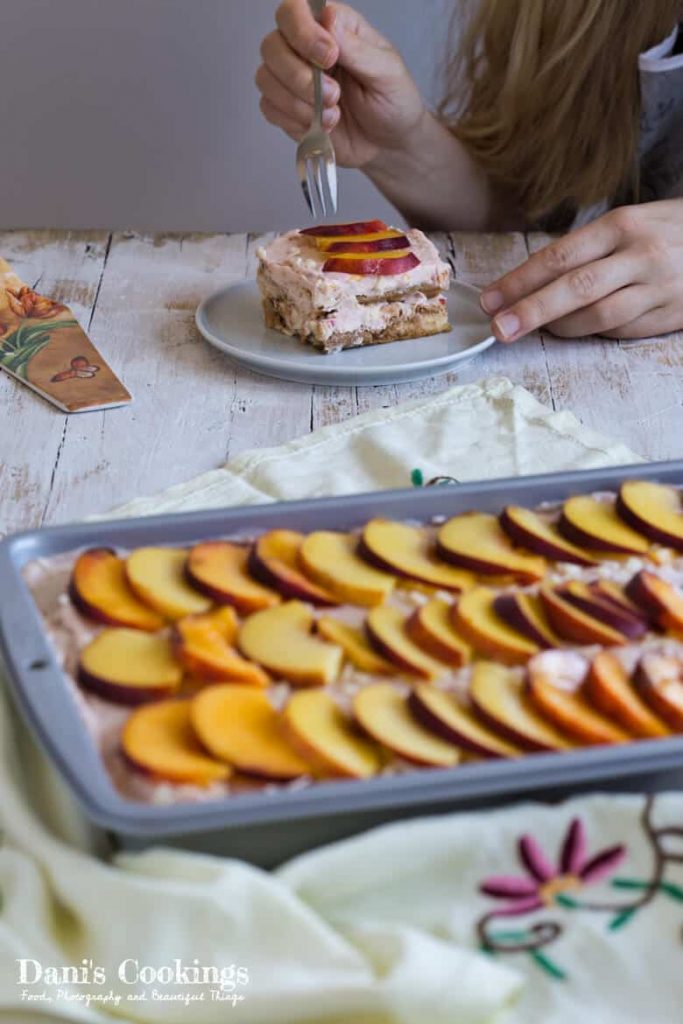 Peach and Raspberry Tiramisu
Ingredients
2

medium peaches

,

peeled and chopped

1

tbs

brown sugar

150

g

1 cup raspberries

3

tbs

marsala wine

100

g

7/8 cup powdered sugar

44-48

ladyfingers

150

ml

2/3 cup strong coffee

60

ml

4 tbs milk

60

g

1/2 cup grated white chocolate (optional)

To decorate: 2 sliced peaches
Instructions
In a small saucepan combine peaches, sugar and 1 tbs marsala wine. Place it over medium heat, stir occasionally and bring to boil. Lower the heat and let simmer for 4-5 minutes to thicken a bit. Shortly before removing the pan from the heat, add the raspberries and stir until combined. Let the mixture cool until room temperature before using it in the frosting.

In a large mixing bowl using an electric mixer beat together mascarpone and powdered sugar. Little by little add the fruit mixture (cooled until room temperature). Continue beating until absorbed.

In a soup plate combine coffee, 2 tbs marsala wine and milk. Stir until homogeneous.

Dip shortly the ladyfingers in the coffee mixture and arrange them on the bottom of a rectangular pan. Spread some of the frosting on top (depending on how many layers you will be making it can be 1/2 or 1/3 of the whole quantity). Optionally sprinkle some grated chocolate over the frosting. Continue the same process until using all ladyfingers and frosting.

Cover the pan with film or with aluminium foil and transfer to the fridge. Let sit for 6-8 hours or overnight.

Decorate with peach slices before serving.
Notes
I used 33 x 23 cm /13 x 9 inch pan and managed to make 2 layers with 2 lines of ladyfingers. If you have a pan with different dimensions, you can make a different arrangement. Consider cutting some of the biscuits if they don't fit in the pan.