If you want to bake a cake for someone's special occasion, this Easy Heart Shaped Cake is the perfect option. It is good looking, simple and has a fantastic taste!

As you can imagine, I always prefer to bake birthday cakes, instead of buying them. But usually my time is limited, so sometimes the store bought cakes are the only option. Not surprisingly, they often disappoint me… And so this year I decided that I would make a cake for my mom's birthday, despite of being quite busy around that time. I had to find the perfect recipe for the occasion: simple and delicious at the same time.

I found an interesting cake recipe in one of the dozens of cookbooks in my library: Peccati di gola – Irresistibili dolci al cioccolato (if you didn't know, I am a cookbook junkie). I liked it because it was relatively simple and yet quite intriguing. I adapted it for my needs, baked the cake in a heart shaped pan (the first time I used that pan!) and eventually it turned out really wonderful!

The cake base is gluten free. Starch is used instead of flour. It makes the consistency really light and airy. In terms of the starch used, I can recommend tapioca and potato starch, but cornstarch would work as well. The best would be to use two different kinds together.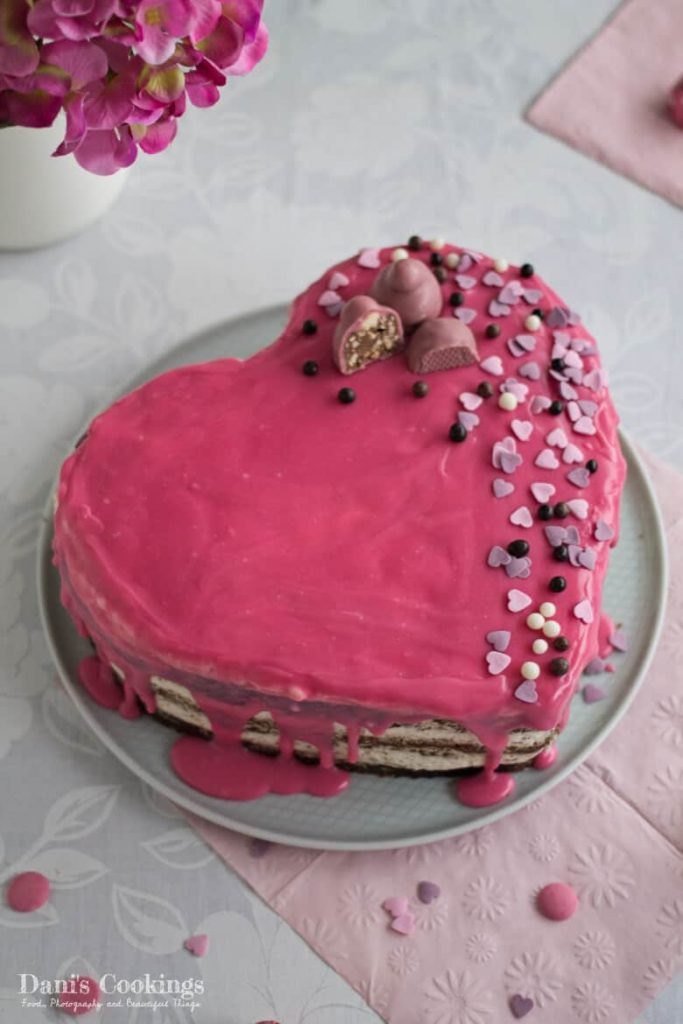 Nobody from my family has gluten intolerance (at least we are not aware of such) but gluten free baking has become quite an interesting topic for me recently. The fun part is to find "gluten substitutes" or the best way to avoid your product getting disintegrated after baking. Gluten is the main binder in the dough, it is what makes it elastic. Starches, on the other hand, have a similar ability – they keep the moisture and help to bind the ingredients together. But still, the baked goods made with starch are gluten free so it is a bit easier to break them into crumbs. That's why it is required the cake to be refrigerated before cut into layers – cutting the cold cake will be much easier.

This Easy Heart Shaped Birthday Cake has the easiest frosting and glaze you can imagine! It looks great decorated with sprinkles and candies but you can use your imagination and make it even prettier! In any case it will be definitely a hit!
Easy Heart Shaped Cake (gluten free)
Ingredients
For the cake base:
130

g

starch

,

potato, corn or tapioca starch

130

g

brown sugar

3

eggs

20

g

cocoa powder

2

teaspoons

baking powder

20

ml

olive oil

,

or other vegetable oil

2

teaspoons

vanilla extract
Instructions
Cake Base:
Preheat oven to 180 degrees C (350 degrees F). Line a 1,5 l heart shaped pan with a sheet of baking paper and grease well on top (if your pan is made of silicone, the paper is not necessary).

In a bowl combine starch, cocoa powder and baking powder and stir.

In a large bowl using an electric mixer beat sugar with 3 yolks and 1 white for 5-6 minutes, until thick and creamy. Add olive oil and vanilla and beat shortly again.

Wash and wipe the beaters of the mixer and beat separately the last egg white in another bowl until thick foam.

Using a rubber spatula gradually fold the dry ingredients into the eggs and sugar mixture. At the end fold in also the egg yolk.

Pour the batter into the prepared pan. Bake for 30-35 minutes or until a toothpick inserted in the centre comes out clean. Let the cake cool until room temperature, then wrap it in cling film and transfer to the fridge for at least 2 hours.
Frosting:
In a large bowl beat all ingredients until thick and creamy.

To assemble the cake:

Cut the refrigerated cake base into three equal layers. Place one layer on top of a serving plate and generously cover it with the frosting. Continue the process until using all layers. Make sure you have enough frosting to fill all the holes between the layers and a bit for the top and the sides. Refrigerate the cake for 6-8 hours or overnight. Cover with the glaze shortly before serving.
Glaze:
Melt the chocolate on a double boiler and add food colouring and milk. Stir well until combined. Wait few minutes, until the glaze cools down a bit and spoon it on top of the cake.

Decorate with sprinkles and candies.