If you are looking for the perfect no bake dessert made from scratch with simple ingredients, this No Bake Cheesecake with Canned Apricots could be your best choice. It has a fresh summery taste but you can prepare it all around the year as it is made with canned apricots.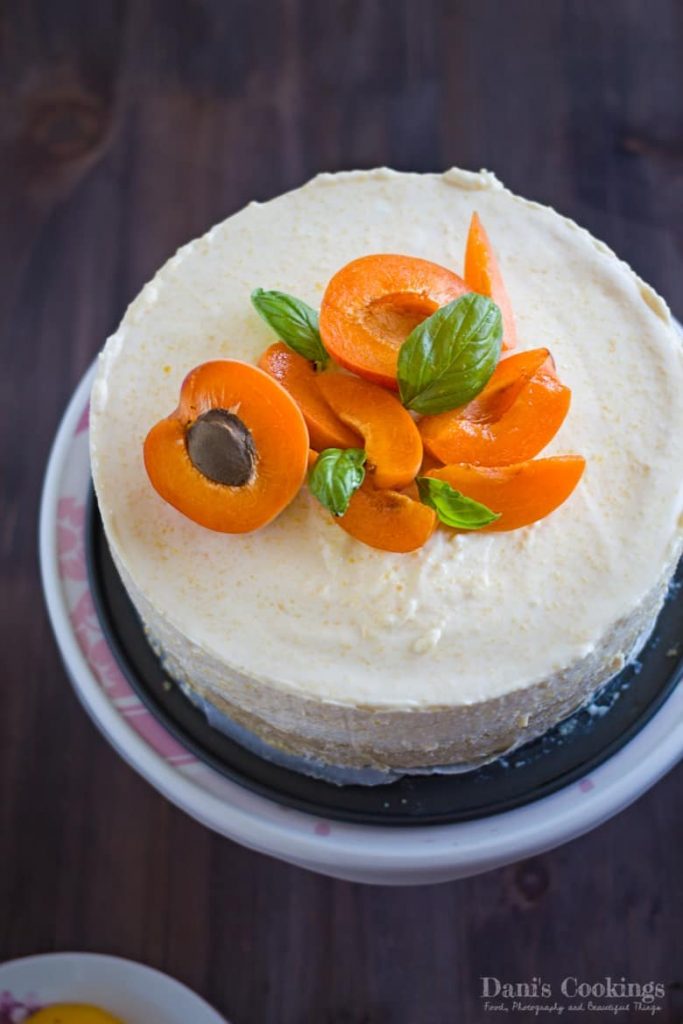 The secrets of a perfect No Bake Cheesecake
A no bake cheesecake is smooth, creamy but firm. It is made without baking so there should be some other way to make it firmer: usually gelatine, agar agar or melted chocolate. Alternatively you can prepare it just with cream cheese and heavy cream whipped to peaks, as the no bake cheesecake recipe Sally made: in this case the proportions are very important in order to obtain the perfect consistency. If you add fruit, however, gelatin is usually required.
In my view a no bake cheesecake should have a creamy and velvety consistency. This means to consider very well the quantity of the thickening agent.
Why make a cheesecake with canned apricots
I love desserts that are full of flavour. Apricots are a very flavourful fruit. They taste wonderfully even when preserved and you can always find canned apricots in every store. That's why when I decided to make a cheesecake with canned fruits, apricots were my first choice.
How to make a No Bake Cheesecake with Canned Apricots
First you need to prepare the crust by mixing all the ingredients and pressing them to the bottom of a spring form pan.
The filling is not hard to prepare if you follow the steps correctly. You can't just mix all ingredients together because you won't obtain a good consistency. For a velvety texture the cream is whipped separately and carefully added to the mixture of cream cheese, vanilla extract, powdered sugar and sour cream. The gelatin is dissolved in the liquid from the can and added to the filling. In addition the apricots are pureed and added separately to the filling at the end.

I made the cheesecake in two layers (white and orange), mixing the apricot puree with only half of the filling. But if you are not looking for the same effect, just add them to the whole mixture.
And don't overdo with the gelatin: too much of it will make your no bake cheesecake firmer but will make the texture jelly-like. I don't recommend that!
Looking for more apricot desserts? Check the selection below:
Soft Apricot White Chocolate Cookies
Apricot Tiramisu with Blueberries
Lemon pistachio cake with apricot frosting
Apricot Cake Roll
Loaf Cake with Dried Apricots and Date Frosting
No Bake Cheesecake with Canned Apricots
Ingredients
For the crust:
5,6

oz

graham crackers or petit beurre cookies

,

(160 g)

1/3

cup

butter

,

melted (70 g)

1

teaspoon

almond extract

2

teaspoons

vanilla extract
For the filling
1

can

,

15 oapricot halves in syrup (400 ml)

7/8

cup

heavy whipping cream

,

(200 ml)

18,5

oz

cream cheese,

(525 g)

2

teaspoons

vanilla extract

7/8

cup

sour cream,

(200 g)

1

cup

powdered sugar

,

(120 g)

1/3

oz

powdered gelatin

,

(10 g)
Instructions
Crust:
Line a 7 inch (18 cspring form pan with a circle of parchment paper.

In a food processor crush the graham crackers (cookieinto fine crumbs. Transfer them to a medium bowl and add butter, vanilla and almond extract. Mix well so that the butter covers very well all the crumbs.

Press the mixture to the bottom of the prepared cake pan. Transfer to the frizzer while preparing the filling.
Filling:
In a large mixing bowl whip the cream with an electric mixer at high speed until soft peaks form.

In another big bowl combine cream cheese, powdered sugar, vanilla extract and sour cream. Beat with an electric mixer until smooth and creamy.

Using a rubber spatula carefully fold the whipped cream into the cream cheese mixture.

Place the apricots (without the liquiinto a food processor and puree until smooth. Set aside.

Pour the liquid into a heatproof bowl (about 3/4 to 7/8 cuand add the gelatin. Let sit for few minutes to bloom. Dissolve the gelatin on a double boiler. Let it cool and then fold it into the filling.

Pour about half of the mixture onto the crust (you can skip this step if you want your cheesecake all with uniform colour, otherwise you will create a white and orange layers).

Add the apricot puree to the rest of the filling and pour it on top of the first layer.

Refrigerate for at least 8 hours or overnight.

Decorate with fresh apricots or other seasonal fruits.
Notes
Prefer the apricots in light syrup then the ones in heavy syrup as otherwise the cheesecake will be too sweet.
You can use up to 20 cm (8 inch) cake pans for the same quantity of ingredients, just beware that the cheesecake will have slightly lower height. For a 21-23 cm (8,5 -9 inch) cake pan, increase the ingredients with about 50%. Double the ingredients for a cake pan 24-26 cm (9,5-10 inch).