Hello and welcome!
I am Daniela: the author, photographer, writer and occasionally designer behind this blog. I like food and have a big sweet tooth.
This blog was born in 2012 as a natural consequence of my obsessive baking passion. Through the blog I discovered food photography which became аn even bigger obsession for me.
What you will find in Dani's Cookings
Classic baking recipes with sugar and all-purpose flour
Diet friendly options
Baking recipes with healthy ingredients
Dani's Cookings is celebrating the love of desserts in all their forms, for all tastes and diets. I care a lot about nutrition and at the same time I believe that healthy individuals should not quit permanently any food just because it is not the healthiest. My goal is to find the eating balance and to help people who like sweets to enjoy their life without feeling guilty or starve themselves.
My story
I have always been artistic but when I was young I didn't consider pursuing a creative career. I threw myself into learning languages: I studied English as a child, graduated in a Spanish secondary school and got a Portuguese Philology degree in the University.
Later I decided to enter the corporate world and for over 13 years I climbed the career ladder in a large multinational company. I changed different jobs there: customer support, training, quality control, team leadership, process design, project management and ultimately management of large multinational teams. I acquired a lot of skills and had the opportunity to work with many great people from different countries.
Despite my corporate success, at some point I started feeling that I was lacking creativity in my job. At the same time my blog was becoming more and more important part of my life. Ultimately I realised that my desire for creativity was so big, I couldn't help but make a new career out of it. And that's how I decided to leave my corporate job and become a full time Food Photographer, Recipe Developer and Educator.
More about me
In 2019 I published my first Cookbook in Bulgarian. I am currently working on the English version.
In 2020 I created my second blog Taco and Tiramisu, focused on authentic cuisine. Its goal is to popularise family recipes from around the world and to help aspiring food bloggers to learn the basics about food photography and recipe creation.
I teach on Skillshare and Udemy. Occasionally I also teach live baking classes.
I dedicate a lot of time to my photography passion by creating images for brands and websites. If you are interested in photography and recipe development services, you can check my portfolio, and the Work with Me page. Feel free contact me at daniela (at) daniscookings (dot) com to discuss the options.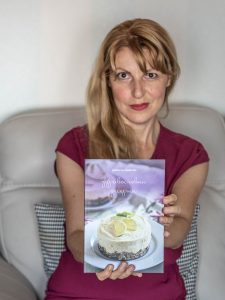 Connect with me
I invite you to subscribe to my email list in order to receive the new recipes by email. Occasionally I send information like alerts about new products and courses, discounts, special promotions and freebies.
Follow me on Instagram and Facebook where I post behind the scenes information and details of my work.
Thank you for passing by!
Daniela