Until recently I only new about Angel Food Cake that it is a divine dessert, light and fluffy and at the same time moist… It was just a legend for me until this year when I decided to bake it myself. Not in its classic version but with cocoa and with frosting: as a layer cake. That's how I came up with this unusually good Cocoa Angel Food Cake with White Chocolate Frosting.

There is one famous quote of Julia Child that says: "A party without a cake is just a meeting". I fully agree with it and actually if I think now, in every party I've ever attended I've always tried to make sure there was some kind of cake. Following that same principle I decided to make this Layer Angel Food Cake for the gathering of Parentland's authors which happened earlier this month. The host of the event was Maria who is also the founder of Parentland. It was a great time with great people! I am so glad to be part of this wonderful site and to have had the opportunity through it to meet so many nice, interesting and creative people!

But I guess you would like to find out more about the cake. What is actually Angel Food Cake? This is a type of sponge cake made with egg whites only, which means – without any fat at all. The lack of fats makes the cake airy and fluffy but with a feeling of moisture. The egg whites are predominant in the batter but you also need a good proportion of sugar and a little flour. For this particular cake I decided to add also cocoa powder as its bitterness helps to reduce the excessive (for some people) sweetness.
In fact the egg whites are so predominant in the batter that you might think you are baking a meringue. Your perception is going to change once the cake is baked: then you will feel and see how the flour also plays its role in that magic recipe.

Normally Angel Food Cake is served just plain but I decided to make it peculiar and add some frosting. A special frosting: white, fluffy and chocolaty. Having in mind that the cake is very light, I decided that it could take a lot of white chocolate… and mascarpone… ok, and some sour cream 🙂

I baked the cake in a 18 cm (7 inch) pan. However it didn't seem big enough for the purpose as the cake grew a lot during the baking, almost coming out of the pan. As a result I had to do a good trimming in order to make the cake even. Hence you can perfectly use a 20 or even 23 cm pan (8 or 9 inch) – the cake will just become a bit lower than what you see on the photos.
Needless to say this Cocoa Angel Food Cake was delicious! Light and fluffy layers, rich frosting and a great taste: surely one of the best cake experiences you may enjoy!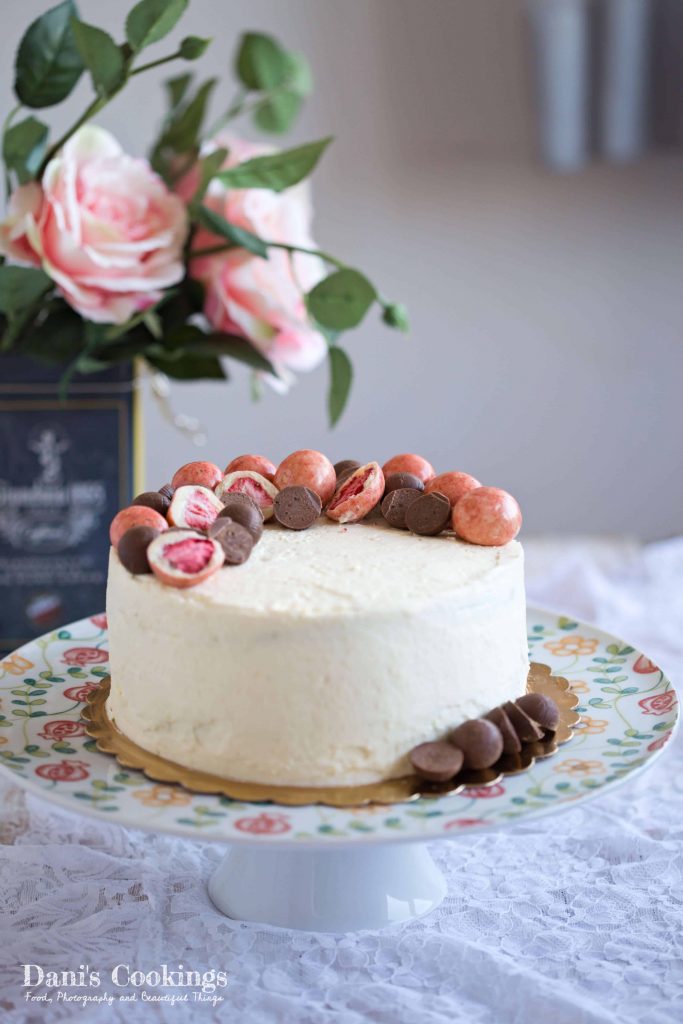 Cocoa Angel Food Cake with White Chocolate Frosting
Ingredients
For the cake:
7

egg whites

15

g

cocoa powder

60

g

cake flour

30

g

hot water

1

teaspoon

vanilla extract

1

teaspoon

cream of tartar or 2 teaspoons lemon juice

pinch

of salt

160

g

sugar
For decoration:
Chocolate balls

Chocolate coated dried strawberries
Instructions
For the cake base:
Preheat oven to 180 degrees C (350 degrees F).

Line a 20-23 cm (8-9 inch) cake pan with circle of baking paper. Grease very well the pan on top of the paper.

In a mug combine cocoa powder and hot water. Whisk until smooth.

In a medium bowl combine about half of the sugar, flour and salt.

In a large mixing bowl beat egg whites with cream of tartar (lemon juice) until soft peaks form. Add the remaining sugar and beat until very stiff peaks form.

Remove one cup from the egg whites and add it to the cocoa mixture. Whisk until homogeneous.

Using a rubber spatula gradually add the flour mixture into the remaining egg whites, folding carefully. When the flour is absorbed fold the cocoa mixture into the batter until the colour becomes uniform.

Transfer the batter into the prepared pan and smooth the top with a spatula. Bake about 40 minutes or until a wooden skewer inserted in the centre comes out clean.

Let the cake cool for about 10 minutes in the pan and then run a knife around its edges. Remove from the pan and let cool until room temperature before assembling the cake.

As this cake has a very spongey texture, it is recommended to refrigerate it before cutting it in layers in order to make the process easier.
Frosting:
In a large mixing bowl using an electric mixer beat mascarpone and sour cream (make sure both are at room temperature). Gradually add the melted chocolate and continue beating at a lower speed of the mixer until the frosting becomes stiff.

Refrigerate for 1 hour before using it.
To assemble the cake:
Using a serrated knife cut horizontally the cake in two equal layers. Place one layer on a serving plate and cover with about ⅓ of the frosting. Place the second layer. Spread the remaining frosting all around the cake, making sure it is as even as possible.

Refrigerate the cake for at least 4-6 hours before serving. Decorate with chocolate balls and chocolate coated dried fruits.
Notes
Adapted from The Cake Bible
If you don't feel confident to bake this cake without any raising agent, you can use self raising flour instead of all-purpose.