This Banana Bundt Cake with Coconut Cream Cheese Frosting is not only delicious but also healthier than any regular bundt cake. It doesn't contain refined sugar and it is also kids friendly. And the best thing is that your children will certainly love its taste!
The story of this cake started with some old bananas and a jar of plain yogurt with approaching expiration date. Considering the quantity and the condition of the products, I realised that I had to prepare urgently a dessert out of them in order to avoid throwing them in the bin very soon. Yogurt and bananas are precious products for me and I also really hate throwing away any food. But it was only Monday and I normally don't have any time to bake during the week. It turned out I also had a box of cream cheese in the fridge which, I figured, was perfect to use in a frosting for the cake.
Eventually I decided that saving the products was more important than my sleep and on the same evening I went into a baking mode. I waited long time for the cake to cool down and on the next morning I got up early to make the photos…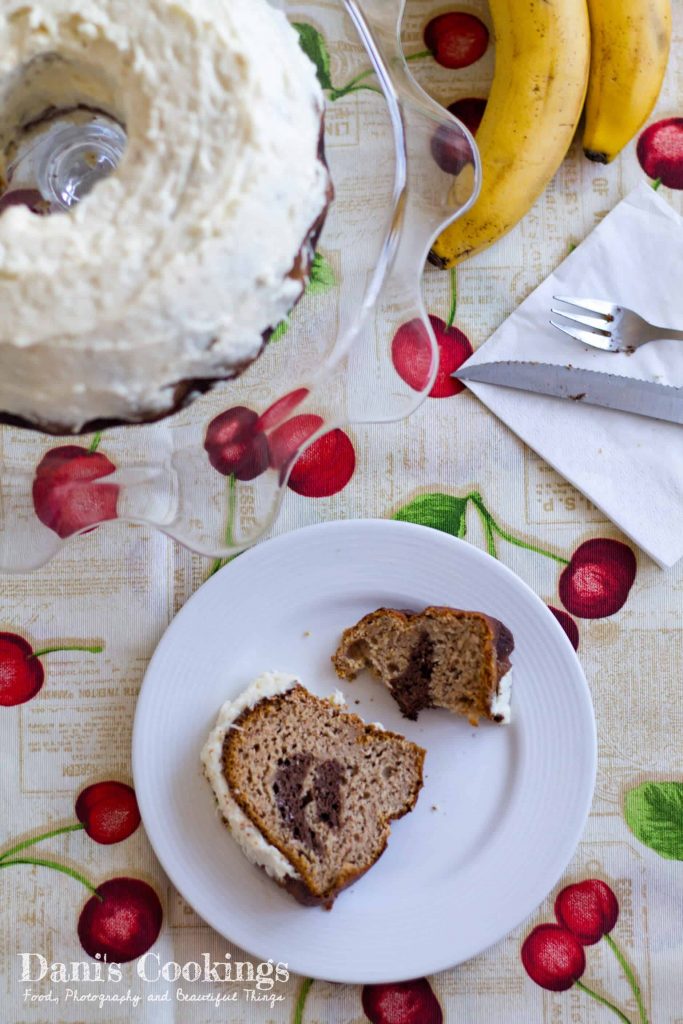 I would like to apologise in advance for the poor quality of the pictures in this post. Unfortunately I shot them in complicated conditions, early in the morning, under pressure that I was late for work and with my son shouting next to me. After I made the photos it turned out that the frosted cake was almost merging with the colour of the tablecloth I used. That made most of the photos a complete disaster! Also the lighting did not turn out very good… Enough excuses now, I promise that I will do my best to make better pictures once I bake this cake again.
My son was quite enthusiastic to see cake on the table. When I started taking photos I promised him that I would let him eat a piece. He didn't stop insisting until receiving it. Then he seemed quite satisfied as he ate it happily and even stopped shouting for 5 minutes.

The good thing about that cake is that it is made with honey and whole grain spelt flour. thanks to these products it is much healthier than any regular cake and at the same time it is quite delicious. It is as good for kids over 1 year as for adults.

That Banana Bundt Cake with Coconut Cream Cheese Frosting is best served cold. In my opinion it is even better after sitting for a day or two in the fridge! But of course, you have the opportunity to test on your own if this is really the case or it is just a matter of my personal taste 🙂
Banana Bundt Cake with Coconut Cream Cheese Frosting
Ingredients
For the banana Bundt Cake:
300

g

plain yogurt

2

eggs

120

g

honey

60

ml

vegetable oil

,

(I used walnut oil)

300

g

whole grain spelt flour

50

g

cake flour

25

g

cornstarch

10

g

baking powder

1

teaspoon

cocoa powder

2

teaspoons

vanilla extract
For the Coconut Cream Cheese Frosting:
Instructions
Banana Bundt Cake
Preheat oven to 180 degrees C (350 degrees F). Using a kitchen brush grease very well a large bundt pan (for best results I pour into the pan ½ tbs all purpose flour and 1-2 tbs oil and use the brush to mix them and spread the mixture all around).

In a bowl combine the two kinds of flour, cornstarch and baking powder.

In a blender or food processor puree bananas and yogurt until smooth.

In a large mixing bowl beat together honey and vegetable oil at high speed of the mixer until smooth. Add eggs and vanilla extract and continue beating at a lower speed until the mixture becomes homogeneous. Add banana mixture and beat few more seconds, until well combined. Using a rubber spatula carefully fold in the flour mixture until completely absorbed in the batter.

Pour small quantity of the batter in a cup and add in the cocoa powder. Mix well until the cocoa is completely absorbed. This part will be used to make the marble effect of the cake.

Pour half of the uncoloured batter into the prepared pan. Spoon the cocoa batter on top. Cover with the remaining batter. If you want to make the cake even more marble-like, you can go with 3 layers of uncoloured batter with 2 layers of cocoa batter in between them.

Bake for 50-60 minutes or until a wooden skewer inserted in the centre comes out almost clean.

Let the cake cool until room temperature before frosting it.
Coconut Cream Cheese Frosting:
Combine all ingredients and mix well until homogeneous. Frost the cake all around.