These Chia Seed Brownies with coconut flour and honey are pleasantly nice! You probably don't expect that that brownies which don't contain eggs and chocolate could be moist and fluffy. Undoubtedly, this is one of the nicest healthy recipes that you can prepare at home in little time.
Why is this recipe good
These brownies are made with very simple ingredients, yet they are delicious and rich. The batter doesn't contain dairy, eggs or even chocolate: the perfectly decadent chocolate taste is accomplished with cocoa powder.
At the same time the texture is moist and fudgy. That is a result of the coconut flour in combination with chia seeds.
Making these Chia Seed Brownies from scratch takes less than an hour. This makes them one of the top choices when you need a quick, healthier but decadent snack.
And the best about this recipe is that you can make it in many variations, according to your diet: you can add dairy milk instead of plant milk or you can use honey if you are not strictly vegan.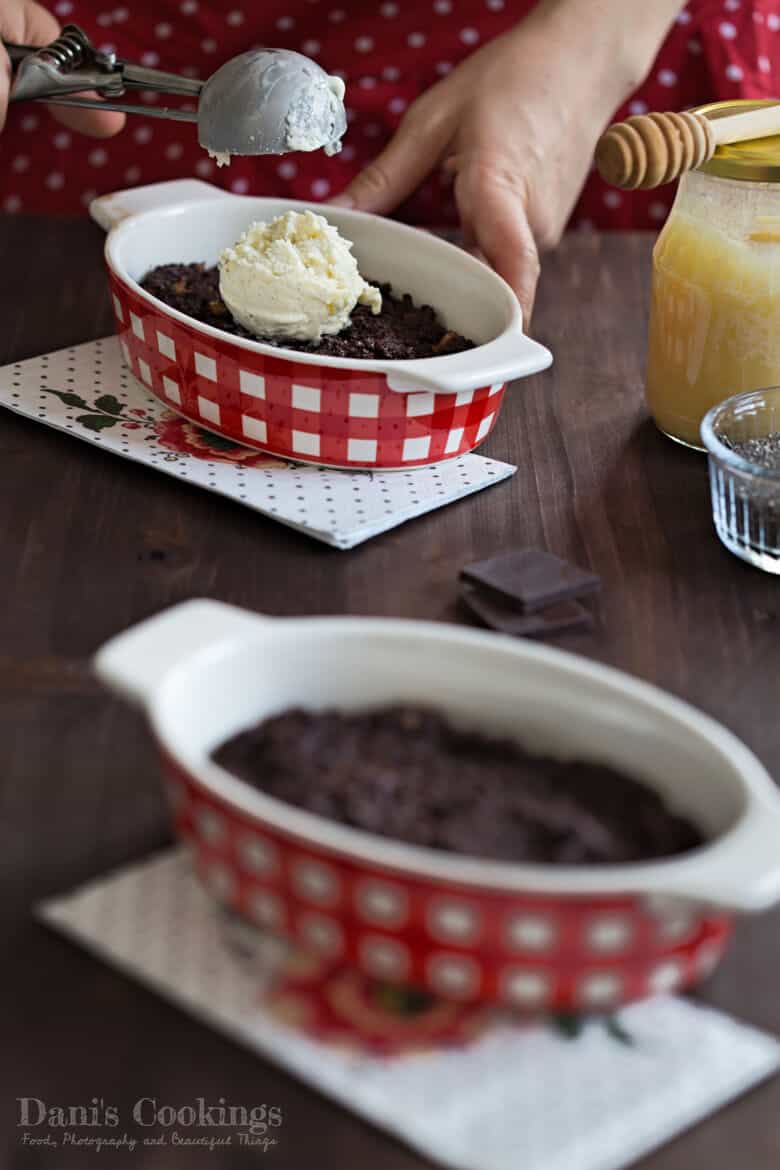 What ingredients you need
These brownies are made with chia seeds: a very healthy ingredient that helps the baked goods retain moisture, and the body too. Eating chia seeds helps us to avoid dehydration. But in addition chia seeds have more benefits for our health: they contain Omega 3, calcium, they help our metabolism and they are a good protein source.
You would also need plant based milk (any kind works), coconut flour, coconut oil, cocoa powder, baking powder, walnuts, brown or coconut sugar and honey or maple syrup.
The complete list of ingredients with possible substitutions is below the post, in the recipe card.

Is this recipe easy
Absolutely! The whole preparation method consists in just mixing separately dry and wet ingredients and combining them at the end. You need also about 30 minutes to bake the brownies. This makes the total time less than an hour!
I hope you would love this recipe as much as I do! If you made it, please let me know in the comments how it went.
Below you can find some more vegan chocolate desserts:
Chia Seed Brownies
Ingredients
2

tbs

chia seeds

,

soaked in 6 tbs water

¼ cup/ 70

g

maple syrup

,

or raw honey

⅓ cup/ 70

g

coconut sugar

,

or brown sugar

¼ cup/ 50

ml

coconut oil

,

melted

2,5 tbsp/ 40

ml

vegan milk

,

or dairy milk

⅓ cup/ 35

g

coconut flour

¼ cup/ 30

g

cocoa powder

1

teaspoon

baking powder

⅓

teaspoon

salt

2

teaspoon

vanilla extract

¼ cup/ 50

g

walnuts

,

roughly chopped
Instructions
In a small bowl combine coconut flour, cocoa powder, baking powder and salt. Mix very well and set aside.

In a large bowl whisk together honey, sugar and the chia seeds, soaked in water (the mixture will be gel like) until combined. Add the oil, vanilla and milk and whisk for few more seconds until uniform. Add the dry ingredients and whisk shortly until just absorbed. At the end add the walnuts and whisk gently with a wooden spoon until evenly distributed.

Preheat oven to 180 degrees C (350 degrees F). Grease very well a 8 x 8 inch baking pan (I used 2 baking dishes with 500 ml capacity each). Transfer the batter to the pan and smooth the top with the spoon.

Bake for 20-25 minutes or until a toothpick inserted in the centre comes out clean.

Serve hot or cool, ideally with an ice cream scoop on top.
Notes
Any kind of milk can be used in this recipe: animal or plant based
Instead of mixing two sweeteners, you can use just coconut/ brown sugar or maple syrup or substitute them by equal quantity honey.
For a Keto version:
Skip the honey and the brown sugar and use ½ cup (100 g) Xylitol or 150 g Erythritol (about ¾ cup)
Use coconut milk or dairy cream instead of any other milk.
This recipe was inspired by: Nadya's Healthy Kitchen