There is no real celebration without a cake! This scrumptious and rich Chocolate Layer Cake with Mascarpone and Caramelised Meringues is all a chocolate lover needs: 5 tasty chocolate layers assembled with two types of chocolate frosting. And this whole beauty is decorated with caramelized meringues that you can easily make at home.
Don't believe you can make this cake? Read on to find all the details and tricks about preparing this star of the party!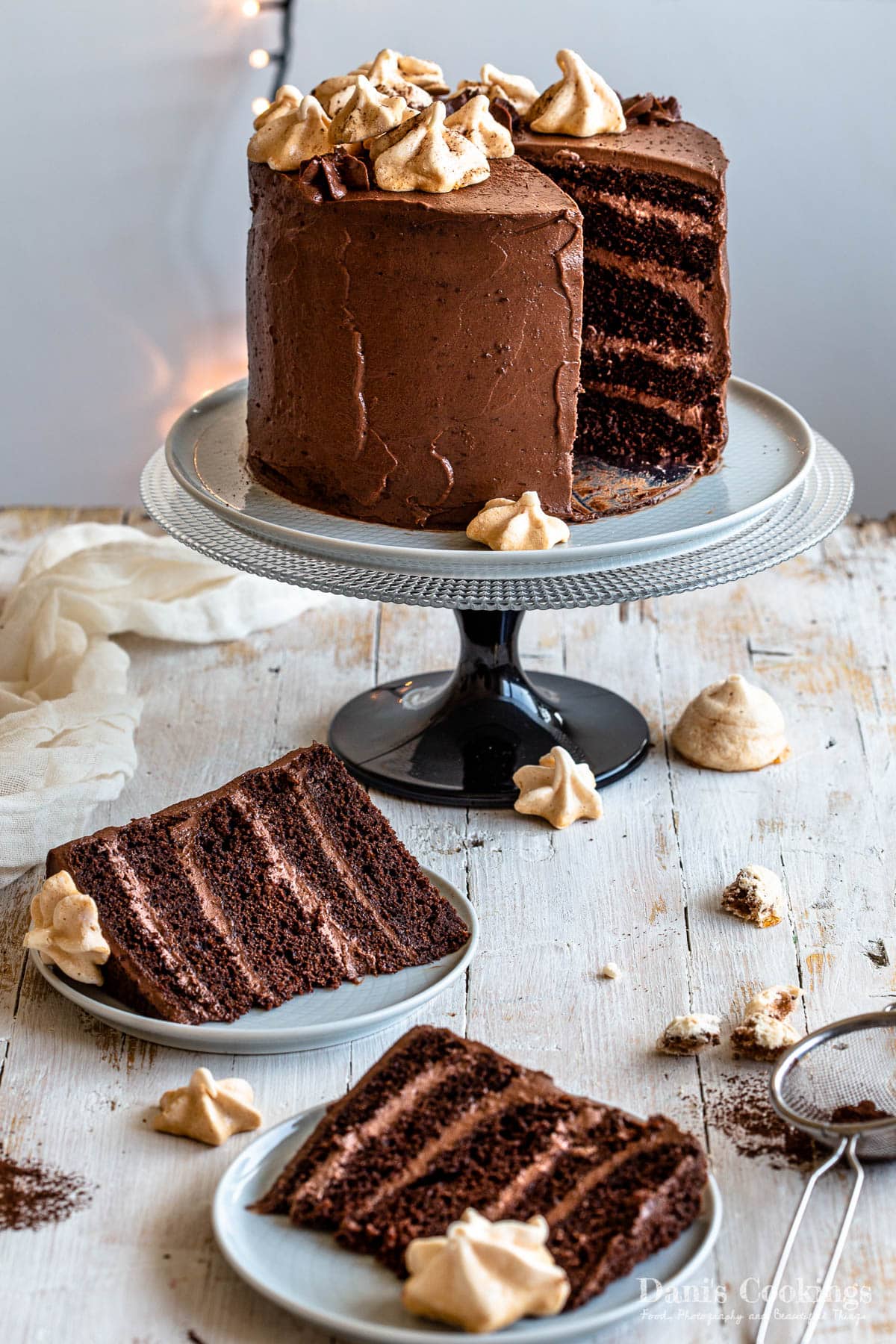 What kind of cake is that
This is a five-layer chocolate cake with two kinds of frosting between them and on top: mascarpone frosting and chocolate whipped cream. The layers are soft and fluffy. The cake is decorated with caramelized meringues which are very easy to make at home.
This cake is elegant and delicious, perfect for all kinds of celebrations.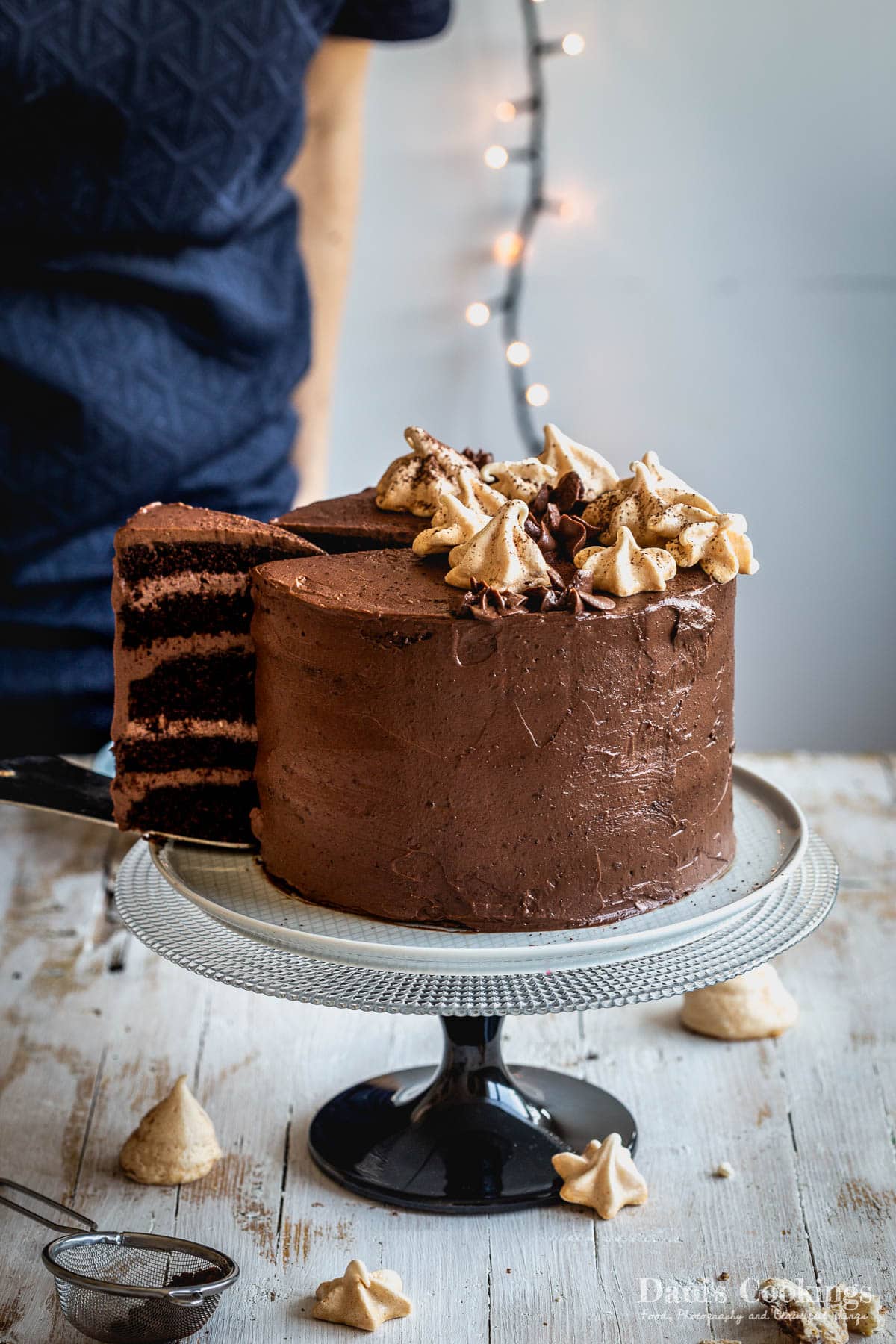 What ingredients you need
For the layers you need mostly simple ingredients and pantry staples: flour, eggs, brown sugar, dutch process (or dark) cocoa powder, yogurt, vegetable oil, vanilla and of course, baking powder and baking soda. Standard ingredients for a classic cake.
For the frostings you would need mascarpone cheese, heavy cream and also cocoa powder, melted dark chocolate and icing sugar.
The meringues are made with egg whites and sugar and just a pinch of cream of tartar.
You will find the complete ingredient list below the post, in the recipe card!
Summary of instructions
The preparation method for the layers of this cake is to start by beating the eggs until their volume increases. Then you have to add gradually the liquid ingredients. At the end you need to add also the dry ingredients and mix gently, to make the batter. It is quite an easy process, you just need to use an electric mixer.
You would need a mixer as well for the frostings. The one with mascarpone is a bit more complex as you have to add the melted chocolate to the whipped cheese and make sure both are combined to a creamy texture. Below you will find few tips how to follow this process correctly.
The meringues, they are pretty straight forward to make. You just need to allow enough time for baking.
How much time you need for this cake
The actual preparation time is about 60 minutes, including batter, frostings, meringues and assembling. You would also need about 2 hours and 20 minutes to bake the layers and the meringues. In addition you would have to allow the layers to cool down completely for at least 2 hours. This makes the total cake preparation time from start to finish nearly 5 hours.
Tips and tricks
I usually bake the layers on one day, cool them in the fridge overnight and then make the frosting and assemble the cake on the next day. Refrigerated layers are also easier to slice.
The most challenging part of the cake is to mix the mascarpone with the melted chocolate and to create a smooth frosting. To do this correctly, make sure your mascarpone is almost at room temperature and the chocolate is cooled for few minutes after being melted. Add from the mascarpone to the chocolate and not the other way around, to avoid the chocolate hardening quickly as this will ruin the consistency. But if it happens, don't worry: place the frosting on a double boiler and mix gently until the chocolate melts again and the consistency of the frosting becomes smooth.
Make sure you leave a bottom layer for the top of the cake to ensure smooth and even top.
To make the cake as even as possible, you can use a cake ring when you assemble it.
For the meringues, if you don't have cream of tartar, use few drops of lemon juice. Don't use salt!
I am sure you would love this cake as it is one of the most impressive desserts for every chocolate lover! If you made it, don't hesitate to share with me how it went!
More chocolate cakes that you might like:
Chocolate Layer Cake with Mascarpone and Caramelised Meringues
Ingredients
For the cake layers:
2 ½ cups/ 300

g

all-purpose flour

1 ½ cups/ 300

g

brown sugar

4

eggs

2

teaspoon

baking powder

1

teaspoon

baking soda

½

teaspoon

salt

½ cup / 50

g

cocoa powder

3

teaspoon

vanilla extract

⅞ cup / 200

g

plain yogurt

½ cup / 120

ml

olive oil (or other vegetable oil)
For the Mascarpone Frosting:
500

g

2 cups mascarpone cheese

¼ cup / 25

g

dutch processed cocoa powder

4,2 oz / 120

g

dark chocolate, melted

⅞ cup / 100

g

powdered sugar
For the chocolate whipped cream:
⅞ cup / 200

ml

heavy whipping cream, cold

2

tablespoon

powdered sugar

1

heaping tablespoon dutch processed cocoa powder
For the meringues:
1

egg white

2 tablespoon / 40

g

granulated sugar

a pinch of cream of tartar
Instructions
Cake Layers:
Preheat the oven to 180º C/ 350º F. Grease very well two 7 inch/ 18 cm cake pans and line them with circles of parchment paper.

Sift together all-purpose flour and cocoa powder. Add baking powder, baking soda and salt and mix well. Set aside.

In a large bowl beat eggs and sugar with an electric mixer for 5-6 minutes or until the mixture doubles its volume. Add oil and vanilla and beat for 1 more minute. Add yogurt and beat again to combine.

Using a rubber spatula fold the dry ingredients into the egg mixture, adding them in 3-4 portions. Mix gently to keep the air inside the batter.

Divide the batter between the prepared pans, adding just a bit more to one pan.

Bake for 40-50 minutes or until a toothpick inserted in the centre of each base comes out clean.

Let the layers cool completely before assembling the cake.
Meringues:
Preheat oven to 110º C/ 200º F.

Using an electric mixer beat egg white and cream of tartar for 1-2 minutes, until foamy. Gradually add sugar, while beating continuously. Beat for few more minutes, until stiff peaks form.

Use a piping bag and a star shaped tip to pipe different size meringues on a baking tin lined with parchment paper.

Bake for 1,5 hours or until the meringues are stuff and hard. Increase the oven temperature to 130 degrees and bake for few more minutes, to get a slightly caramel shade. Watch the meringues carefully to avoid burning them.

Let cool until room temperature before decorating the cake.
Mascarpone Frosting:
In a large mixing bowl using an electric mixer beat mascarpone, cocoa powder and icing sugar: first at a low speed and then at a high speed, until fluffy.

Melt the chocolate on a double boiler. Mix it gently with a rubber spatula to cool it down.

Little by little add from the mascarpone mixture to the chocolate. Mix energetically to avoid the chocolate from hardening quickly. Add more mascarpone and keep mixing, until a smooth creamy texture is created. Fold the chocolate mixture into the remaining mascarpone mixture, until the icing becomes smooth.
Chocolate whipped cream:
In a large mixing bowl beat all the ingredients with an electric mixer, first at a low speed and then at a high speed, until fluffy and smooth.
To assemble:
Using a long serrated knife cut each cake base horizontally into 2 and 3 layers respectively (one of the bases should be slightly taller).

Place one layer on a serving plate and spread about ¼ of the mascarpone icing on top. Place another layer and spread ½ of the whipped cream on top. Continue the process, alternating the two kinds of icing. Make sure you keep a bottom layer for the top of the cake. You can also use a cake ring to make the assembly easier.

After placing the last layer on top, spread the remaining ½ of the mascarpone icing all around the cake using an offset spatula. Leave about 2 tablespoon of the icing to pipe on the cake.

Refrigerate the cake for 4-6 hours before decorating and serving. Make sure you place the meringues on the cake right before serving as they would melt in the fridge.

Decorate and dust lightly with cocoa powder on top.