Can you imagine eating Crepe Cake for lunch or breakfast? Indeed, this delicious Savory Crepe cake with sour cream, meat pate and vegetables is a wonderful cold meal, perfect for parties, potlucks and gatherings. The recipe is easy and absolutely tasty!
What kind of recipe is that
One of the best things you can make with crepes is a crepe cake. Not only sweet but also savory!
The current recipe is a no bake appetizer or starter, which is great also as a light lunch or afternoon breakfast. It is a fridge cake created by layering crepes with different mixtures.
What ingredients you need
You would need just few easy to find ingredients for this recipe:
cream cheese
sour cream
meat pate: I used beef but chicken or turkey pate are also great
green olives
green peas
shredded cheddar or other cheese
and, of course, crepes!
See the complete recipe below for the required quantities!
Preparation summary
You can prepare this recipe in just 20 minutes.
First you need to make two separate mixtures:
the pate + half of the cream cheese + the drained green peas
the sour cream + the rest of the cream cheese + the sliced olives
Start layering crepes, topping them with the mixtures. Alternate the kind of filling after each crepe.
Top the cake with shredded cheese and decorate with olives. Optionally you can add some more shredded cheese between some of the layers.
Don't forget to refrigerate the cake so it holds shape and the flavours get nicely combined!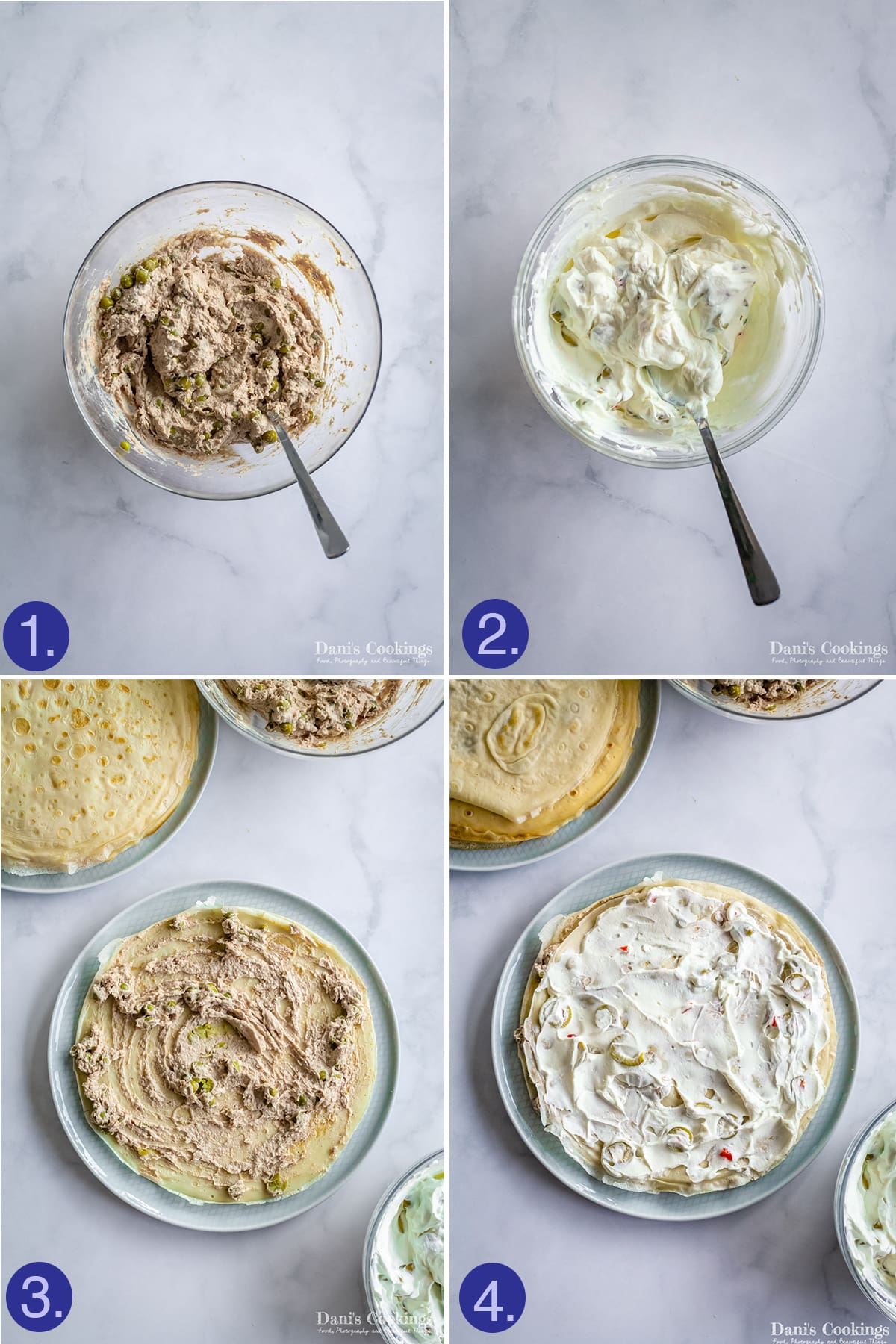 How to serve
Serve this savory cake sliced as an appetizer or a side dish. It is perfect to bring to potlucks and picnics. It is also great as an afternoon snack.
I am sure you would love this recipe if you try it! Please let me know in the comments what you think about it.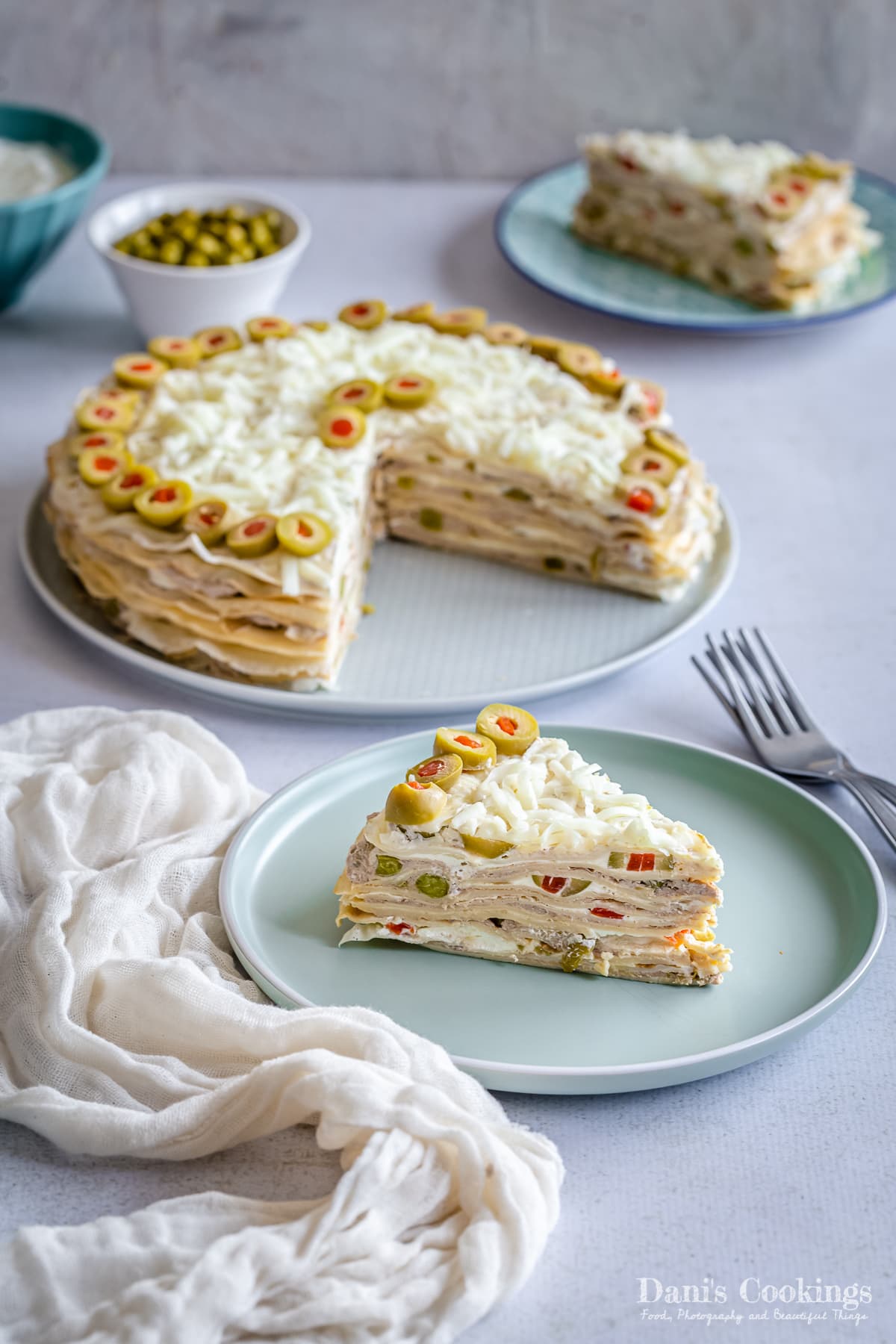 Here are few more recipes that you might like:
Savory Crepe Cake
Ingredients
10

crepes

8 oz/ 220 g

cream cheese

⅞ cup/ 200 g

sour cream

7 oz/ 200 g

meat pate

,

from beef or chicken

¾ cup / 150 g

green olives

,

sliced + more for decoration

1 cup/ 150 g

canned green peas

,

drained

1 ½ cup/ 120 g

shredded cheese
Instructions
In a bowl combine half of the cream cheese and the pate. Mix very well to combine.

Add the green peas and mix again.

In another bowl combine the remaining cream cheese, the sour cream and the green olives. Mix well.

Place one crepe on a serving plate and cover with about ⅕ of the meat filling. Place another crepe and cover with ⅕ of the sour cream filling.

Continue the process until using all crepes and all the two mixtures.

Spread generously shredded cheese over the last portion of sour cream mixture on top.

Decorate with green olives.

Refrigerate the cake for 3-4 hours before serving.
Notes
Store 2-3 days in the fridge.
Optionally add some shredded cheese between some of the layers.