You probably have not even dreamed about cookies like these ones. They are a perfect combination of three fantastic tastes: chocolate dough, pieces of white chocolate and delicious cream cheese filling. Every bite of these Double Chocolate Cookies with Cheesecake Filling is an explosion of flavours: it is just impossible not to fall in love with them!

Why did I choose to bake cream cheese stuffed cookies? I love cheesecake and I don't think I know a single person who dislikes this dessert. When I found this recipe I was really impressed so I decided to make a similar one.

The cream cheese filling tastes like rum and cinnamon. These flavours go really well with the cocoa. The cookie dough is a variation of the classic chocolate chip cookies but with flavours that remind of warm and cozy Christmas evenings. However if you decide to change the flavour of the filling, you can go with other good choices. For example: orange zest and cinnamon, lemon, coconut or simply vanilla. No matter what you will choose, you can't go wrong!

My initial idea was to make just chocolate cookie dough but later it came to my mind that I could add pieces of white chocolate to enrich the taste. Don't miss this final touch! The white chocolate contributes to this dessert with its tender sweetness, crunchiness and velvety feeling.

Let me add few words about some of the products I have used. For an excellent taste you need quality cocoa powder. You can use both Dutch processed (darker) and natural (lighter colour), however in the second case you better substitute the baking powder with ¾ teaspoon baking soda.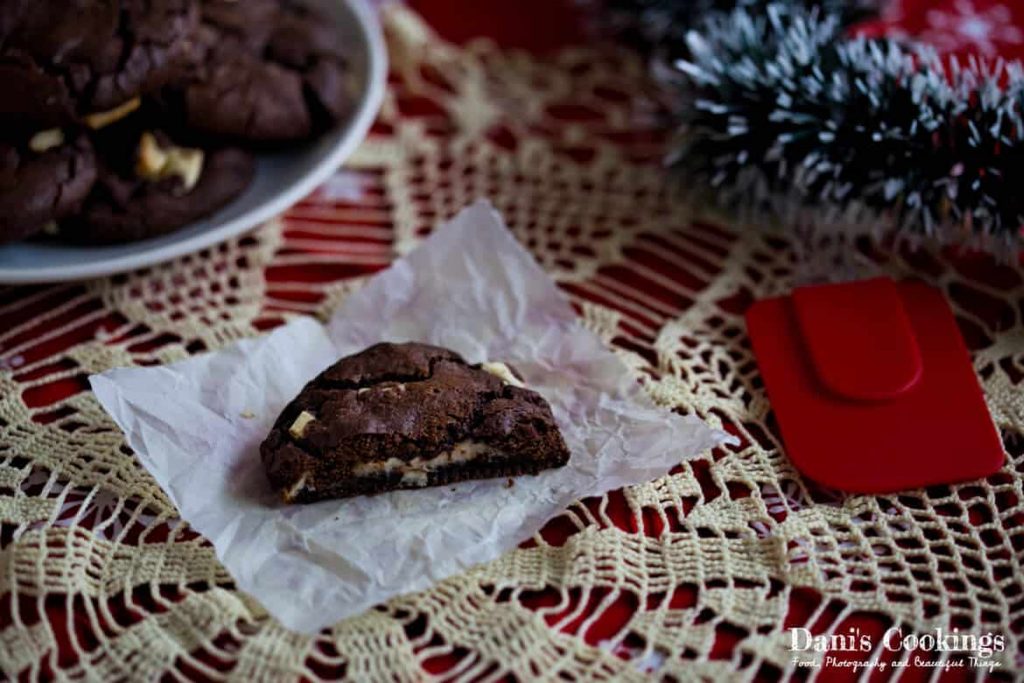 On the other hand this recipe calls for chocolate pudding powder. This is because the pudding powder is based on cornstarch which contributes for the soft and mild consistency of the dough. But if you don't have pudding powder, you can substitute it with a mix of cocoa and cornstarch.

The filling is made with cinnamon and rum flavoured sugar. If you don't have such, you can use ⅓ teaspoon cinnamon and 1 teaspoon rum extract and to increase the powdered sugar quantity. Keep in mind that these cookies have a slightly bigger size than usual as you need a good quantity of dough in order to close the filling inside. But their size surely won't be an issue for you – they are so tasty that they will surely disappear in no time! And for the real chocoholics a cup of hot chocolate is the perfect addition to these Double Chocolate Cookies with Cheesecake Filling.
Double Chocolate Cookies with Cheesecake Filling
Ingredients
For the filling:
120

g

cream cheese

1

tbs

cornstarch

2

tbs

powdered sugar

1

pack

,

10 g cinnamon sugar*

1

pack

,

10 g rum sugar*
For the dough:
110

g

butter

,

melted

130

g

granulated sugar

70

g

dark brown sugar

140

g

all purpose flour

50

g

chocolate pudding powder*

30

g

cocoa powder*

1

teaspoon

baking powder

1

large egg

2

teaspoons

vanilla extract

140

g

white chocolate,

broken into small pieces
Instructions
Filling:
Combine all products for the filling in a large bowl. Beat with an electric mixer on high speed for 2-3 minutes until smooth.

Using a teaspoon take relatively equal pieces of the filling and place them on a baking tin lined with a sheet of parchment paper. Try to make their shape as similar to balls as possible. You need to make about 15 pieces. Place the tin in the freezer for 2-3 hours. In the meantime prepare the dough.
Dough:
In a large bowl beat the two kinds of sugar and the melted butter with a hand whisk, until well combined. It is ok if few crumbs of the dark brown sugar to remain. Add egg and vanilla and whisk until smooth. Gradually add flour, cocoa powder, duding powder and baking powder, folding them gently with the wooden spoon until a soft dough is formed. At the end add the white chocolate pieces and mix carefully with the wooden spoon until evenly distributed in the dough.

Cover the bowl with a cling film and let the dough rest in the fridge for 30-60 minutes (if the dough is refrigerated longer, take it out of the fridge 10 minutes before starting to shape the cookies).

When the dough is refrigerated and the cream cheese fillings are frozen, start taking pieces out of the dough. Extend them in your hand and make a shape like a well. Place inside the cavity one of the frozen fillings and cover it with another piece of dough. Make a bowl and place it in a baking tin covered with parchment paper.

Continue the same process until using all the dough and frozen fillings. When the first tin is full, place it in the fridge for 10 minutes before baking. Make sure the cookies are arranged not too close one next to another because they will grow.

Bake for 10-15 minutes or until the edges start hardening slightly but the tops are still soft.

Let them cool for 10-15 minutes before serving.

Store in airtight container in the fridge for about a week.
Notes
- Cinnamon sugar and rum sugar can be substituted by cinnamon powder and rum extract. In this case you need to increase the powdered sugar in the filling + 1 tbs.
- The chocolate pudding can be substituted by 30 g cornstarch + 20 g cocoa powder
- The cocoa powder in the recipe is dark (or Dutch processed). If you have lighter cocoa powder (or natural) you can substitute the baking powder by ¾ teaspoon baking soda.
Recipe inspired by Sally's Baking Addiction.