This delicious Double Chocolate Mousse with Raspberry sauce is the best dessert that you can prepare in less than one hour! It is decadent and full of flavour: a fantastic treat for every chocolate lover!
Why is this recipe great
Chocolate mousse is a very loved dessert but not all its versions are easy to make. The classic one contains uncooked eggs, that's why is not the kind of recipe I would prepare at home.
But this Double chocolate mousse with raspberry sauce is EASY and SIMPLE. This is a 5-ingredient chocolate mousse, in fact! The great thing about it is that it combines white and dark chocolate in a delicious dessert, covered with tasty raspberry sauce. Last but not least, you don't need fresh raspberries for this recipe so you can make it any time of the year!
How did I come up with this recipe
Few weeks ago we had lunch with some friends at a nice restaurant in our neighbourhood. As usual, I was impatient to finish with the main course and to try one of the desserts. I chose white chocolate mousse and it was a great choice: very nice and rich. The only thing I didn't approve completely was the fact that the mousse was garnished with fresh fruits: apples, kiwi and oranges. Somehow the richness of the mousse didn't go well with the freshness of these particular fruits.
I started dreaming about making some chocolate mousse myself. I thought that the perfect mousse would have a fresh garnish but not as fresh as apple: it had to be also rich at the same time. After pondering for a day or two, eventually I came up with the perfect solution: a combination of dark and white chocolate mousse with raspberry coulis.
What ingredients you need
The mousse is made of three ingredients: chocolate (part with dark and part with white) and heavy cream. The remaining two ingredients: raspberries and sugar, are reserved for the topping. Simple and nice!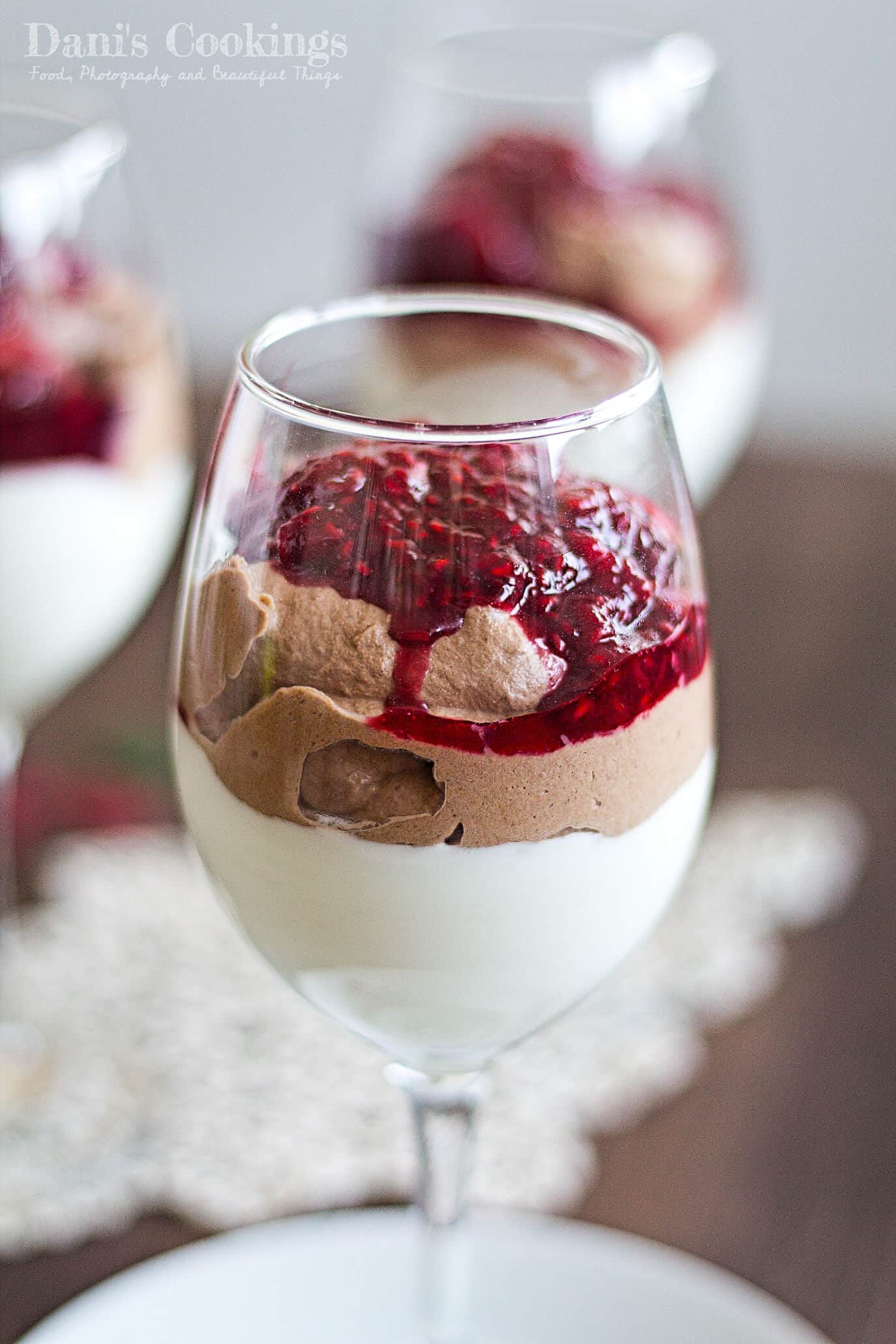 Why do you need a topping
If I have to choose only 3 fruits that are best to pair with chocolate I would probably go for strawberries, raspberries and bananas. I love raspberries the most, that's why I decided to go with them for that topping. Nevertheless if you prefer strawberries you might prepare it with them.
Skipping the topping completely is also not the worst idea, even though for me the fruits enhance the chocolate taste.
Apart from being incredibly delicious, this Double Chocolate Mousse with Raspberry sauce is also very fast and easy to make. As long as your cream is whipped properly (which means to become really thick), the dessert is almost done! Then adding the chocolate to the cream and preparing the toping are easy tasks.
Seriously: even if you never made a chocolate mousse before, you will succeed with this one! It contains no eggs and doesn't require complicated techniques. It is a simple decadent pleasure in a glass, made with only 5 ingredients!
If you made this recipe, I would be really happy to receive your feedback! Let me know in the comments or tag me in Instagram!
More recipes with chocolate mousse:
Double Chocolate Mousse with Raspberry sauce
Instructions
White and dark chocolate mousse:
Before starting to prepare the mousse, refrigerate the heavy cream for 6 to 8 hours on the top rack of the fridge.

In a large mixing bowl whip ⅔ cup (about 150 ml) heavy cream until very thick.

In a medium heatproof bowl combine while chocolate, broken into pieces and ⅓ cup (50 ml) heavy cream. Place the bowl over a pan of gently simmering water. Stir until the chocolate melts. Let cool for 5 minutes, while whisking gently.

With a rubber spatula carefully fold the chocolate mixture into the whipped cream until homogeneous. Spoon the prepared white chocolate mousse into glasses or ramequins, filling them about ⅓. Set aside.

Whip another ⅔ cup (about 150 ml) until very thick.

Following the above process, melt also the dark chocolate together with the remaining ⅓ cup (50 ml) heavy cream.

Carefully fold the dark chocolate mixture into the whipped cream. Spoon the dark mousse in the glasses over the white mousse.
Raspberry sauce:
In a small saucepan over medium heat combine raspberries and sugar. Whisk until the mixture starts to thicken: about 10-15 minutes.

Spoon the prepared sauce on top of the chocolate mousse.

Refrigerate the mouse for 2-3 hours before serving it.
Notes
You can place the bowl and the beaters of the mixer for 15 minutes in the freezer before starting to whip the cream, in order to ensure best results.

When combining the chocolate with the whipped cream, try first adding some of the cream to the chocolate mixture in order to temper it. Add some more, mix well and then add the whole chocolate mixture into the whipped cream.
Optionally you could prepare the raspberry sauce right before serving and pour it hot onto the refrigerated mousse.