I am very pleased to give you for free 5+1 Lightroom presets! They have been designed for food photography but I have been using them on other images as well.
Jump to:
I know that many of you are taking photos at home and are not always happy with the results. But you have heard also that often the editing might make or break the photo. So I want to help you, as much as I can, by giving you some of my presets completely for free! You can use them on mobile and desktop.
What are Lightroom presets
Presets are editing settings created for Adobe Lightroom. They can be imported and used on the photos you take with your phone or camera to create a specific kind of look and feel of the photo.
In order to use desktop presets, you need to own Adobe Lightroom or have a Creative Cloud subscription. To use the mobile presets you just need to download the free Lightroom mobile app and import them.
What kind of presets are these
All presets have been created by me, the author of the blog Dani's Cookings with a lot of care and attention. I am personally using them in many of my photos.
They can be used by food bloggers or food enthusiasts who want to make their Instagram and Facebook photos more appealing.
Below is a short description and showcase of two presets:
Chocolate Addict
Moody preset made specifically for food containing chocolate and cocoa.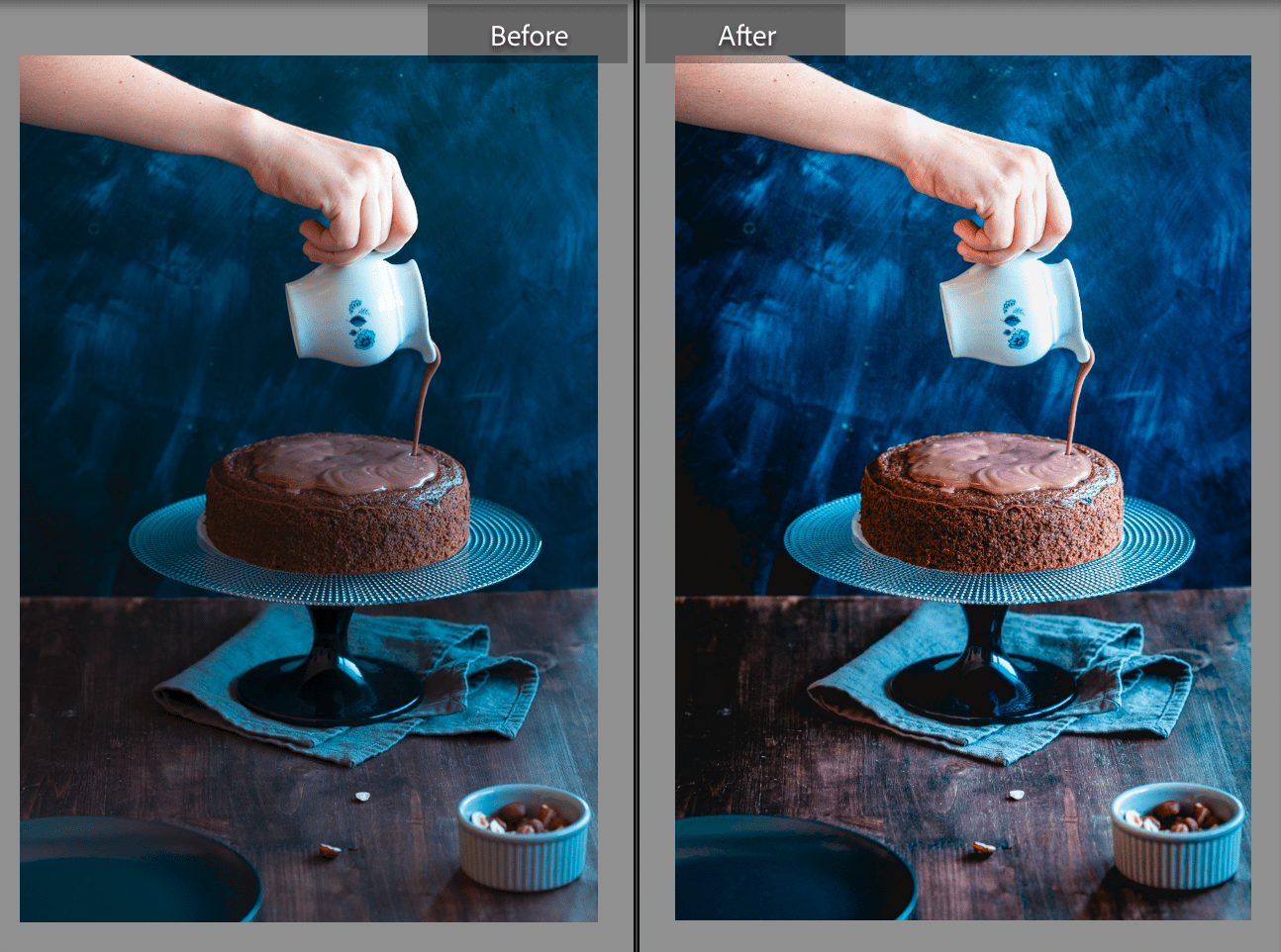 Cheesy Potatoes
A lighter preset with lower contrast and highlights. Made for food that is excessively bright with the purpose to bring up the light tones and reducing glare at the same time.
Apart from this two, you will get also 3 more presets for desktop and mobile:
Cozy shadows
Blue highlights
Cupcakes and Cookies (featured on the first image in this post)
In addition you will get another mobile preset for instant vibrance and contrast of your images.
How to use them
Import the presets in your Lightroom for Desktop or for Mobile. Apply the presets on a photo. You might want to make some additional adjustments on exposure and only if needed on white balance or other basic parameters.
In this video you can learn the basics of using presets in Lightroom Desktop and will see me using one from this package and adapting it to an image.
How to import presets on Lightroom Mobile
If you haven't used that app before, here is a short video how to import and use the presets. Download the DNG files on your mobile first, in order to import them.
Just fill the form below to receive the presets right away to your inbox!
Next Steps
Get the presets
Subscribe in the field below and you will instantly receive a link to download the presets!
Note: After subscribing to this email list, occasionally I would send you photography tips, promotions of my new courses and giveaway alerts. I promise I will never overload your mailbox with marketing emails!
Follow me also in Instagram where I often organise giveaways for presets and photography courses!