The perfect dessert for every birthday party is the Piñata Cake. How exciting it is to see candies spilling out of the cake when it is being sliced! A great experience for every kid and even for adults.
This version of Piñata Cake is healthy as it is made without refined ingredients and with sugar-free chocolate chips inside! Read on to find how to make this scrumptious celebration recipe at home.
Why is this recipe great
This is the perfect cake for every party as cutting it makes the delicious chocolate chips literally spill out, like in a real Piñata. But unlike other similar cakes, this one is not full of candies but of healthy chocolate chips. The layers are also very tasty: one dark and two lighter. The creamy and tasty frosting is the perfect finish of this party star.
About the layers
The two kinds of layers are completely different. One is made with whole grain spelt flour and the other one is gluten-free, with coconut flour, cocoa powder and flax seed meal. Both are sweetened with coconut sugar and contain also eggs. They have different textures which complement each other pretty nicely.
About the frosting
The frosting of this cake is made with mascarpone and sour cream and sweetened with maple syrup. It is creamy, tasty and healthier than most cake frostings.
How to choose the filling
The Piñata filling is healthy as well. I chose a mix of white and dark chocolate chips, sweetened with coconut sugar. If you can't find the same ones, any refined sugar-free chocolate chips would be fine. Alternatively you can choose dark chocolate with a minimum quantity of added sugar.
How to assemble the cake
It is easier than you think! You need to cut the spelt base in two to make three layers. The chocolate layer goes between the spelt ones and it will also contain the chocolate chips. You just need to make a round hole in the middle using a large cookie cutter or another round tool. Then arranging the layers is easy: first goes the spelt one, followed by frosting. Then the chocolate layer, filled with the chocolate chips. Spread the frosting carefully on top, to avoid the chips falling around. Then place the third layer and frost.
Decoration
You can decorate this cake the way you want! I made some gingerbread cookies as it was served for my son's birthday, right before Christmas. But there are multiple options: you can sprinkle chocolate chips or make truffles with the leftover frosting and trimmed parts of the cake layers. These are a just a small part of all the options.
I hope you would like this cake recipe and the tips will be useful for your home baking! If you make it, please share how it went: in the comments or on Instagram.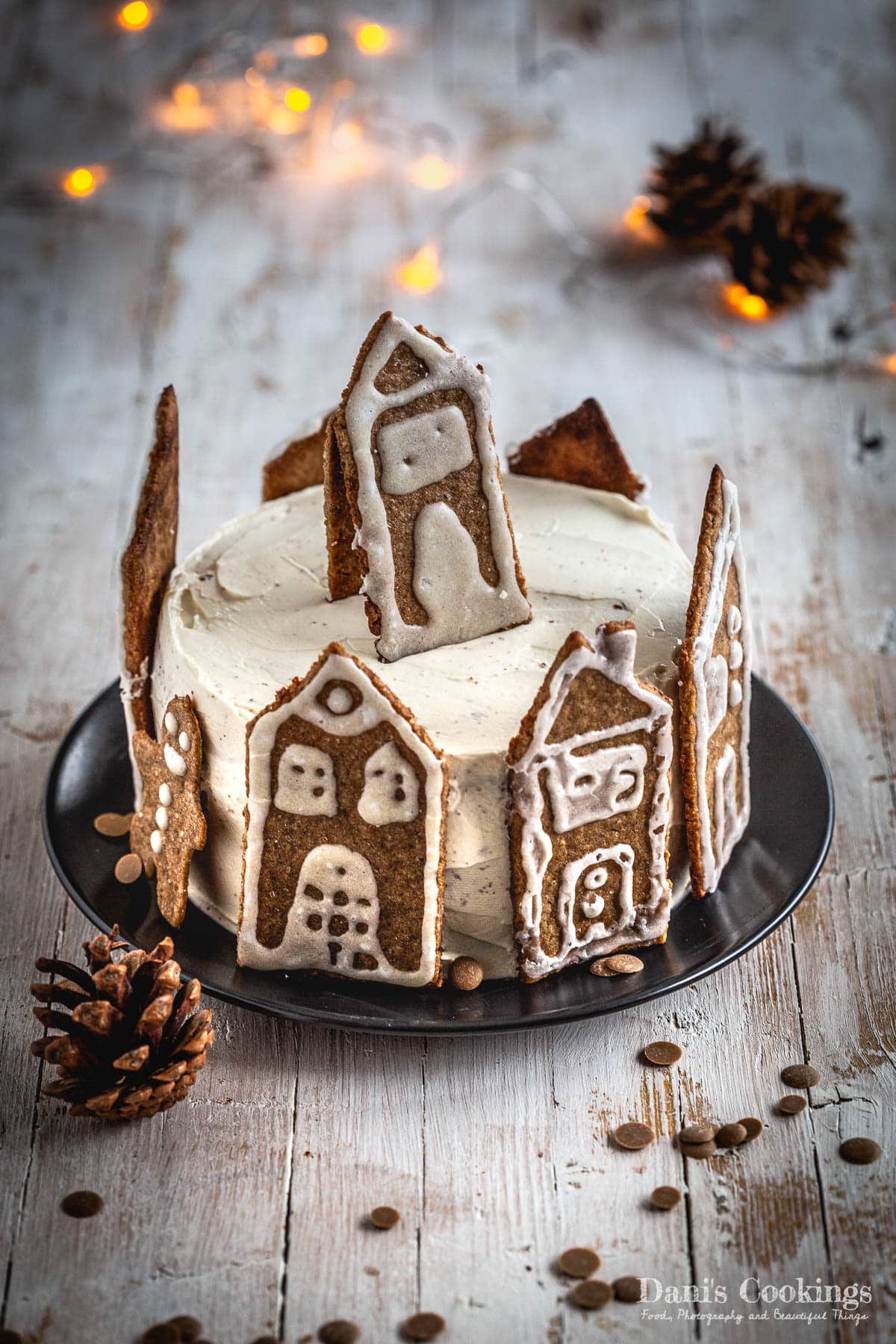 More healthy layer cakes that you might like:
Banana Cake with Coconut Frosting – Healthy & Vegan
Spiderman Themed Healthy Coconut Date Cake
Healthy Piñata Cake
Ingredients
For the spelt layers:
1 ⅓ cup /160 g

whole grain spelt flour

3

eggs

½ cup / 120 g

sour cream

1 ⅓ cup/ 130 g

coconut sugar

3 tablespoon/ 45 ml

olive oil

,

see notes

2

teaspoon

vanilla extract

2

teaspoon

baking powder
For the chocolate layer:
⅓ cup / 40 g

coconut flour

2

eggs

¼ cup / 25 g

cocoa powder

½ cup / 100 g

coconut sugar

2

tablespoon

flax seed meal

½ cup/ 120 g

sour cream

¼ cup/ 60 ml

olive oil

,

see notes

1

teaspoon

vanilla extract

2

teaspoon

baking powder
For the frosting:
½ cup/ 120 g

sour cream

2 cups/ 500 g

mascarpone cheese

⅓ cup/ 80 ml

maple syrup
For the piñata:
½ cup/ 80 g

sugar-free chocolate chips

,

see notes
Instructions
Preheat oven to 350 degrees F/ 180 degrees C. Grease very well two 7 inch/ 18 cm cake pans and line them with circles of parchment paper.
Spelt layers:
In a bowl combine spelt flour and baking powder. Stir and set aside.

In a large mixing bowl beat the eggs with the coconut sugar for 3-4 minutes, using an electric mixer. The mixture should double its volume.

Add olive oil, sour cream and vanilla and mix again.

Using a rubber spatula gradually add the dry ingredients, mixing gently to combine.

Pour the mixture into one of the pans and keep it in the fridge, while preparing the second batter.
Chocolate layer:
Combine coconut flour with the baking powder. Mix well and set aside.

In a large mixing bowl beat eggs and coconut sugar with an electric mixer for 3-4 minutes, until doubling their volume.

Add sour cream, vanilla and oil and beat again, to combine.

Add coconut flour and mix gently with a rubber spatula until absorbed. Fold also the flax seed meal and the cocoa powder into the mixture.

Transfer the batter to the second pan.

Bake the two batters together for about 40 minutes or until a toothpick inserted in the centre comes out clean. It is possible that one cake base gets ready before the other: if it happens, remove it from the oven and continue baking the second one.

Let the two cake bases cool until room temperature before assembling the cake.
Frosting:
In a large mixing bowl beat together all ingredients with an electric mixer until smooth and creamy.
To assemble:
Using a long serrated knife cut the spelt cake into two equal layers. Trim any uneven parts from the top, to make the cake flat.

Use a round cookie cutter or a mould to make a 3-4 inch hole in the middle of the chocolate layer.

Place one spelt layer on a serving plate. Spread about ¼ of the frosting on top.

Place the chocolate layer. Fill the hole completely with chocolate chips. Spread another ¼ of the frosting on top, making sure you keep the chocolate chips in place.

Cover with the second spelt layer (make sure it is the one that have been on the bottom of the pan). Spread the remaining frosting around the cake using an offset spatula.
Notes
Oil: I use extra virgin olive oil almost exclusively for all dessert recipes which call for liquid vegetable oil. The reason is that it is healthier, even for cooking, and most commercial brands don't have a strong taste, so in desserts you don't feel it. In this recipe you can substitute it by canola oil, sunflower oil or any other vegetable oil which doesn't have a strong flavour. Coconut oil works too but it normally leaves s coconut taste.
Chocolate chips: I used a mix of dark and white vegan chocolate chips sweetened with coconut sugar. You can use any kind of sugar-free or low sugar chocolate chips. Alternatively you can use homemade sugar-free gummy bears or any other healthy small candy.
Decoration ideas: you can use gingerbread cookies or you can make truffles from the trimmed cake layers and some frosting.
Store this cake in airtight container in the fridge (or covered with cling film) for 3-4 days.