When I was a kid one of my favourite desserts were the Bounty Bars. It's been a long time since I don't buy any more such treats but sometimes I still crave them. If you are like me and can't resist the combination of coconut and chocolate but you want to eat healthy and guilt free, this post is for you. Read on to find a perfect recipe for homemade bounty bars that are totally delicious, easy to make and also good for you.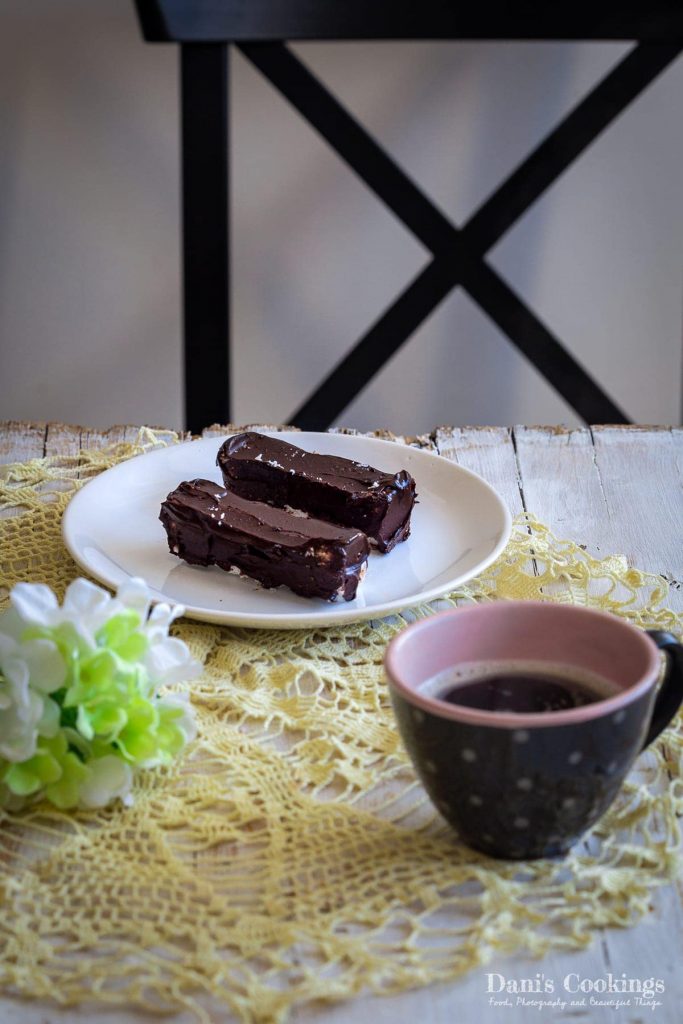 What are Bounty Bars
Bounty are the famous candy chocolate bars with coconut filling. They are known all around the world. While they are very delicious and a favourite snack of every kid and adult who likes coconut, they are full of sugar and processed ingredients.
But sometimes you can have it all in life! You can enjoy the wonderful taste of these delicious bars and still eat healthy. The best is that you can eat them even if you are on a keto diet! That's right, because our homemade bounty bars contain very little carbs.
How do you make healthy Bounty bars
We know that coconut is healthy. Chocolate can also be healthy, if it is not packed with sugar. We've got these two ingredients as a start but we also need something creamy to moisten the shredded coconut and to keep it together. We also need a sweetener. So practically we need 4 basic ingredients, each with a different role in this fantastic dessert. Therefore the simplest version of low carb, healthy bounty bars would be: shredded coconut + coconut cream + keto sweetener + dark chocolate. But if you don't like very much the keto friendly chocolate because of its bitterness, we can fix that. Just add a bit of cocoa butter to the chocolate and it will become less bitter and smoother. I like to add to the chocolate also some xylitol in order to make it sweeter but this is entirely up to you.
You will find the whole recipe and ingredient quantities below with vegan and non vegan variations.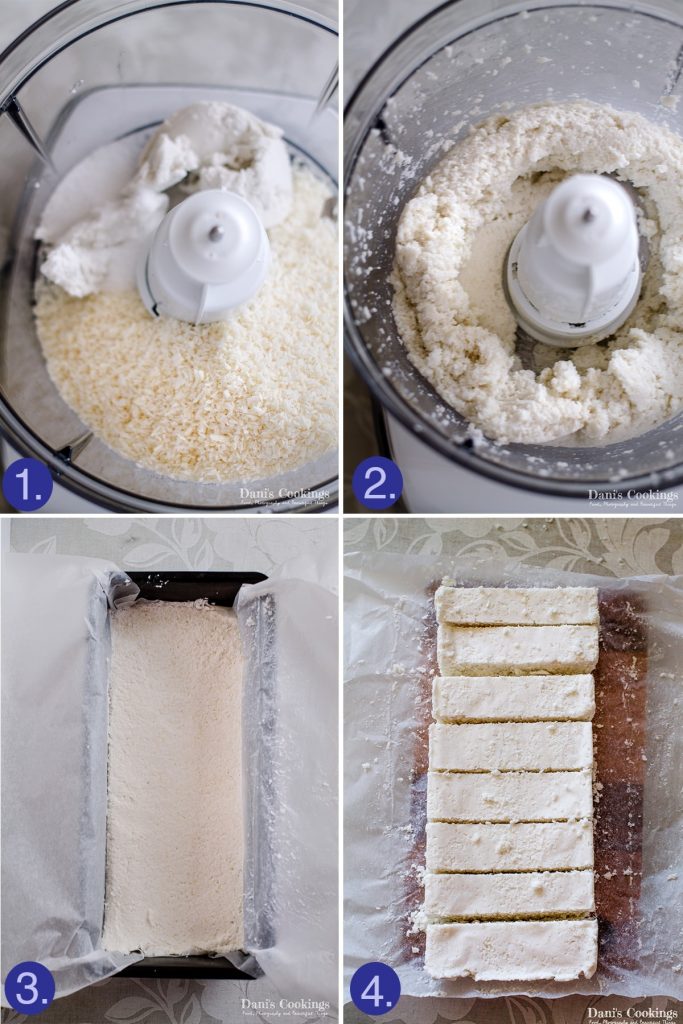 Want to see more keto friendly snacks? Check out the below selection:
Keto Cream Cheese Cookies
Keto Chocolate Mug Cake
Strawberry Cheesecake Ice Cream Recipe
I am sure you will love this recipe. These homemade bounty candy bars are not only healthy, gluten free and low carb, they are also very delicious – the dream of every coconut lover. They are no bake, easy to make from scratch and don't require many ingredients.
Let me know in the comments what you think of this recipe! If you made it, please let me know how it went!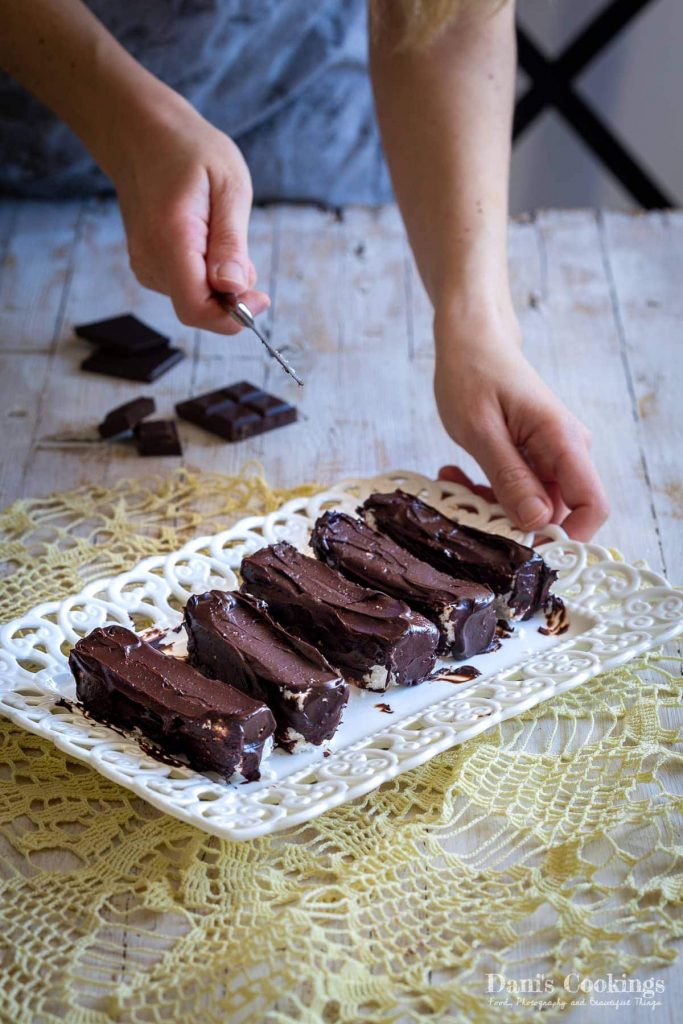 Homemade Bounty Bars - Healthy, Keto, Vegan
Ingredients
2 cups/ 200 g

shredded coconut

,

possibly organic

14 oz/ 1 can

coconut cream

,

refrigerated*

4,5 oz/ 130 g

dark chocolate,

over 80% cocoa content

⅓ cup/ 30 g

cocoa butter*

2 tbs/ 30 g

xylitol
Instructions
Take the solid part of the coconut cream out of the can and place it in a food processor. Add also shredded coconut and 1 tbs xylitol. Start processing at high speed until the mixture becomes thick and sticky. Gradually add some of the coconut water, that remained in the can and keep processing until the mixture becomes creamy but still relatively thick. You will probably need to add about half of the coconut water from the can (drink the rest or use it in a smoothie).

Transfer the mixture to a loaf pan lined with parchment paper. Press it to the bottom of the pan and smooth the top out with a spatula. Let the pan stay in the freezer for about 1 hour.

Remove the pan from the freezer and carefully take the coconut block out of the pan, holding the baking paper. Using a sharp knife cut the coconut block into 8 bars.

Melt the chocolate on a double boiler together with the cocoa butter and one tbs xylitol.

Arrange the bars on a wire rack and pour the chocolate mixture on top. Another option is to spread the chocolate around each bar with a butter knife or a small metal spatula.

Keep the bounty bars refrigerated for about a week.
Notes
For non vegan bounties you can use dairy butter instead of cocoa butter. In this case you can also add 2-3 tbs heavy cream to the chocolate mixture.
You can substitute the xylitol with erythritol, monk fruit sweetener or stevia.
If you are not following a keto diet, you can use maple syrup or powdered sugar in the coconut mixture. In this case you can coat the Bounty bars with melted milk chocolate, without adding any butter to it.
The recipe was inspired by Loving it Vegan