This delicious Honey Fig Cake with Ricotta Frosting is very easy to make! It is tasty, moist and full of flavours.
Hello September! This is the month when the summer is going to its end, the month when everyone gets hectic again and the month when I was born… A month that usually brings us good and bad things at the same time.

For some time now I was dreaming to make a late summer or early autumn cake. Finally it came to my mind to prepare a simple layer cake with ricotta frosting and fresh figs. What I like about figs is that they look and smell so irresistible!
How did I come up with this recipe
The reason why I decided to prepare this cake was after a reader had questioned me how to bake a fig cake. The question immediately made me imagine a layer cake with fluffy white frosting, decorated nicely with fresh, juicy figs. It somehow occurred to me that ricotta cheese would pair very well with figs and that turned out to be true!

With that vivid image in my head I just couldn't help but make the cake. I decided to add also honey and almonds. That's how I came up with this Honey Cake with Ricotta frosting and Figs.
Why is this recipe good
This recipe is relatively easy to make: it is a naked cake with one cake base cut in two layers. It doesn't require special skills or special equipment. You just need to bake the base and cool it before cutting it in two parts. Then sandwich them with the frosting and the fig compote and decorate with the figs. No fuss. The layers are nice and tasty as they contain honey which softens the baked goods. The ricotta frosting, on the other hand, is very easy to make too. It is actually ricotta-mascarpone frosting. I added the mascarpone cheese to make the consistency richer as the ricotta is pretty light. The result is really nice, with delicious honey- fig flavour!
Recipe tips
The ricotta frosting contains mascarpone for extra richness. If you have only ricotta, you can increase its quantity to substitute the mascarpone. Just beware that a frosting made purely of ricotta would be much lighter in terms of consistency and taste. Alternatively you can use cream cheese instead of mascarpone.
Making the cake in advance: In case you don't have time to prepare the cake at once, bake the base, cool it down and freeze it for few days, very well wrapped in plastic wrap. To thaw it, remove from the freezer and place in the fridge the night before you are planning to assemble the cake. It is also much easier to cut the layers after they have been frozen!
This cake is really nice even without the figs. If you are not a big fan of this fruit, try it with berries, persimons or with just almonds and honey.
I really loved that cake and I am sure you will like it too. Check out also some of my other recipes with ricotta:
Simple Cake with Ricotta and Chocolate Mousse
Ricotta Cupcakes with Chocolate Frosting
Puzzle cake with ricotta filling
If you liked this post, please share it in social media so that more people can benefit from it!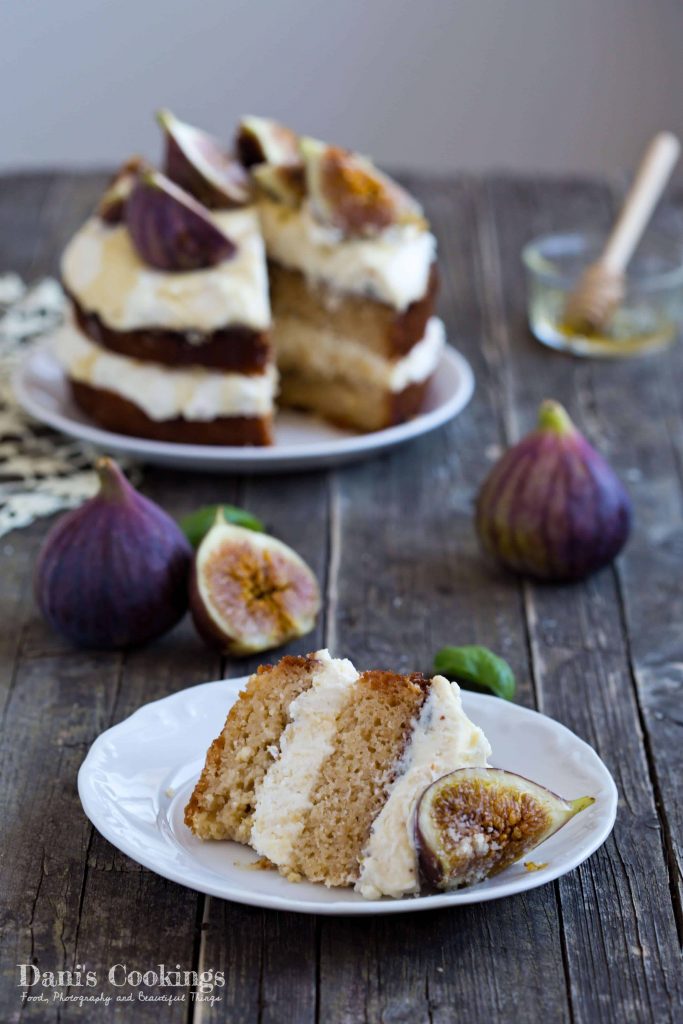 Honey Cake with Ricotta frosting and Figs
Ingredients
For the Cake:
⅓ cup / 100

g

honey

¼ cup / 50

g

brown sugar

½ cup/ 100

g

butter

,

soft

⅔ cup / 160

g

plain yogurt

½ cup / 50

g

almond flour

,

or almond meal

2

eggs

1 cup / 150

g

self raising flour

,

(see notes)

1

teaspoon

baking powder

⅓

teaspoon

salt

¼

teaspoon

cinnamon
For the fig compote:
1

large fig

,

finely chopped (or 2 medium)

¼ cup/ 50

ml

water

1

tablespoon

brown sugar
For decoration:
3-4

large figs

ground almonds
Instructions
Cake:
Preheat oven to 180 degrees C (350 degrees F). Place a circle of baking paper on the bottom of a 18 cm (7 inch) cake pan and then grease well inside the pan.

In a small bowl combine flour, almond flour, baking powder, cinnamon and salt and mix gently.

In a large mixing bowl beat together butter, honey and sugar until thick and creamy. Add eggs, one at a time, and whisk well. Add yogurt and beat shortly, until just combined

Gradually add the dry ingredients. Gently stir until absorbed in the batter.

Pour the batter into the cake pan and bake for 40-50 minutes or until a wooden skewer inserted in the centre comes out with no crumbs.

Let the cake cool for about 10 minutes in the pan before removing it. Transfer to a wire rack to cool completely before assembling. Ideally refrigerate the cake before cutting it in layers.
Frosting:
In a large mixing bowl combine all ingredients and beat until thick and fluffy.
Fig Compote:
In a small saucepan over medium heat combine all ingredients. Whisk until the mixture starts bubbling. Lower the heat and let simmer for 2-3 minutes whisking occasionally. Remove the pan from the stove and let cool for 5 minutes before using it.
Assembling the cake:
Using a serrated knife cut the cake horizontally in 2 equal layers.

Place one layer on a serving plate or cake stand. Spread on top half of the fig compote (both syrup and fruit). Cover with half of the frosting: spread it as evenly as possible. Place on top the second layer and repeat the same procedure with the compote and the frosting.

Cut the fresh figs in halves and fourths and arrange them on top of the cake. Spoon on top some liquid honey and sprinkle ground almonds.
Notes
If you don't have self rising flour, use cake flour or all purpose flour and add 1,5 teaspoons more baking powder.