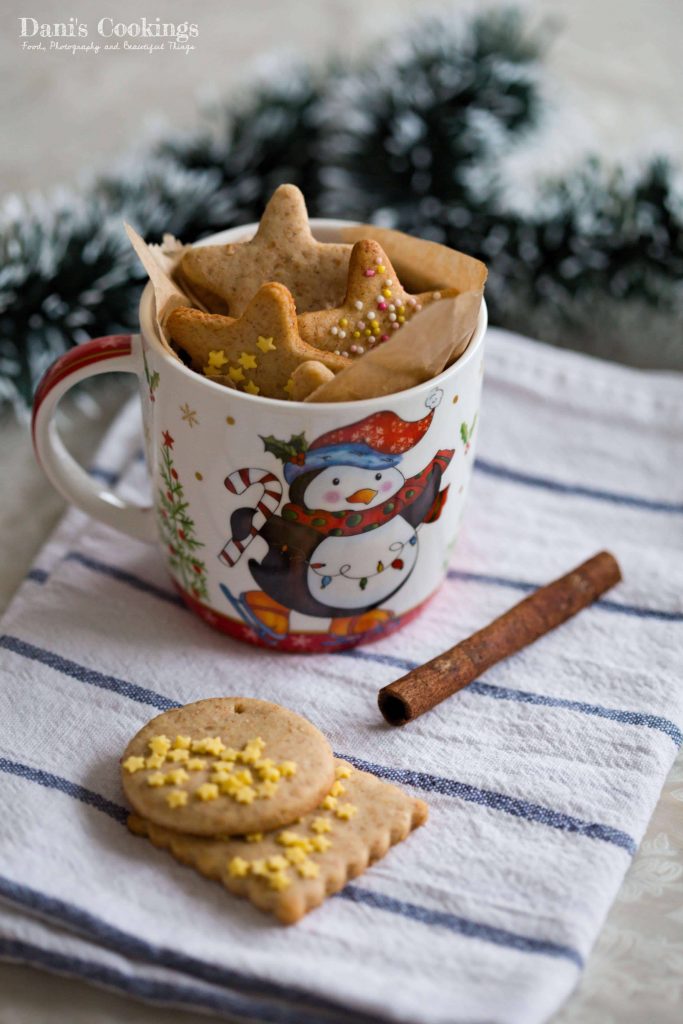 Soft and delicious, these Last Minute Honey Gingerbread Cookies are a fabolously easy and quick Christmas treat! In a short time you can make a whole batch of tasty cookies with nice decorations. That's the best recipe for every busy person who wants to make friends and family happy with homemade edible Christmas gifts.

Every year I bake cookies for Christmas and give them away to people. Since my son's birth, this tradition has become even more meaningful, considering also that his birthday is just a week before Christmas. However this year in December I was extremely busy, therefore very little time was left for cookie baking. I had to bake and decorate all the cookies literally in the last moment before the holidays!

Nevertheless I still wanted to follow my Christmas cookie rule: every year with a new recipe! There are so many cookie recipes in the world but I still don't get tired to experiment with new ones.

Last year for the first time I baked a batch of healthy cookies and they were really great! I discovered that gingerbread cookies made with spelt flour are just perfect. The spelt gives a natural sweetness and a great texture to the cookie dough so I couldn't help but fall in love with this grain. And I decided that this year I would bake cookies with spelt flour once again even though not entirely sugar free. I changed a bit the recipe of the Sugar free spelt cookies in order to accomplish a slightly different level of deliciousness.

Few great things about these cookies:
– They will become soft immediately after baking: just place them in a airtight container as soon as they cool down. They will also keep their softness for a long time.
– They can be decorated with sprinkles before baking and also with fondant or royal icing after baking. I made both variants: with sprinkles and with fondant. My son participated in the decoration process by drawing on top of the fondant with edible markers 🙂
– They can stay for a long time if well covered: at least 1-2 weeks.
– They are so tasty! This year I added also some rum extract to the dough which made the gingerbread even more aromatic.
– Did I say they are soooo quick and easy to make?

Christmas is just around the corner! If you haven't baked your cookies yet, this is your recipe!
Last Minute Honey Gingerbread Cookies
Ingredients
200

g

whole grain spelt flour

,

(1 ½ cup)

115

g

butter

,

melted (½ cup)

50

g

brown sugar

,

(¼ cup)

110

g

honey,

(⅓ cup)

½

teaspoon

ground cinnamon

½

teaspoon

ground ginger

¼

teaspoon

ground nutmeg

1

teaspoon

rum extract

1

egg

½

teaspoon

baking powder
Instructions
In a bowl combine spelt flour and baking powder. Stir gently and set aside.

In a small saucepan over medium heat combine honey, sugar and butter. Stir until the butter is melted and the ingredients are combined. Remove from heat and transfer to a large mixing bowl.

Add cinnamon, ginger, nutmeg and rum extract and stir. Add egg and mix for 20-30 seconds, until incorporated. Gradually add the flour mixture, folding gently with a wooden spoon until a soft dough forms.

Cover the dough with plastic wrap and refrigerate for 1 hour.

Preheat oven to 180 degrees C (350 degrees F). Line two large baking tins with sheets of parchment paper.

Roll the chilled dough between two sheets of non stick paper. Using cookie cutters cut different shapes and arrange them in the pan. Optionally cover the tops of the cookies with sprinkles.

Bake for about 10 minutes or until the edges of the cookies start becoming brown. Remove from oven and let cool for 5 minutes on the pans. Transfer to a wire rack to cool completely.

Store in airtight container for 2-3 weeks.
Notes
If the cookies don't have sprinkles, you can decorate them with fondant or royal icing. For more information about decoration with edible fondant prints check here.