Delicious and moist blondies with lemon flavour: you can have them even if you are on a low-carb diet! I am totally in love with these Keto Lemon Blondies! They are easy to make and also gluten and dairy-free.
What ingredients you need
You need mainly healthy ingredients for these blondies. They are all natural, sugar, dairy and gluten-free:
coconut oil
cocoa butter
almond flour
coconut flour
eggs
xylitol
baking powder
lemon zest: you can use extract or both for a stronger flavour
dairy-free chocolate chips: white or dark. You can substitute them by nuts by choice.
The ingredient quantities are in the recipe card below the post.
Preparation summary
It is easy to make these blondies! Even if you have little experience in the kitchen, you won't find much challenges. to prepare them you only need a hand whisk and a bowl!
The first step is to melt the cocoa butter and the coconut oil. Whisk them very well together with the xylitol.
Gradually add the eggs and then the lemon zest or extract.
Add also the dry ingredients, mixed together in advance. At the end add the chocolate chips.
Bake for about 30 minutes at 350º F/ 180º C. Cut the blondies when they are completely cold!
You will find more details of the steps in the recipe card below.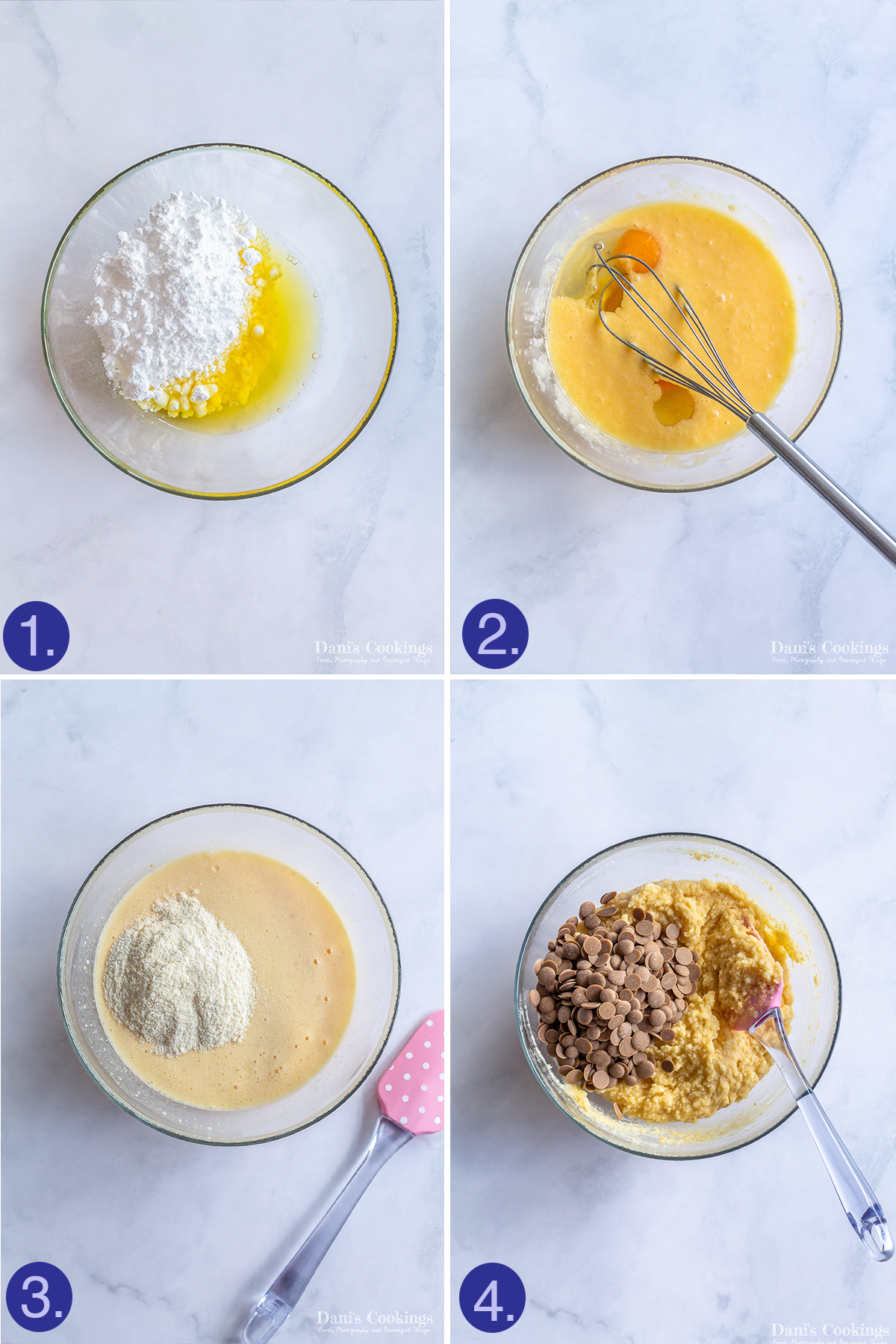 Variations
Don't like lemon desserts? You can perfectly make these blondies with vanilla extract instead.
You can also use other low-carb sweetener like stevia or erythritol. Consider that xylitol is as sweet as sugar but there might be a difference in the sweetness of the other ones.
Instead of chocolate chips you can add nuts to the blondies batter: walnuts, hazelnuts or why not pistachio!
I hope you would like this recipe as much as we did! If you made it, please share your experience!
Here are few more similar recipes that you might enjoy:
Keto Lemon Blondies
Ingredients
2 tbsp/ 30 g

coconut oil

4,5 tbsp/ 60 g

cocoa butter

1 cup/ 100 g

almond flour

4 tbsp/ 30 g

coconut flour

4

large eggs

,

room temperature

½ cup/ 100 g

xylitol

1,5

teaspoon

baking powder

zest of 1 lemon

,

organic or 1 tablespoon lemon extract

½ cup/ 85 g

sugar-free chocolate chips I used white
Instructions
Preheat oven to 350º F/ 180º C. Grease a 11 x 7 inch / 28 x 17 cm pan (or similar size) and line it with a sheet of parchment paper.

In a bowl combine coconut flour, almond flour and baking powder. Whisk and set aside.

Melt together the coconut oil and cocoa butter on a double boiler.

Pour the mixture into a mixing bowl and add the xylitol. Whisk for few minutes, until combined. If the xylitol is a fine powder, make sure no lumps remain (you can use a fork to break them).

Add the eggs, one by one, whisking well after each one. Add also the lemon zest or/ and extract.

Gradually add the dry ingredients, mixing gently with a spatula.

At the end mix in the chocolate chips.

Transfer the batter to the prepared pan. Smooth it out on top with the spatula.

Bake for about 30 minutes or until a toothpick inserted in the centre comes out clean.

Let the blondies cool until room temperature and then cover the pan with plastic wrap. Refrigerate for at least 2 hours or overnight before cutting into rectangular pieces.
Notes
Chocolate chips: you can use any sugar-free chocolate chips. If you are not following a keto diet, you can use also with sugar.
Instead of chocolate chips, you can add same quantity of chopped nuts by choice: walnuts, pistachio, hazelnuts or others.