Can you imagine sweet tacos made with Oreo cookies and cheesecake filling? This is the easiest and most decadent Oreo Cheesecake Taco recipe that you can prepare at home. The tasty oreo tortillas are made from scratch and are so quick and easy! A delicious treat that you can make for celebrations, kids parties or just for fun.
What kind of recipe is this
Sweet tacos are not something new, however oreo tacos with homemade tortillas are a completely different level. The best thing is that they are easy to make won't take you too much time.
This recipe is my invention and I am very proud with it. The mini tacos taste wonderfully and the homemade tortillas are pairing perfectly with the cheesecake filling.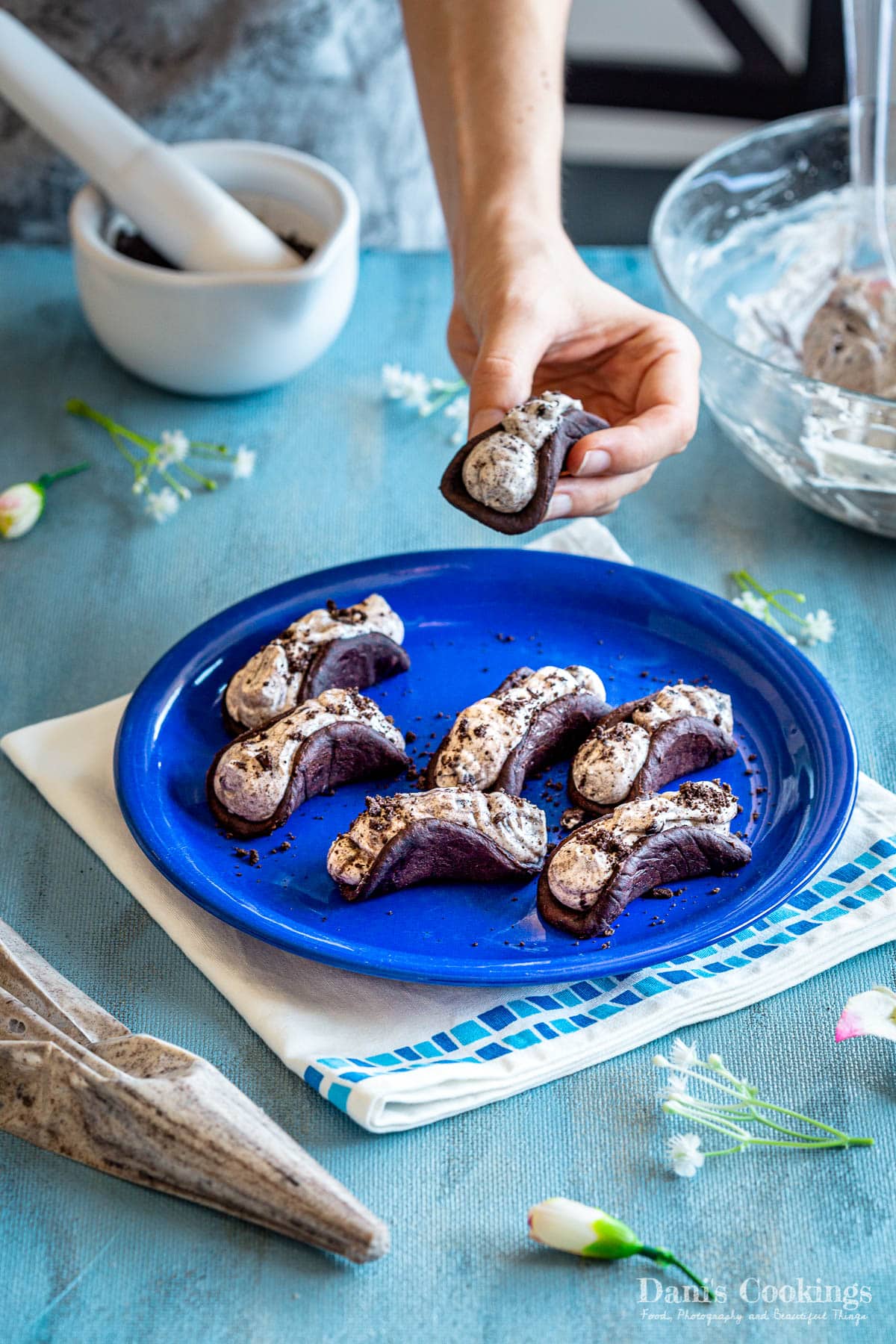 How are the tortillas made
The taco shells are made with cocoa powder and oreo cookie crumbs. They are not very sweet but are tasty and flavourful: perfect to be filled with a delicious cheesecake filling.
In order to bake the tortillas you would need a muffin tin. You have to bake them between the muffin cups, in order to stay shaped like tacos. If you bake them flat they would be still tasty but won't stay in shape when filled.
I found this technique in the blog Sugar Apron. The recipe there is different but I was inspired by the way the tortillas were baked.

How is the filling made
The filling is very easy and tasty. To make it you would need just oreo cookies, cream cheese, whipped cream and a bit of icing sugar. You just have to mix together all ingredients and then pipe the resulting fluffy filling into the baked tortillas.
The whole step-by-step recipe and the ingredient quantities are below the post, in the recipe card.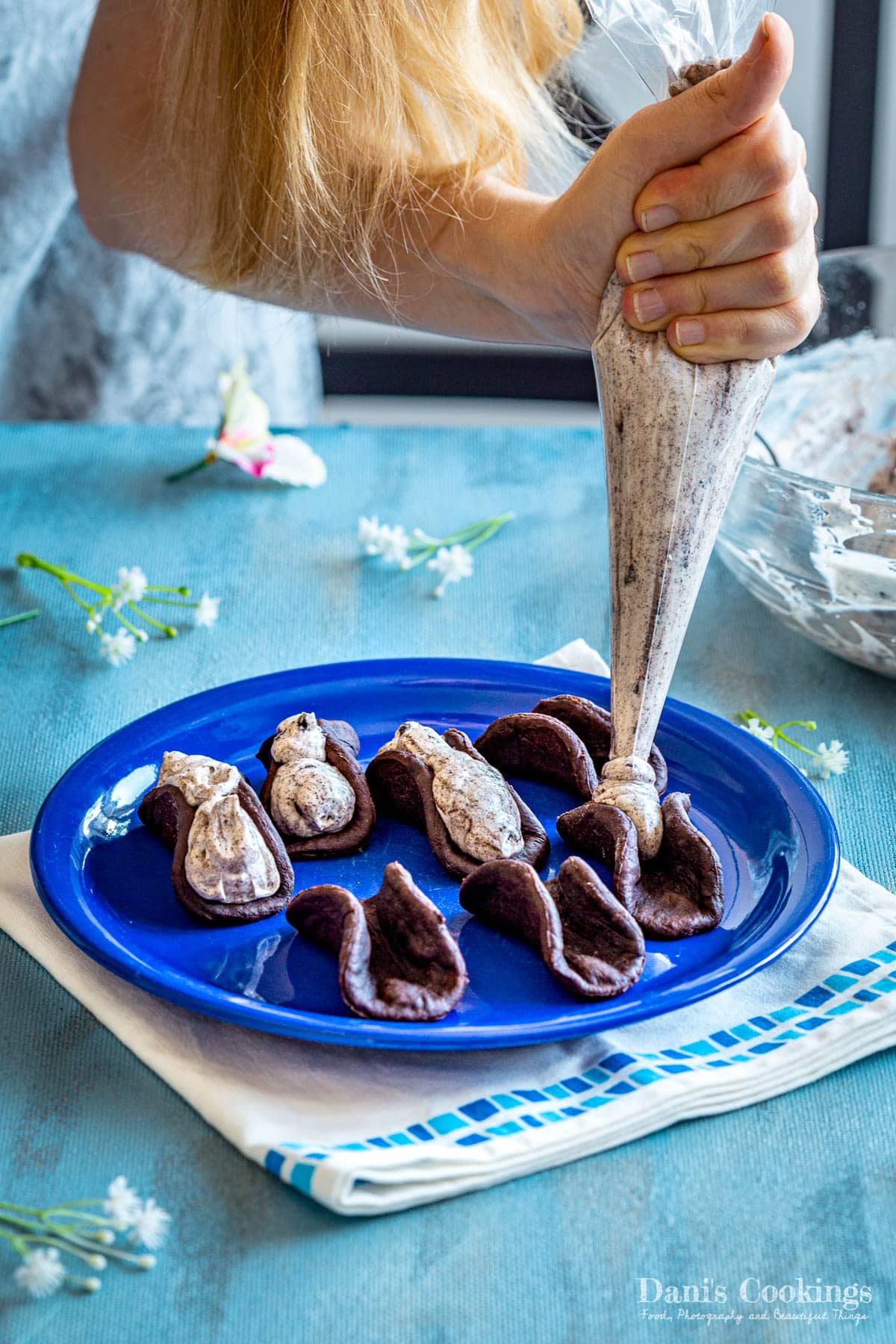 Storing tips
Store the Mini Oreo Cheesecake Tacos in airtight containers in the fridge. The tortillas will absorb the filling but will not become soggy as their dough is quite stable. You can keep the filled tacos for up to 4 days, if they survive that long!
I would be really happy to see in the comments what you think of this recipe!
And if you like it, maybe you will enjoy also my other recipes with cookie crumbs:
4-ingredient No Bake Chocolate Tarts
Oreo Cheesecake Ice Cream Cake
Easy No Bake Cookie Pie
Easy Magic Cookie Bars with Dates
If you enjoyed this post, please share it in social media!
For more recipe tips and behind the scenes information, follow me in Instagram!
Mini Oreo Cheesecake Tacos
Ingredients
For the taco shells:
1 ⅞ cup/ 220 g

all-purpose flour

¾ cup/ 180 ml

water

1

tablespoon

sugar

⅓

teasp salt

3

tablespoon

olive oil or other vegetable oil

4 tablespoon/ 30 g

cocoa powder

5

oreo cookies crushed into crumbs
For the filling:
8

oreo cookies

,

crushed into crumbs

8 oz/ 226 g

cream cheese,

about 1 cup

⅞ cup/ 200 ml

heavy whipping cream

,

cold

4

tablespoon

powdered sugar
Instructions
Shells:
Preheat oven to 350°F/ 180°C.

In a large bowl combine flour, cocoa powder, sugar, salt and cookie crumbs. Mix everything very well. Add the oil and gradually start adding also the water, mixing with a wooden spoon. Make a soft dough that is not too sticky.

Divide the dough into several pieces and roll each one between two sheets of baking paper, sprinkled with flour. Using a mug or a large cookie cutter cut 3,5inch/ 8-9 cm circles.

Roll each circle in the middle like a taco shell and place them between the cups of an inverted muffin tin so they bake in a rolled shape.

Bake for about 15 minutes. Let cool on the muffin tin.
Filling:
In a large mixing bowl combine cream cheese, whipping cream and powdered sugar. Beat with an electric mixer for 2-3 minutes, until smooth and fluffy.

Using a rubber spatula, fold the cookie crumbs into the frosting.

Spoon the filling into a piping bag and fill the cold taco shells.

Serve immediately or for best results refrigerate for 3-4 hours before serving.
Notes
For the dough you may need a bit more or less water than the listed quantity so don't pour it all at one time.
Make sure the cream has been refrigerated for 6-8 hours on the top rack of the fridge, before whipping it.
If you have leftover frosting, you can keep it in ramequins and eat it just as it is: it's quite delicious.
These Oreo tacos will keep about 3-4 days in airtight containers in the fridge.