When the berry season starts there comes my time! But who doesn't love berries: they are great fresh but are also perfect for any kind of dessert. This No Bake Berry Ice Box Cake is one of the easiest and tastiest cakes that you can prepare with them.
Why is the recipe good
Icebox Cake is the perfect comfort dessert that literally everyone can prepare, even your kids. It has versions with different ingredients. The most common are with whipped cream or with pudding.
This particular Icebox Cake is healthier as it contains greek yogurt and maple syrup instead of sugar. Both products contribute also for the really nice and a bit unordinary taste of the dessert. The berries bring a wonderful freshness and even more taste.
What ingredients you need
You need only nine ingredients to make this delicious dessert from scratch:
– Graham crackers or petit beurre cookies
– Milk
– Cream Cheese
– Greek Yogurt
– Whipping Cream
– Maple syrup: can be substituted by honey, agave syrup or powdered sugar
– Blueberries and Strawberries: but you can use other berries that are in season
– Vanilla extract
Preparation steps (summary)
You can prepare it in less than thirty minutes. It will need also several hours in the fridge in order to become moist and all the nice flavours to get combined.
1. Prepare the filling.
2. Arrange in your pan one layer of crackers or cookies soaked in milk.
3. Cover with ⅓ of the filling
4. Arrange a layer of blueberries on top
5. Cover with another layer of soaked cookies and more filling
6. Arrange some strawberries on top
7. Cover with a last layer of soaked cookies and the rest of the filling
8. Let sit in the fridge for 6-8 hours
10. Decorate and serve
It is really easy and the result is perfectly tasty!
The great thing about this No Bake Berry Ice Box Cake is that you can make different variations. You can try with other berries, with different kinds of cookies (why not with homemade healthy ones!) or with other sweeteners (coconut sugar or even stevia).
Let me know in the comments what you think about this recipe! As usual, I would love to receive your feedback!
And if you need some more berry inspirations, check out also the following recipes:
Strawberry Almond Millefeuille
Peanut Butter Yogurt Parfait with Mini Pretzels
Chocolate Yogurt with Strawberry Compote
Apricot Tiramisu with Blueberries
Raspberry Cheesecake Cake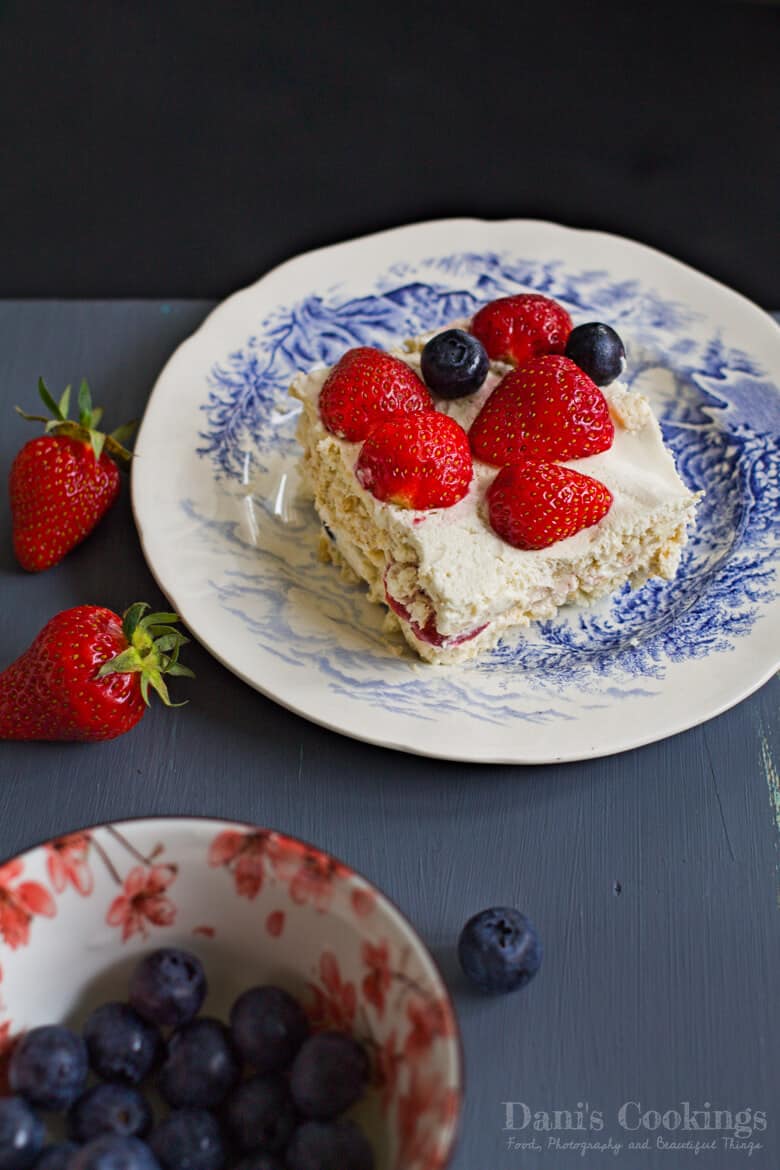 No Bake Berry Ice Box Cake
Ingredients
10,5 oz/ 300 g

graham crackers

,

or petit beurre cookies

⅔ cup/ 150 ml

milk

¾ cup/ 175 g

cup

cream cheese

⅞ cup/ 200 ml

heavy cream,

cold

1 ½ cups/ 350 g

greek yogurt

⅓ cup/ 120 ml

maple syrup

2

teaspoon

vanilla extract

10,5 oz/ 300 g

strawberries

10,5 oz/ 300 g

blueberries
Instructions
In a large bowl combine heavy cream, greek yogurt and cream cheese (all refrigerated for at least 6 hours), vanilla and maple syrup. Using an electric mixer beat at high speed for 4-5 minutes or until the mixture thickens and becomes creamy.

Pour the milk in a soup plate. Dip quickly some of the graham crackers (or cookiein the milk and arrange them on the bottom of a rectangular pan. Cover with about ⅓ of the prepared filling.

Arrange about ⅔ of the blueberries on top.

Continue with another layer of soaked crackers and a layer of filling.

Slice lengthwise about ⅔ of the strawberries. Arrange them on top of the filling.

Finish with a third layer of cookies and the rest of the filing.

Cover the cake with cling film and let it stay in the fridge for 6-8 hours or overnight.

Before serving decorate with the rest of the strawberries and blueberries.
Notes
You can use any kind of berries for this Icebox Cake
Instead of maple syrup use powdered sugar, agave syrup, stevia powder or any other sweetener you might like. Beware that the resulting taste might be different.