Can you imagine a cake made out of chocolate fudge? This delicious No Bake Chocolate Fudge Cake is the ultimate chocolate treat that can be prepared in a matter of minutes.
This is a tasty variation of the classic Chocolate Fudge, served as a cake. A dream come true for all fudge lovers!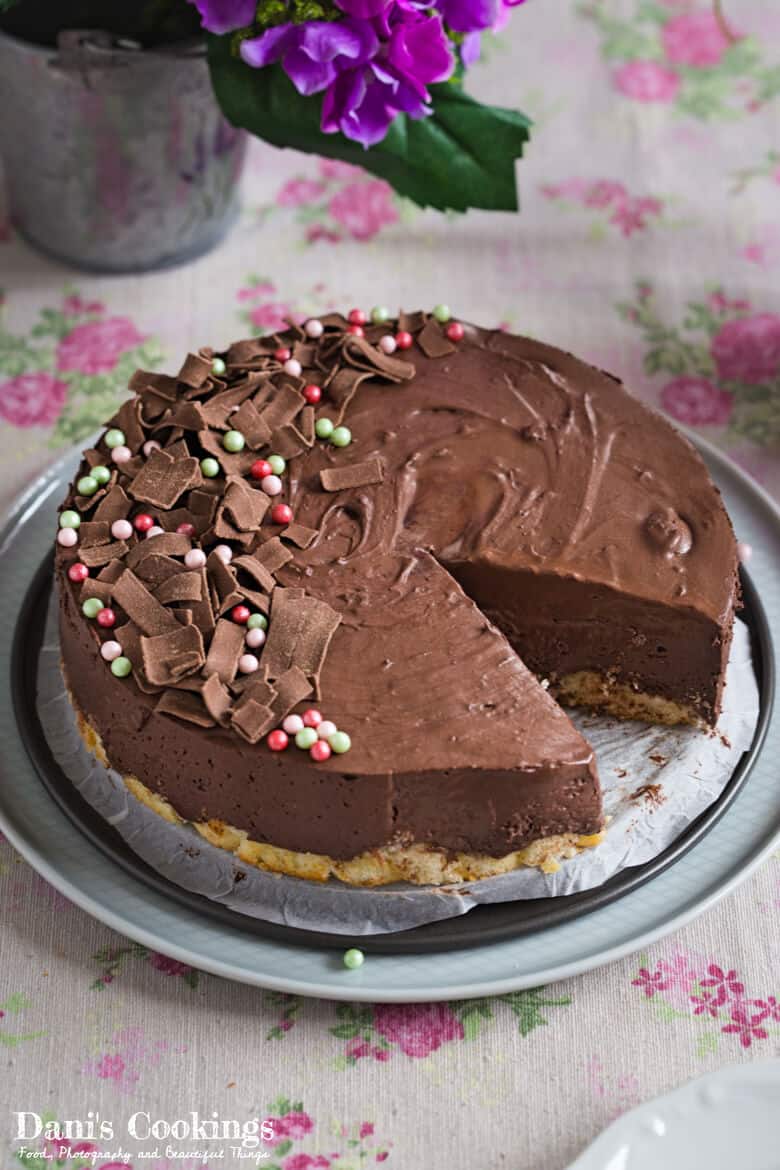 What kind of cake is that
This is practically pure chocolate fudge layered in a spring form pan over soaked ladyfingers. For even better experience some dried fruits coated in chocolate can be added into it. This dessert is a real pleasure for the palate and it is also very quick and easy!
What ingredients you need
You might think chocolate is a key ingredient in this cake, considering the way it looks and tastes. But this is not the case. The No Bake Chocolate Fudge Cake is made with powdered milk, butter and cocoa powder so it is practically a homemade kind of milk chocolate poured over soaked cookies. It is rich, incredibly decadent and so delicious!
Preparation summary
It is very easy to make this desert. The preparation takes just few minutes. You need to mix the dry ingredients and the soft butter with a mixer on low speed, while adding slowly the liquid ingredients. Eventually the mixture will become smooth and creamy. In the fridge it will thicken to the wonderful consistency of fudge.
Keep in mind that this is not just a cake, it is a very rich and decadent dessert so you need to cut small slices! This is heaven for all chocoholics!
Let me know in the comments what you think of this cake! If you tried it, I would love to learn about your experience.

Hungry for more chocolate? Try also the following recipes:
No Bake Chocolate Fudge Cake
Ingredients
12,6 oz/ 360 g

powdered milk

1 cup/ 100 g

cocoa powder

5 tablespoon/ 125 g

honey

⅜ cup/ 80 g

brown sugar

⅔ cup/ 150 g

butter

,

soft

⅞ cup/ 200 ml

water

2

teaspoons

vanilla extract

10

ladyfingers

½ cup/ 120 ml

milk

dried fruits coated in chocolate

,

optional
Instructions
Soak the ladyfingers into the milk and arrange them one close to another in a 15-18 cm spring form pan (6-7 inch). Cut some of the cookies to fit in the pan.

In a small saucepan over low heat combine water and brown sugar. Stir until the sugar is dissolved. Remove from heat and add honey and vanilla. Stir until honey is dissolved too.

Sift cocoa and powdered milk into a large mixing bowl. Add the soft butter. Beat with an electric mixer at a very low speed, gradually adding the liquid ingredients. Continue beating until the mixture becomes smooth and creamy. Add some more water if necessary but don't make it too thin.

Pour the mixture on top of the ladyfingers. Add some chocolate coated dried fruits inside (preferably strawberries, raspberries or orange peels).
Notes
Store the cake for 3-4 days in the fridge, covered with plastic wrap.