Easy, tasty and refreshing, this No Churn Lemon Cheesecake Ice Cream is the perfect comfort dessert! You can make it in just 20 minutes and then indulge with it on the next day.

Who doesn't love ice-cream? It is the ultimate deliciousness for every kid and every adult. It has been always one of my favourite desserts and for a long time I have been dreaming to make some on my own. We all know that it requires a special ice-cream maker and I have even considered buying such. What still stops me is that it is an additional home appliance that will occupy a lot of space in my far from enormous kitchen. But guess what: you don't always need such device! With recipes like the one here you can make a fantastic no churn ice-cream just in your freezer!

Why Lemon Cheesecake? Well, I love lemon desserts and also cheesecake. Imagine a refreshing and velvety lemon ice-cream with sweet and sour white chocolate glaze and cookie crumbs… It's as decadent as it sounds. The taste of the ice-cream is similar to the frosting from the No Bake Cookie Cake with Lemon Mousse but it doesn't contain cocoa.

Surely this ice-cream is not made for diets: it contains cream cheese, condensed milk and lots of whipped cream. However the experience is worth the calories. You can enjoy it just as it is, in a cup or in a cone or you can eat it with crepes, pancakes or waffles. No matter the way you eat it, this No Churn Lemon Cheesecake Ice Cream will bring you a moment of happiness!

One of the key points of the recipe is the combination of condensed milk and lemon juice. You might remember from the Lemon Tart with Orange Zest and Blackberries that a nice chemical reaction converts these two ingredients into a thick mixture after being combined. All together with the cream cheese and the whipped cream they form a fantastic mousse which is the base of the ice-cream. It gets really hard after being frozen but if you leave it at room temperature for 15 minutes, the ice-cream softens a bit and becomes really nice. Thanks to the mousse consistency it never melts into a liquid. Therefore the best way to eat it is slightly defrosted but still relatively hard.

Did I tempt you? If you are already up to prepare this delicious No Churn Lemon Cheesecake Ice Cream let me know how it turned out 🙂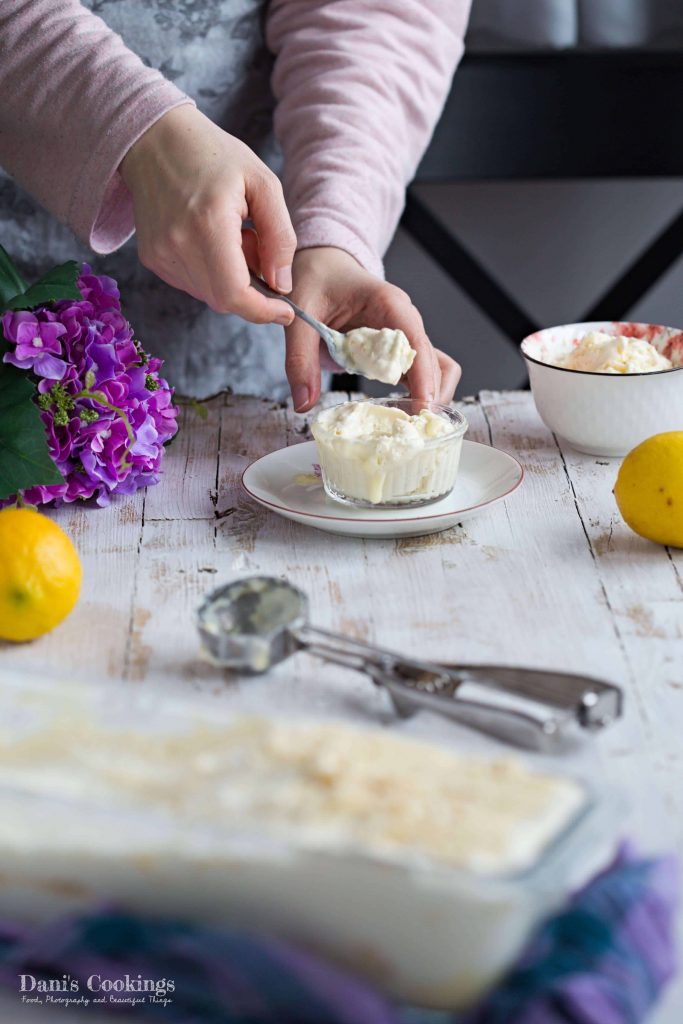 No Churn Lemon Cheesecake Ice Cream
Ingredients
For the ice cream mixture:
1

lemon

,

juice and zest

1 can/ 13,4 oz

sweetened condensed milk

,

(397 ml)

1 ¾ cup/ 400

ml

whipping cream,

cold

1

tablespoon

powdered sugar

¾ cup / 175

g

cream cheese

2

teaspoons

lemon extract

,

or lemon flavoured sugar
For garnish:
⅔ cup / 60

g

cookie or graham cracker crumbs

3,5 oz / 100

g

white chocolate

juice from 1 lemon
Instructions
Garnish:
Melt the white chocolate over a pan of simmering water. Add juice from 1 lemon and stir until well combined. Cover with cling film and let sit in the freezer for 15 minutes, until preparing the ice-cream.
Ice Cream:
In a small bowl combine juice from 1 lemon, lemon zest and lemon extract and stir.

In a large mixing bowl combine condensed milk, cream cheese and the lemon mixture. Beat with an electric mixer at a high speed for 3-5 minutes until smooth and thick.

Wash very well and wipe the beaters of the mixer before whipping the cream.

In another mixing bowl whip the cream until stiff peaks form. Using a rubber spatula fold the cream into the condensed milk mixture, until well combined.
Assembly:
Pour about ⅓ of the ice-cream into a large loaf pan. Spread on top ⅓ of the cookie crumbs and ⅓ of the white chocolate mixture (still liquid but thickened). Continue layering the ice-cream cheesecake until using all the ingredients. Cover the pan with cling film and let sit in the freezer for at least 8 hours.

Before serving let the pan stay at room temperature for 10-15 minutes.
Notes
Make sure the cream has been cooled for at least 6-8 hours on the top rack of the fridge, before whipping it.