A very delicious recipe for all peanut butter lovers and not only: Peanut Butter Yogurt Parfait with Mini Pretzels and Blueberries! It is decadently tasty and you can make it in about 15 minutes.
How did I come up with this Peanut Butter Yogurt Parfait recipe
For some time I was craving a tasty dessert that doesn't take much time to prepare. I wanted a decadent treat with contrasting textures and without refined sugar.
And one day I found this wonderful recipe from the blog Naturally Sweet Kitchen. I just loved the idea of a parfait with peanut butter and mini pretzels. In my view sweet and salty go very well together, especially if peanut butter is involved. So I decided to make something similar but with some fruits… like blueberries! In my view they are among the best fruits to be paired with peanut butter because they are small and not too juicy and at the same time they have a pleasant, mildly sweet taste.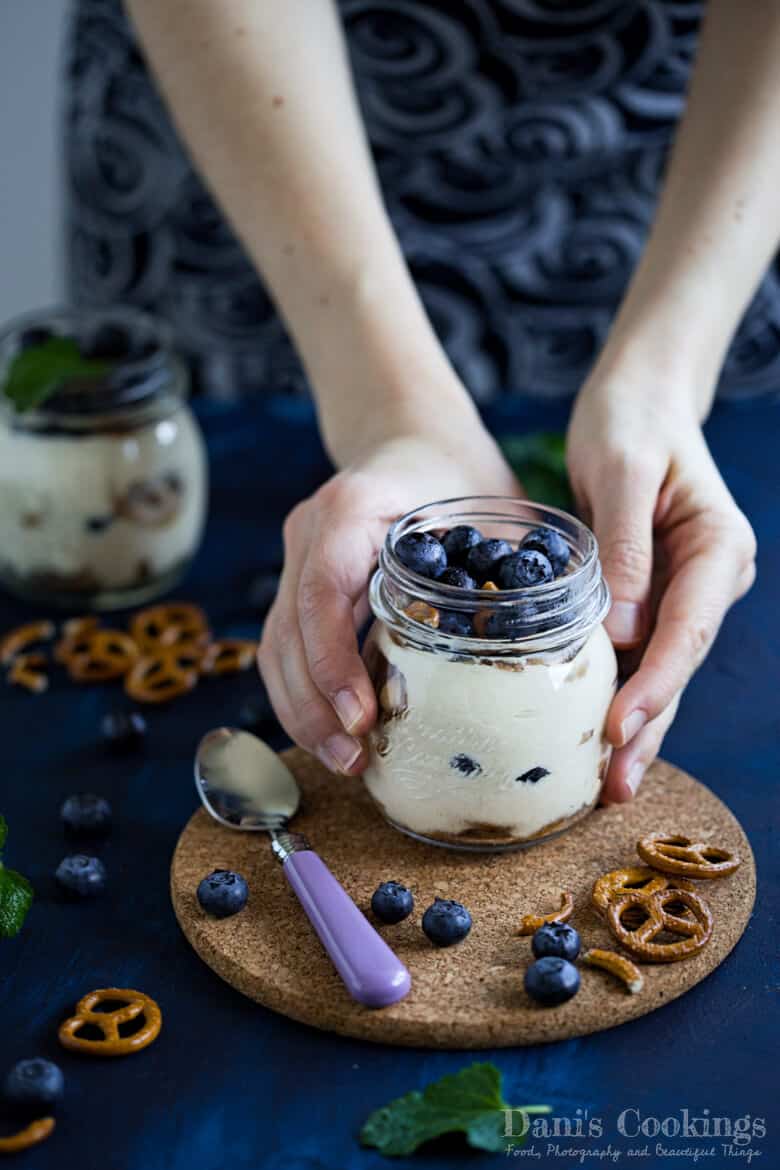 What do you need for the Peanut Butter Yogurt Parfait with Mini Pretzels
It is very easy and takes literally 15 minutes to make. You only need a mixer, a big bowl and 4-6 cups or glasses. Four, if you want solid portions for people with a heavy sweet tooth. Six, if you don't want to cheat too much on your diet.
This dessert is made with only six easy to find ingredients:
Greek yogurt
Liquid honey (or maple syrup)
Peanut butter
Whipping cream
Blueberries
Mini Pretzels
How to make the Peanut Butter Yogurt Parfait
This dessert is ridiculously easy! It is made in two simple steps:
Beat greek yogurt, honey, peanut butter and cream in a large bowl until creamy.
Layer the prepared mixture, the blueberries and pretzels into the glasses.
That's all – seriously! Almost as easy as preparing a pudding from a package. But it is much better for you than the store bought pudding mix. This parfait is not necessarily perfect for your diet but let's be honest: if eaten in moderation, no food can make you fat! One of the best things about this dessert is that it contains manly healthy ingredients: even the pretzels can be healthy, if you buy the right kind.
Let me know what you think about the Peanut Butter Yogurt Parfait with Mini Pretzels! If you made it, I would be happy to see it in Instagram: tag @daniscookings and hashtag it #daniscookings
And if you like recipes with peanut butter, here is a small selection:
Peanut Butter Bundt Cake with Cheesecake Filling and White Chocolate Glaze
Maple cookies with peanut butter frosting
Coconut Peanut Butter Truffles
Peanut Butter Strawberry Jam Cake
Peanut Butter Yogurt Parfait with Mini Pretzels
Ingredients
⅓

cup

creamy peanut butter

,

(85 g)

1 ½

cups

greek yogurt,

(350 g)

⅞

cups

whipping cream,

(200 ml)

3

cups

blueberries

,

(300 g)

⅜

cup

liquid honey,

(130 g)

3,5

oz

mini pretzels

,

(100 g)
Instructions
Refrigerate the whipping cream and the greek yogurt for at least 6 hours.

Before starting to prepare the parfaits, place a large mixing bowl (glass or metal) in the freezer for 15 minutes.

Remove the bowl from the freezer and combine inside peanut butter, yogurt, honey and heavy cream. Beat with an electric mixer first at low speed and then at high speed, until the mixture thickens and becomes creamy.

Place some of the mini pretzels on the bottom of 4-6 glasses. Spoon some of the yogurt mixture on top. Cover with blueberries. Repeat the procedure in order to make 2 layers of each product. Top with generous amount of blueberries and mini pretzels.

Serve immediately or after refrigerating for few hours.

Notes:

You need to refrigerate the cream, the yogurt and the mixing bowl in order to obtain thick consistency when beating the ingredients. The peanut butter and the honey should not be refrigerated as this will make them too firm and hard to get creamy.