Can you make a delicious flat bread if you don't use yeast? Sure! That Quick No Yeast Focaccia will change your idea about homemade bread and will save you in moments when you are not sure what to serve for lunch or dinner.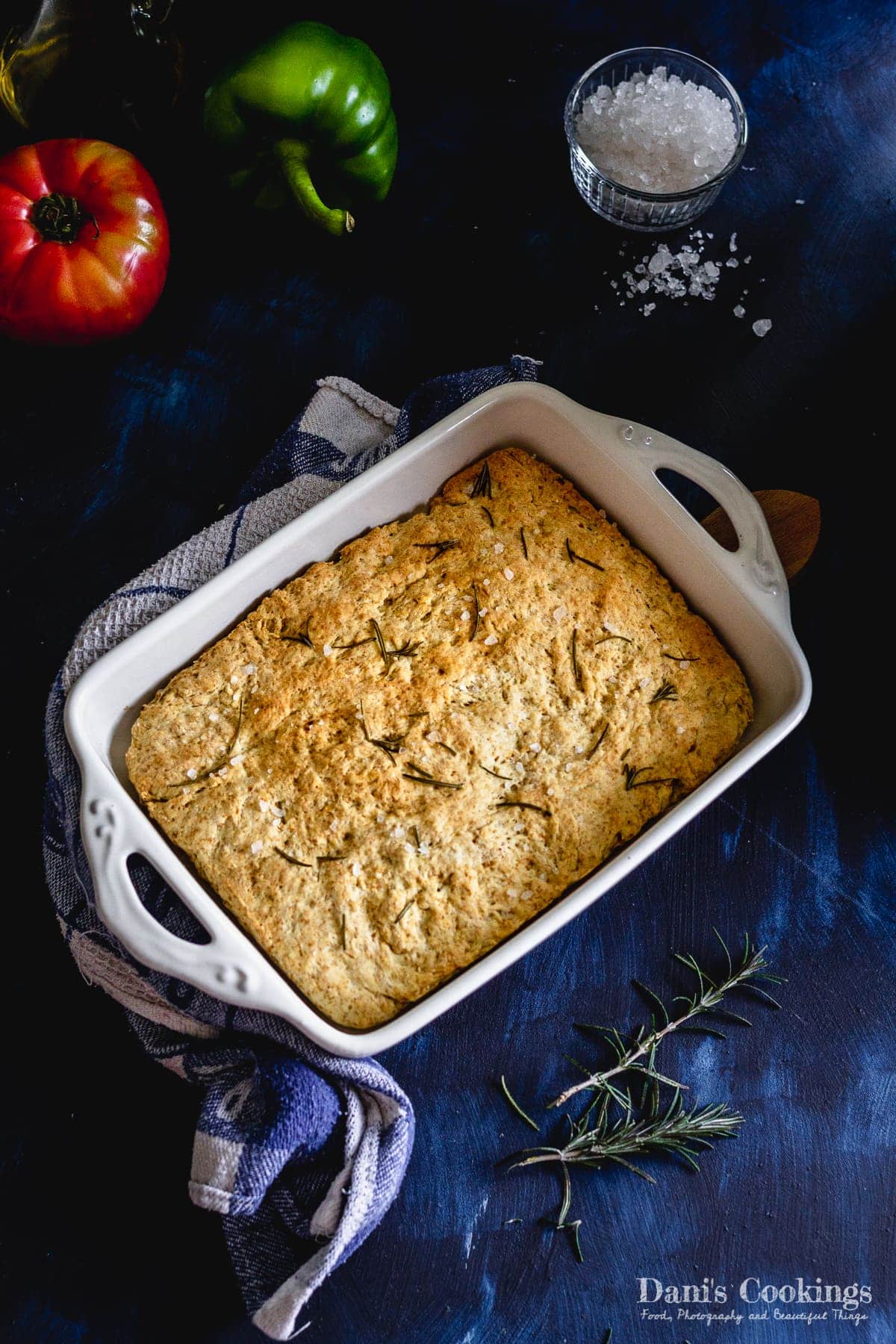 How to make focaccia without yeast
You can make it without much efforts in about 30 minutes. You just need to use baking powder instead of yeast and you are all set.
There is one special ingredient that makes focaccia so great and it is the extra virgin olive oil. It is really flavourful and tasty, you feel it in every bite! I have mentioned multiple times in other posts that I love cooking and baking with olive oil. In fact I use it in almost everything. If you bake cakes with olive oil, you won't feel its taste due to the other ingredients like vanilla, cocoa, etc. But when you bake a bread or a pie crust, you totally feel the wonderful flavour. I am simply addicted to breads made with olive oil and focaccia is one of them. I also love making olive oil crust – you can find the recipes in my Zucchini Quiche and the Easy Pumpkin Pie.
Why baking powder and not baking soda for this focaccia
Soda breads are very popular because they are quick and usually easy to make. And actually baking powder contains baking soda + acidic agent. It is less strong than the soda, however when you use soda you need an additional acidity. In breads usually it comes from yogurt or buttermilk because apart from being acid they also help create nice texture. Focaccia bread, on the other hand, is normally dairy free, hence making it with baking powder instead of soda, is the better option as it already carries the acidic agent.
One thing I need to mention here is that breads made with yeast are usually puffier than the ones made with soda or baking powder. The soda makes the focaccia a bit thicker and chewier but that doesn't mean it is not soft. The gluten doesn't develop the same way as in a yeast bread. Still it is a great bread to try make as it is also super easy.
I am sure you will like this focaccia made with baking powder! It is definitely worth trying, especially if you are running out of yeast or out of time. And if you want to see the "real" Italian focaccia recipe with yeast, you can check the post Easy Focaccia Bread.
If you liked this recipe, I would be glad if you share the link in social media! This would help more people to benefit from Let me know in the comments what you think about it.
Quick No Yeast Focaccia
Ingredients
2 ¼ cups/ 300 g

all purpose flour

1

teaspoon

baking powder

3 tbs / / 40 ml

olive oil

,

+ more for greasing

1

teaspoon

salt

⅔ cup / 170 ml

water

,

approximately

rosemary leaves

sea salt
Instructions
In a large mixing bowl combine flour, baking powder and 1 teaspoon salt. Mix very well and add the olive oil. Keep mixing with a wooden spoon and then start gradually adding the water. A soft dough should form. Knead a bit with a hand, just to make sure all the flour and water are evenly distributed and the dough is uniform. It should be soft but not sticky.

Grease the dough and extend it at the bottom of a small baking tin (9 x 7 inch/ 23 x 20 cm

or a 9 inch/ 23 cm round cake pan). Sprinkle the focaccia with rosemary and sea salt on top and press them so they get stuck into the dough. Sprinkle with more oil.

Bake for about 20 minutes or until golden brown.
Notes
You might need a bit less or more water, depending on the flour, the environment humidity, etc. Add it slowly in order to avoid the dough becoming too watery.
Keep the focaccia in airtight container for 2-3 days.