Tasty and chewy, with a hidden chocolate twist, the Red Velvet Crinkle Cookies are among the best cookies you can bake for the holidays. They are also quite easy to make! Read on to find a step-by-step recipe and tips how to make the most delicious Red Velvet Crinkle Cookies from scratch and impress family and friends!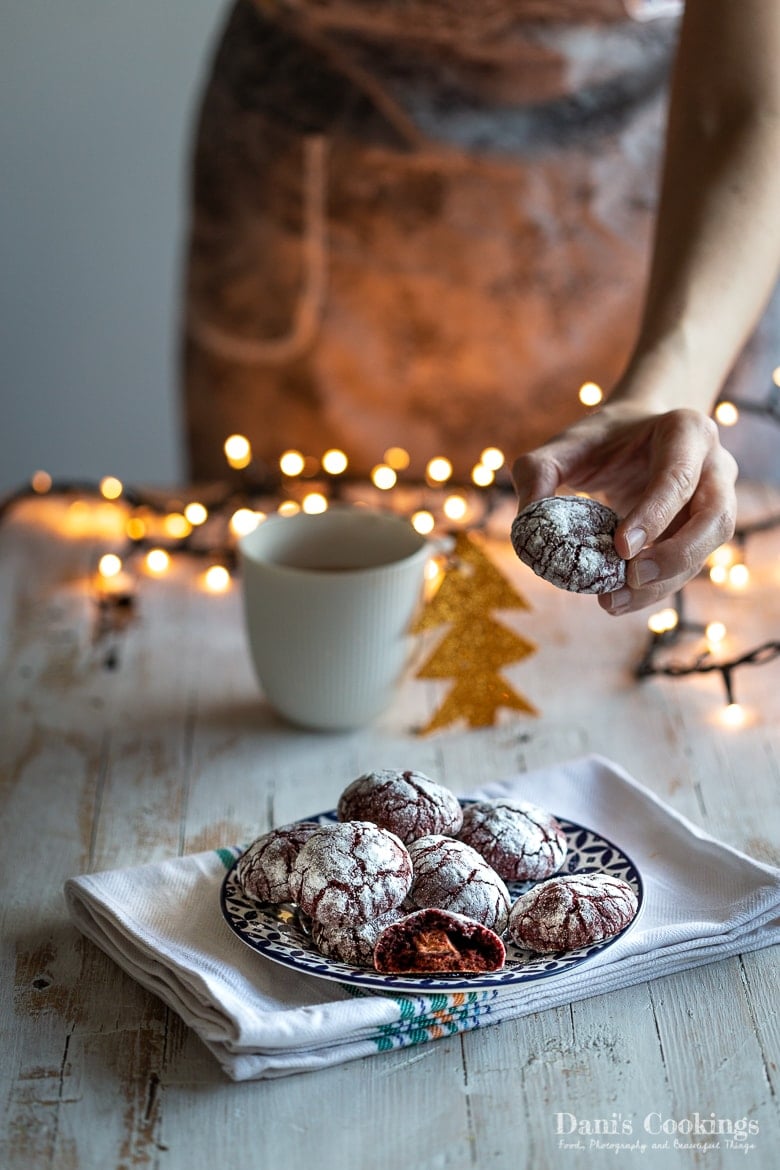 How are the crinkles formed
Few years ago the Crinkle Cookies were a kind of a "fashion" around Internet. I wasn't understanding what was so special about them: they didn't look to me interesting at all. But as the big fuss is over now, this year I decided to bake them myself and to find out why they are so loved.
First let's clarify what creates the crinkled look of these cookies. They are made with more eggs than most other cookie recipes and also with more baking soda. The combination of both is increasing the air in the dough and makes the cookies to crack during baking.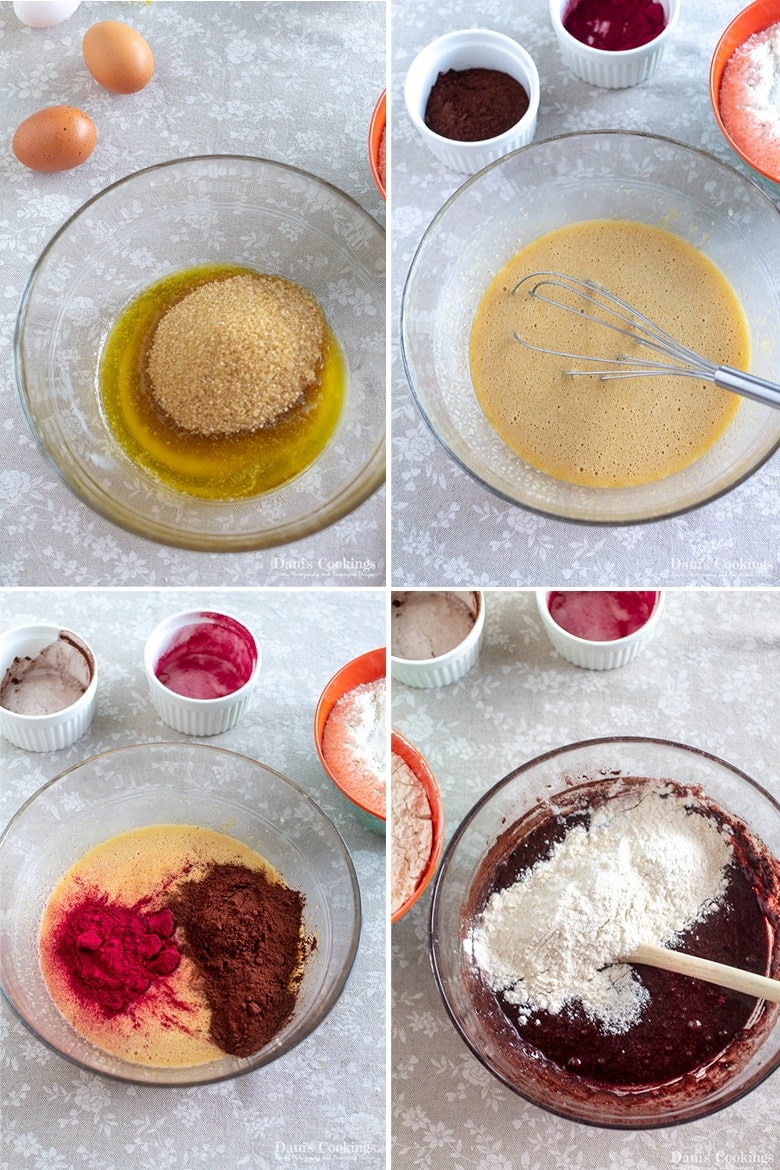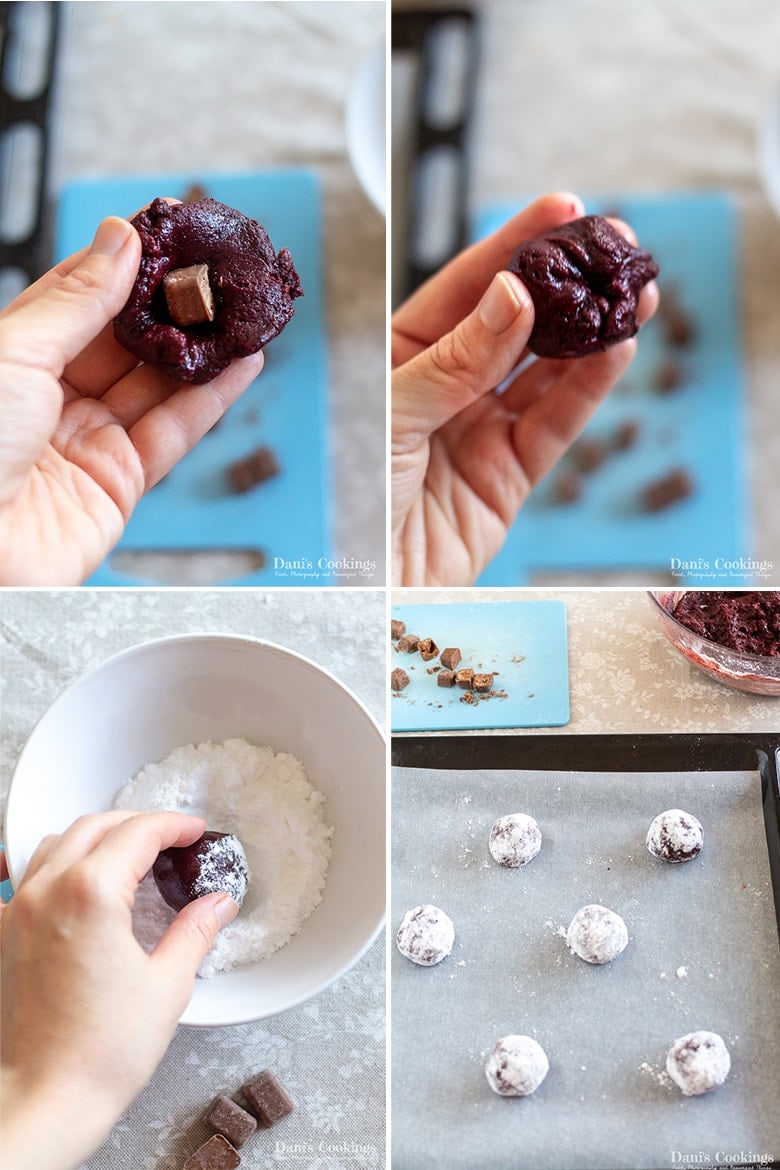 What makes a cookie chewy
The crinkles are not everything about these cookies. They have other qualities, such as chewy texture, softer on the top and slightly harder on the bottom. You need to try the real nice crinkle cookie in order to understand why they are so good. That means you need to follow certain tips while preparing them.
There are known methods to make a cookie chewy: mainly by adding certain ingredients which increase the moisture. Eggs are among them. Yolks in particular add up more fats which retain moisture. Using brown sugar, instead of white also helps to make your cookies chewy. In addition don't overbake the cookies! In order to accomplish this wonderful texture, they should be still very soft on top, when removed from the oven.
Why are these cookies great
Apart from the great texture, these cookies have also a nice taste and colour, thanks to the beetroot powder. If you don't have beetroot powder, you can use food dye. That way your cookies will have also more intensive red colour. But I always prefer natural colorants when possible, considering the possible health implications of the artificial ones. Also beetroot powder is a really great ingredient. It adds more softness and a slight earthy taste to the dough which I find wonderful. I have used this ingredient in a number of recipes like the Healthy Red Velvet Cake and the Raw Red Velvet Cheesecake and I can't stop using it.
Being Red Velvet, these cookies need to have a special touch. I stuffed them with chocolate chunks. If you prefer, you can stuff them with cream cheese filling, following the instructions in the recipe Double Chocolate Cookies with Cheesecake Filling. That is not mandatory, however, you can perfectly enjoy these cookies even without the filling.
Can you freeze them
Same as with majority of other cookie recipes, you can freeze homemade Red Velvet Crinkle Cookies as well. The best is to do it when they are rolled into balls: you can find detailed instructions in the post How to make a large batch cookies. You can still freeze them after they are baked: place them in airtight containers, lining each layer with parchment paper.
I hope this recipe will inspire you to make delicious Red Velvet Crinkle Cookies! If you like it, share it in social media so it can reach more people. And if you made it, I would be glad to hear how it went!
Red Velvet Crinkle Cookies
Ingredients
2

cups

all purpose flour

,

240 g*

2

teaspoons

baking powder

½

teaspoon

salt

¼

cup

vegetable oil

,

60 ml

¼

cup

butter

,

melted (50 g)

2

tbs

cocoa powder,

15 g

1

tbs

beetroot powder

,

8 g (see notes)

1

cup

brown sugar

,

200 g

3

eggs

2

teaspoons

vanilla extract

pinch

of cinnamon

powdered sugar for coating

,

about ⅔ cup or 70 g

optional: 3

,

5 oz chocolate chunks or frozen cream cheese filling (see notes)
Instructions
In a bowl combine flour, cinnamon, baking powder and salt. Stir and set aside.

In a large mixing bowl combine melted butter, oil and brown sugar. Whisk for about 2 minutes.

Add eggs and vanilla extract and whisk few more seconds, until combined.

Gently fold the beetroot powder and the cocoa powder into the wet ingredients. At the end add the flour mixture little by little, stirring carefully with a wooden spoon to make a soft dough.

Cover the bowl with a cling film and refrigerate for 30-60 minutes.

Preheat oven to 350 degrees F/180 degrees C. Line two large baking tins with parchment paper.

Make balls out of the chilled dough. Optionally stuff them with chocolate chunks or with frozen cream cheese filling (make a well in the centre of the dough and place there the stuffing, then close very well and roll out the ball). Roll the cookies into powdered sugar. Arrange them on the baking sheet.

Bake for about 10-12 minutes or until the bottoms start becoming slightly darker but the tops are still soft. Let cool on a wire rack.

Keep the cookies closed in airtight container for a week. You can also freeze them for up to 3 months by placing them in airtight containers and lining each cookie layer with parchment paper.
Notes
Beetroot powder can be substituted with red food colouring by choice.
Depending on the size of your eggs you might need up to ⅓ cup more flour. To understand if you need more flour: after 30 minutes in the fridge the dough should be still a bit soft but not too sticky. If it is very sticky, start adding more flour, 1 tbs at a time, until the consistency of the dough is stable enough to be shaped with hands.
When making the balls, do not hold the dough too long in your hands as it will stick to them. To prevent this, you can grease your hands lightly. Keep the dough in the fridge, when you are not working with it.
Stuffing the cookies is optional. Instead of chocolate chunks you can use the stuffing from this recipe. Cream cheese stuffed cookies should be stored in the fridge.