This Spinach and Leeks Filo Pie is tasty, easy to make and full of healthy green vegetables. It resembles the Greek Spanakopita but is simpler. It is perfect as a starter or as a light dinner.
What kind of pie is this
This is a spinach and feta cheese pie made with filo pastry. It is similar to the greek Spanakopita or to the Bulgarian Zelnik. It was inspired by a Jamie Oliver's vegetarian filo pie I saw on the TV several years ago. I decided to recreate it, using a similar technique of assembling the filo sheets in a cake tin. The result is a crispy bottom, buttery top and lots of greens in the middle, mixed with cheese and eggs.
What ingredients do you need for this Filo Pie
Filo pastry sheets
Olive oil
Spinach: fresh or frozen
Fresh leeks
Crumbled feta cheese: can be substituted by ricotta or cottage cheese. I used White Bulgarian cheese, which is similar to Feta but lighter.
Grated yellow cheese: cheddar, Gouda, Emmental or similar
Melted butter
Eggs
Salt and pepper
optional: Rosemary leaves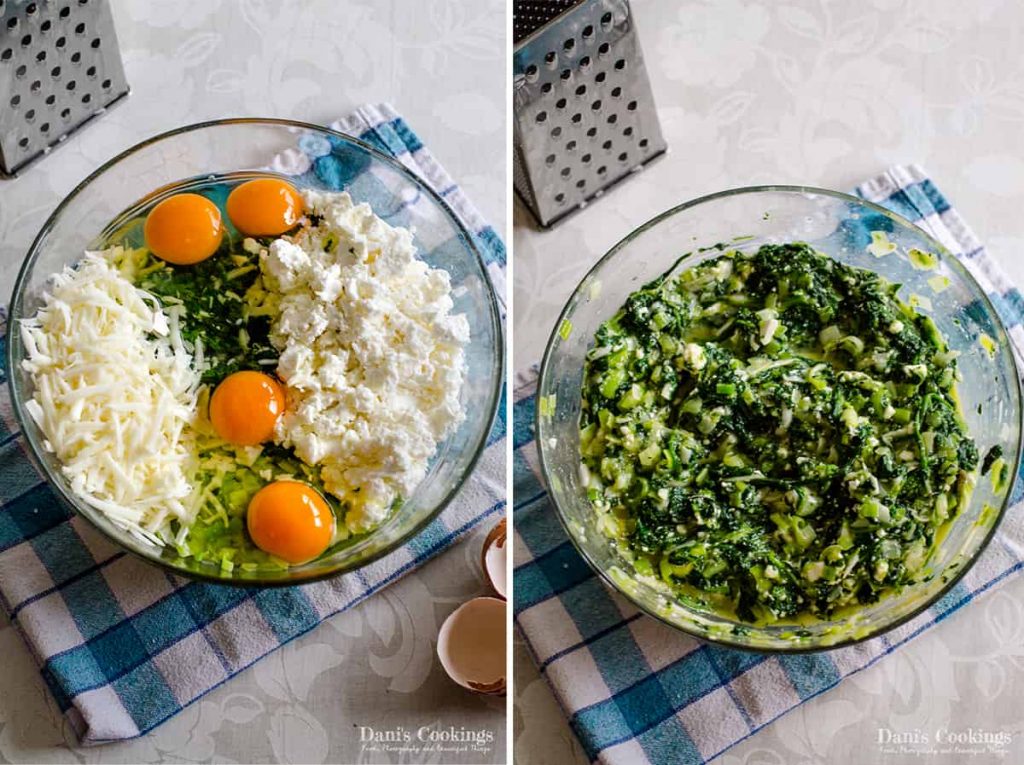 How to make Spinach and Leeks Filo Pie
First you need to cook the leeks and the spinach separately with some olive oil. Then you need to mix them in a big bowl together with all the remaining ingredients, except the filo sheets and the butter. Start laying the sheets on a 10 inch cake pan, so that they overlap. Each sheet should be folded lengthwise in two and then half of the sheet should be hanging out of the pan. Brush each sheet with butter. When the whole bottom of the pan is covered with filo sheets, spread the filling on top. Close the top with the hanging parts of the filo sheets. Brush with butter and bake for 40-50 minutes, until golden brown.
What to serve with this spinach pie
This filo pie is perfect to eat on its own as a light dinner. It is also great as a side of a meat dish or with a hearty soup. Serve the pie cut in triangular slices, as a cake.
Whenever you need a light and tasty vegetable pie, this recipe is a perfect choice! If you like it, you might enjoy also other tasty filo pie recipes:
Filo pie with cheese and black olives
Sesame filo pie
Broccoli Filo Pie
If you like the recipe, please share the link so that other people can benefit from it!
Spinach and Leeks Filo Pie
Ingredients
14 oz/ 400 g

filo pastry sheets*

4

tbs

olive oil

14 oz/ 400g

spinach

,

fresh or frozen

3

large leeks

,

chopped

7 oz/ 200g

feta cheese

,

crumbled*

100

g

yellow cheese - Edam

,

Gouda, Emmental, Cheddar

4

eggs

2

tbs

butter

,

melted

Salt

Pepper

Rosemary

,

optional
Instructions
In a frying pan sauté the leeks in 2 tbs olive oil for about 10 minutes, until softened. Season with salt, pepper and rosemary. Transfer the leeks to a large bowl.

Use the same pan (without washing it) to cook the spinach in the remaining olive oil until soft. Add some salt. Transfer to the bowl with the leeks.

Grate the yellow cheese and add it to the spinach and leeks. Crumble the white cheese and add it to the same mixture. Add the eggs and stir the ingredients in the bowl until everything is mixed well.

Preheat oven to 390 degrees F/ 200 degrees C. Grease a 10 inch/ 26 cm spring form pan and cover it with a sheet of parchment paper.

Lay 1 filo sheet on the prepared baking pan so that part of the sheet is hanging outside (see photos). Brush it lightly with butter. Lay another sheet next to the first one so that they are overlapping. Repeat the process until the bottom of the pan is covered with filo sheets. Spread the spinach and leeks mixture inside the pan. Fold the excess filo pastry inwards to enclose the filling. Brush the top with the remaining butter.

Bake for 30-40 minutes or until golden brown.
Notes
You need about 8-10 filo sheets. If they are very thin, you can use two sheets at a time and fold them together.
Instead of feta you may use ricotta, cottage cheese. I made my pie with Bulgarian sirene which is similar to feta.