This Strawberry Almond Millefeuille is a delicious and fresh variation of the traditional Millefeuille with pastry cream. It is made of three crispy layers of puff pastry covered with strawberry cream and topped with almonds. This cake is a wonderful experience for everyone who likes strawberry desserts!

Millefeuille or Millefoglie is a well known classical dessert which normally consists of three layers of puff pastry covered with cream. It is also known as Napoleon, even though I think Napoleon is slightly different. Millefeuille is quite popular in Italy and France, even though its origin is not clear. I had the opportunity to taste the traditional and most common version (with pastry cream) in one of the hundreds historic pastry shops in Italy. It is a really nice dessert which every person with a sweet tooth would totally appreciate. But most probably you would love it even if you are not much into sweets.

Last weekend my in-laws came to visit us so I decided to bake something special for them. They live far away from us so normally they only enjoy the pictures of my sweet creations, without being able to taste them. I think this is very unfair as they constantly tell me how delicious my cakes look. For that reason I decided that it was absolutely mandatory to bake something sweet for them.

The Strawberry Almond Millefeuille was the logical choice: they like very much millefeuille and now is also the strawberry season. Another good advantage of this dessert was that it wasn't too time consuming. That day was very busy for me and I wasn't able to spend majority of it in the kitchen.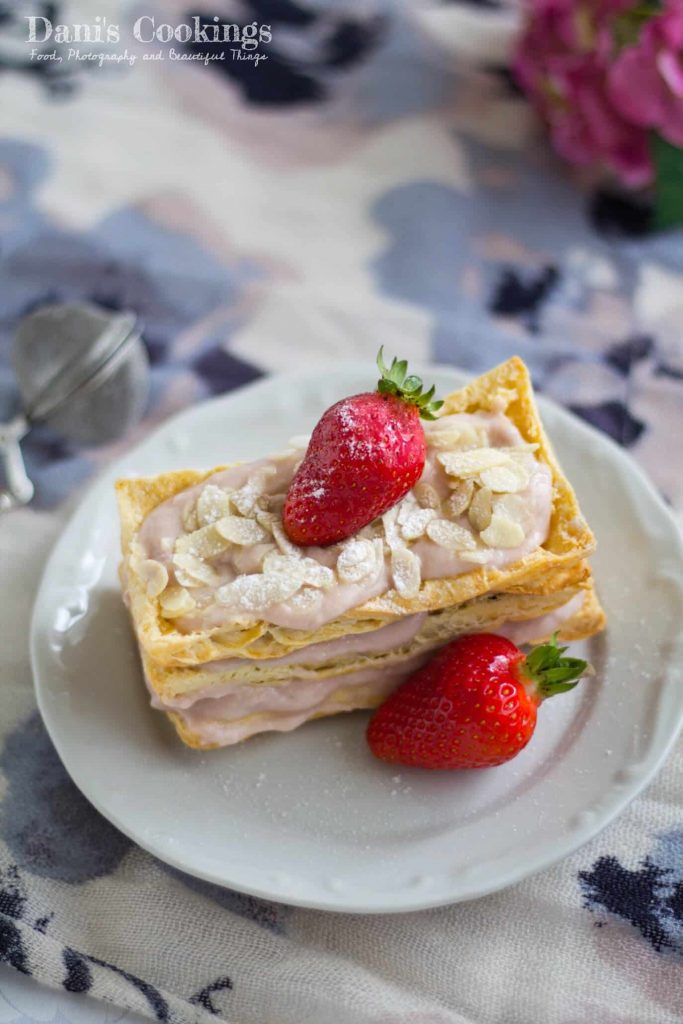 The dessert turned out really nice, full of strawberry flavour and not too heavy, despite of the puff pastry. Our guests enjoyed it very much. I was surprised to find out that everyone on the table ate the whole portion that I had served them (the pieces were not small at all!). I ate mine as well (needless to say) and I was quite satisfied with my creation of the day.
Strawberry Almond Millefeuille
Ingredients
600

g

puff pastry

250

g

fresh strawberries

,

, finely chopped + whole strawberries for decoration

20

g

cornstarch

500

g

whole milk

50

g

all purpose flour

3

eggs

80

+ 50 g sugar

2

teaspoons

vanilla extract

50

g

sliced almonds

confectioners sugar for sprinkling
Instructions
Puff pastry layers:
Preheat oven to 200 degrees C (390 degrees F). Line a large baking pan with a sheet of parchment paper.

Extend the puff pastry sheets and roll them gently if needed. Cut the sheets into more or less equal rectangles and arrange them into the prepared pan.

Bake for 10-15 minutes or until golden brown and puffed. Remove from oven and let cool for 15-20 minutes.

With a serrated knife cut horizontally each rectangle into two equal layers.

Line the baking pan with a new sheet of baking paper and arrange some of the halved layers on it. The layers should be placed with the cut side upwards (the browned side downwards). Bake for about 15 minutes, with only the top heat of the oven turned on, until the pastry layers become golden. Remove them from the oven and let cool until room temperature.

Repeat the process with the remaining halved layers.
Strawberry Cream:
In small saucepan over medium heat combine strawberries, 50 g sugar and cornstarch. Stir continuously until the mixture thickens. Remove from heat and set aside.

In a medium bowl beat the eggs. Add flour and vanilla and mix until combined (the mixture probably won't become homogeneous but this is ok).

In a medium saucepan combine milk and 80 g sugar. Place the pan over medium heat. Add the egg mixture and stir continuously with a whisk, until the mixture starts simmering. Keep whisking until it starts to thicken.

Remove from heat and add the strawberry mixture. Stir until well combined, then return to the heat and whisk until thick and creamy.

Let the strawberry cream cool until room temperature (you can even refrigerate it) before assembling the Millefeuilles.

Place one layer of pastry on a plate and evenly spoon strawberry cream on top. Cover it with another layer and more strawberry cream. Finish with a third layer of pastry and cream. Sprinkle sliced almonds over the Millefeuille. Top with fresh strawberries and confectioners sugar.

Assemble the rest of the Millefeuilles following the same process. Refrigerate for 1-2 hours. Before serving sprinkle additional sliced almonds and confectioners sugar on top.