Making ice cream at home is not as complicated as you might think. And you can prepare it only with healthy ingredients. This Strawberry Cheesecake Ice Cream Recipe will impress you with its simplicity and fantastic result. It is a no churn recipe, which means you don't need an ice cream maker. And the best is that you can prepare it all year round as it calls for frozen strawberries.
I rarely buy ice cream any more because I make them on my own. Honestly, I like more the homemade ice creams than the majority of the brands sold in the stores. To make ice cream at home even without ice cream machine is really easy. In fact I find homemade no churn ice cream one of the easiest desserts ever. And imagine, with this recipe you can prepare a sugar free and low carb Strawberry Cheesecake Ice Cream!
What ingredients do you need for this Keto Strawberry Cheesecake Ice Cream
This recipe calls just for few ingredients, some of which you can easily substitute or skip, without compromising the taste of the dessert. The only two ingredients I wouldn't recommend substituting is the cream cheese and the heavy cream.
You would need:
Frozen strawberries: you can use also any other berries you like
Cream cheese
Heavy cream (cold)
Xylitol: it is my preferred keto sweetener but you can use erythritol, stevia or monk fruit sweetener instead.
Cheesecake crumbs, made of coconut flour, pumpkin seed flour and butter. You can skip the crumbs or you can make them also from almond flour or ground walnuts, if you prefer. There are many low carb flour options that you can chose.
How to make strawberry cheesecake ice cream
It takes literally 15 minutes to prepare the mixture for this strawberry no churn ice cream from scratch! The only challenge is to wait for it to get frozen: about 4 hours.
First you need to make the crumbs by melting the butter and mixing it with the coconut flour and the pumpkin seed flour.
The second step is to whip the heavy cream.
Separately in a food processor puree the frozen strawberries, xylitol and cream cheese until smooth.
Combine the strawberry mixture with the heavy cream.
Layer the ice cream mixture with the crumbs in a loaf cake pan.
Cover with cling film and freeze for 4 hours. Serve and enjoy the creamy and tasty experience!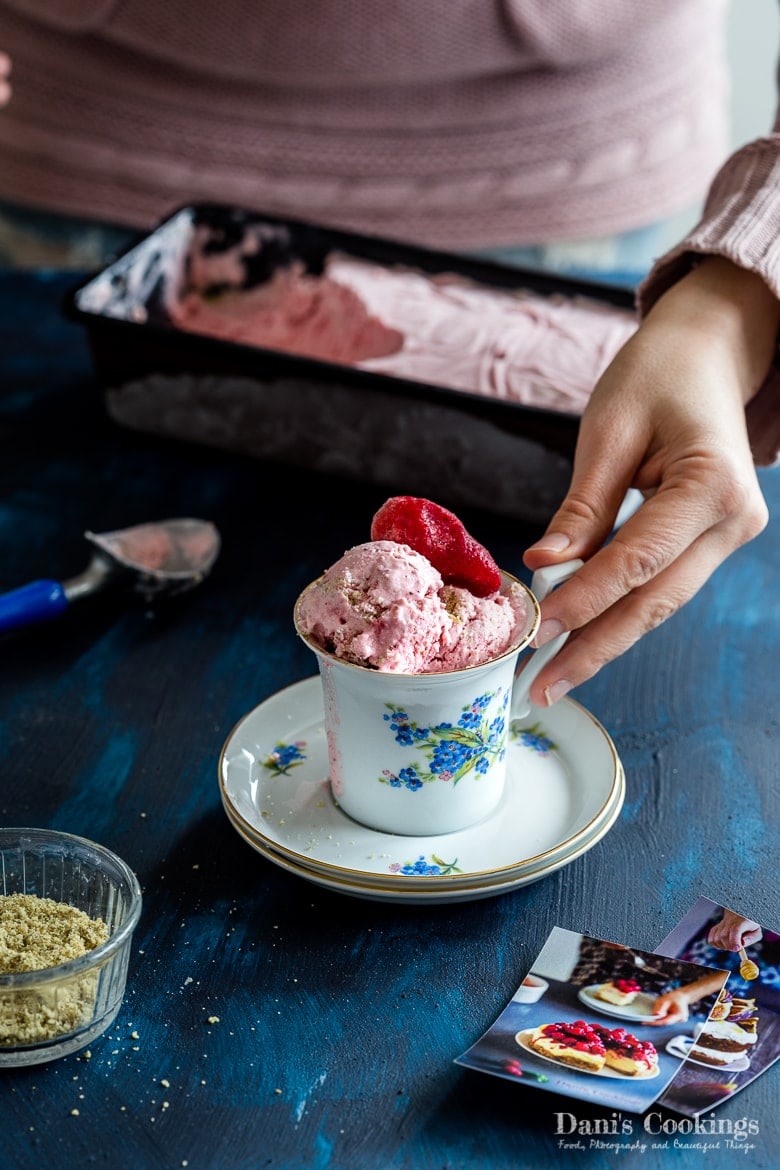 How to keep the leftovers of the no churn keto ice cream
You can store it for up to three months in the freezer.
It tastes and feels best when its consistency is not too hard. This means that after it has been frozen for a long time, it needs to stay for 15-30 minutes at room temperature before serving.
This is a keto ice cream recipe which will satisfy even people that are not following the keto diet. If you are looking for other homemade no churn ice cream recipe, check my selection below:
No Churn Lemon Cheesecake Ice Cream
Easy Black Forest No Churn Ice Cream Cake
Healthy Coconut Chocolate Ice Cream
If you like this recipe, please share it in social media so it can reach more people. I would be glad to receive your feedback about it!
Strawberry Cheesecake Ice Cream Recipe
A very easy to make Keto Strawberry Cheesecake Ice Cream which will impress you with its taste and creamy texture.
Ingredients
For the Crumbs (optional):
1 tbs/15 g

butter

,

melted

1 tbs/7 g

coconut flour

,

*

1 tbs/ 7 g

pumpkin seed flour

,

*
Instructions
Crumbs:
In a small bowl combine all ingredients. Stir until the butter is evenly absorbed within the flours.
Ice Cream:
In a large mixing bowl whip the cold cream until thick.

Combine frozen strawberries, cream cheese and xylitol in a food processor. Process until smooth.

Gradually add the strawberry mixture to the heavy cream. Fold it gently with a rubber spatula.

Pour ⅓ of the ice cream into a 1,5 l loaf pan. Sprinkle some crumbs on top. Pour another layer of ice cream and then more crumbs. Cover with ice cream on top.

Place a sheet of cling film to cover completely the ice cream. Freeze for about 4 hours, until the ice cream is set but its consistency is not too hard.

Keep leftovers for up to 3 months in the freezer. Before serving, leave the pan for 15-30 minutes at room temperature.
Notes
Crumbs are optional but recommended for a real cheesecake experience. Instead of coconut and pumpkin seed flour, you can use the same quantities of almond flour, ground hazelnuts, ground walnuts or ground flax seeds.
Instead of xylitol you can use also other keto friendly sweeteners like erythritol, monk fruit sweetener or stevia. Keep in mind that xylitol is as sweet as sugar so you might need to change the quantities of other sweeteners.
This ice cream is perfect also in a non keto version. Just use powdered sugar instead of xylitol (110 g or 1 cup). You can make crumbs out of ground cookies or graham crackers (25 g or about 1 oz) mixing them with the same quantity of butter.
Nutrition
Calories:
210
kcal
|
Carbohydrates:
6.5
g
|
Protein:
3
g
|
Fat:
19.6
g
|
Saturated Fat:
12.2
g
|
Fiber:
0.9
g
|
Sugar:
1.9
g