We all know that sugar is unhealthy: it is addictive and it gives us pure energy with almost no nutrients. In fact the refined sugar contains only calories and nothing else. But since ever we use sugar in the desserts because sweet is tasty. This makes us feel guilty and we try to find sugar substitutes even though we are not always happy with them. Like stevia, for example – a sweet plant extract with almost no calories. It has a very specific taste that some people can't get along with. I normally don't use it in desserts because I don't like it very much. The only time I am relatively fine with it is in some drinks like lemonade.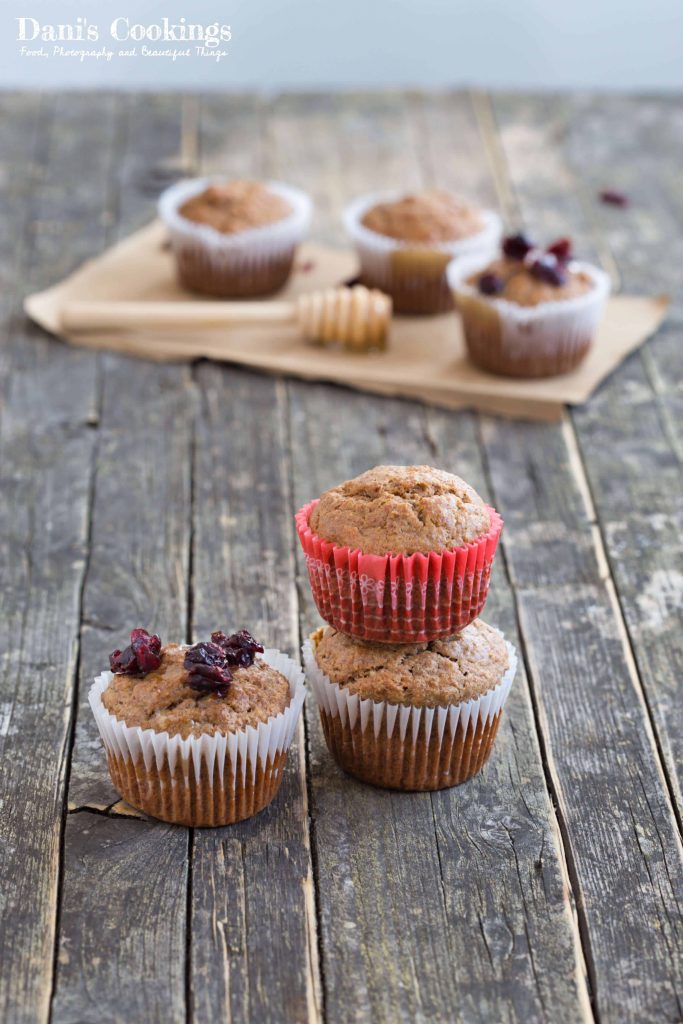 But we don't consider that sometimes we might not even need a real sweetener in order to make a delicious dessert. How come! Well, these Sugar Free Banana Cranberry Muffins are proving it.

Don't get me wrong: I would probably never give up sugar for good. My concept of life is based on moderation. I admire people who are able to remove sugar from their diet but in my view even these people should not refuse a decadent dessert once in a while, as long as their health condition allows it. Otherwise they would miss some of the best things that exist in this world!

But considering that sugar is addictive, it is better to avoid giving very sweet foods to our small children. For that reason recently I am trying to bake as much as possible homemade desserts without refined sugar. I already baked cakes with maple syrup, with honey and even with dates as the only sweetener. My last and very successful experiment are these muffins sweetened only with bananas.

To be honest before trying the muffins I was a bit worried that they would be tasteless. After having a bite I realised that my concerns were ungrounded as the result was very satisfying. Still my real confirmation that they were good came only with the reaction of my son: he ate majority of the muffins and kept asking for another one many days after they were gone!

These Banana Cranberry Muffins have a light sweet taste which is nicely complemented by the slight sourness of the dried cranberries. The muffins are also fantastic topped with honey, in case you would like to feel a bit stronger sweetness.
Sugar Free Banana Cranberry Muffins
Ingredients
2

medium bananas,

ripe

100

ml

milk

80

g

ground walnuts

50

g

butter

,

melted

40

ml

olive oil

220

g

whole grain spelt flour

2

eggs

1,5

teaspoons

baking powder

zest from 1 untreated orange

2

teaspoons

vanilla extract

100

g

dried cranberries
Instructions
Preheat oven to 180 degrees C (350 degrees F).

Line a 12-cup muffin tin with paper cases.

In a bowl combine spelt flour, ground walnuts and baking powder. Mix to blend and set aside.

In a food processor puree bananas and milk until smooth.

In a large mixing bowl beat eggs for 5-10 minutes until pale and foamy. Add butter and olive oil and beat again, to combine. Add banana mixture, vanilla and orange zest and beat shortly until incorporated.

Using a rubber spatula gently fold in the flour mixture. At the end add the dried cranberries, carefully stirring with the spatula until absorbed in the batter.

Using an ice cream scoop or a spoon divide the batter into the prepared muffin tin. Bake for 20-25 minutes or until a toothpick inserted in the centre of a muffin comes out clean. Let cool on a wire rack.

Top with liquid honey and dried cranberries (optional).