Finally, more than one month later (time just flies!), I am publishing the recipe for my last birthday cake. I decided to call it Summer Vanilla Cake with Chocolate Frosting and Berries because it is very soft, tender and velvety. The berries are a little touch of freshness and a nice memory from the late summer days.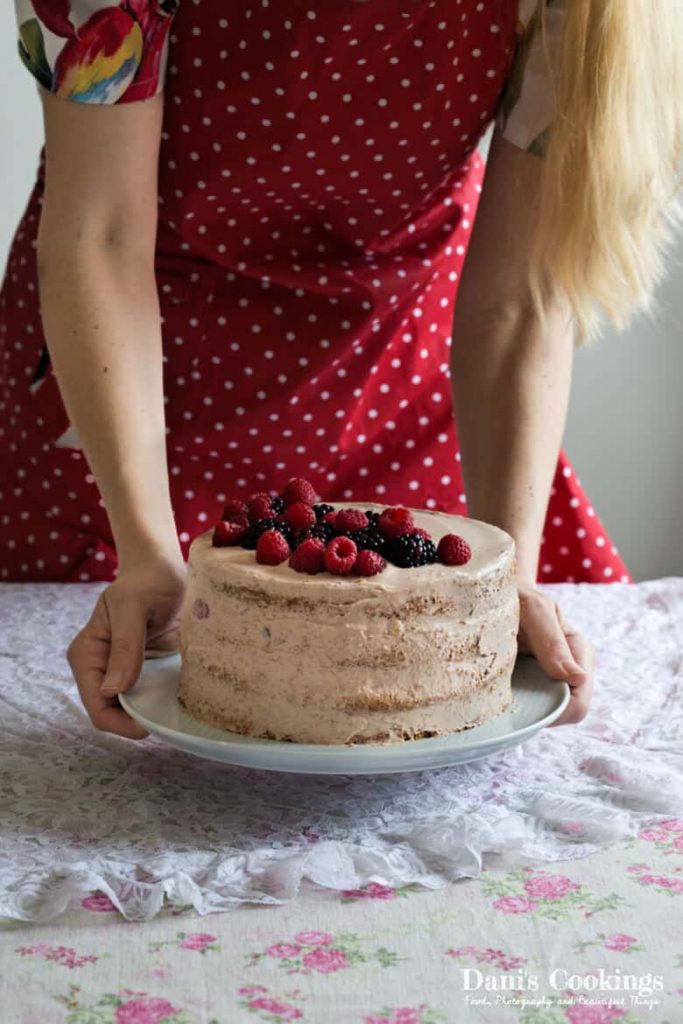 After a very busy summer I have a very busy autumn as well. Unfortunately being too busy went together with getting sick: our whole family experienced not one but two stomach viruses between end of August and the day before my birthday… I was the first and the last one to suffer the illness so on my birthday I wasn't able to eat what I wanted and in addition I had a massive headache, possibly due to dehydration and exhaustion…
Less than two weeks later my son got sick and as a result the whole family got sick again, including his grandma. We are all coughing at home, we even all wake up at night one by one and cough – if it wasn't so annoying it would have been almost funny. I don't want to imagine that the real cold season has not even started yet… But hopefully we will manage to escape some of the viruses this year as I am really tired from being always sick.

Nevertheless, despite of working hard and being sick, I am planning some new projects here very soon! I know that you like my recipes but I am also planning some other kind of posts here. After re-starting the Interview series, I also would like to continue the Photography series and give you more "behind the scenes" information. Do you have a particular topic you would like to see in Dani's Cookings? Please feel free to share it in the comments and I will consider it!

Coming back to today's cake: I know that it might be a bit out of season now with all these berries. It is not summer any more and they have disappeared from the market but you can make variations. You can use canned berries or citrus fruits instead… Use your imagination: if you are not into fruits why not add chocolate chips or chocolate shaves between the layers and on top!
I hope you would love this recipe! Let me know in the comments, if you made it!
Here are few more light and easy festive cakes that you may like:
Summer Vanilla Cake with Chocolate Frosting and Berries
Ingredients
For the Cake Base:
1 cup + 2 tablespoon / 150

g

self-raising flour

,

see notes

4

eggs

¾ cup/ 150

g

sugar

2

teaspoons

vanilla extract

¼ cup/ 35

g

cornstarch

3 tablespoon/ 40

ml

olive oil

1

teaspoon

baking powder

⅓

teaspoon

salt
Instructions
Cake Base:
Preheat oven to 180 degrees C (350 degrees F). Line a 7 inch/ 18-20 cm cake pan with a circle of baking paper. Grease well the pan.

In a bowl combine flour, cornstarch, baking powder and salt. Mix to blend and set aside.

In a large mixing bowl beat eggs and sugar until the mixture gets pale and thick and increases its volume. Add vanilla extract and olive oil and beat shortly until absorbed.

Gradually add the dry ingredients, mixing gently with a rubber spatula, until incorporated.

Transfer the batter to the prepared pan and bake for 40-50 minutes or until a wooden skewer inserted in the centre comes out clean. Let cool until room temperature before assembling the cake.
Frosting:
In a large bowl beat together mascarpone, sour cream and powdered sugar until fluffy.

Melt both kinds of chocolate in a double boiler or in the microwave (very carefully at low power, mixing every few seconds). Mix the melted chocolate until the colour becomes uniform.

Using a rubber spatula carefully fold the chocolate into the mascarpone mixture.
To assemble the cake:
Using a serrated knife cut horizontally the cake base in 3 or 4 equal layers. Place one layer on a serving plate and cover generously with frosting. Arrange on top part of the berries (½ or ⅓, depending on the number of layers). Repeat the procedure until finishing all layers.

Cover the cake on top and around the sides with the rest of the frosting. Decorate with berries.
Notes
This frosting is not very thick. If it looks too runny, you can add more melted chocolate and refrigerate again.
White chocolate will not hold it very strongly, so to make it thicker, add more dark chocolate and/ or use only dark chocolate. Optionally you can also use half of the sour cream quantity.
Instead of self-raising flour you can use all-purpose flour + additional 1,5 teaspoon baking powder.