These Vegan Double Chocolate Cookies will brighten your day! They are soft and chewy, with fudgy consistency and rich chocolate taste. They are not only incredibly tasty and full of chocolate but also vegan, gluten free and made with healthy ingredients!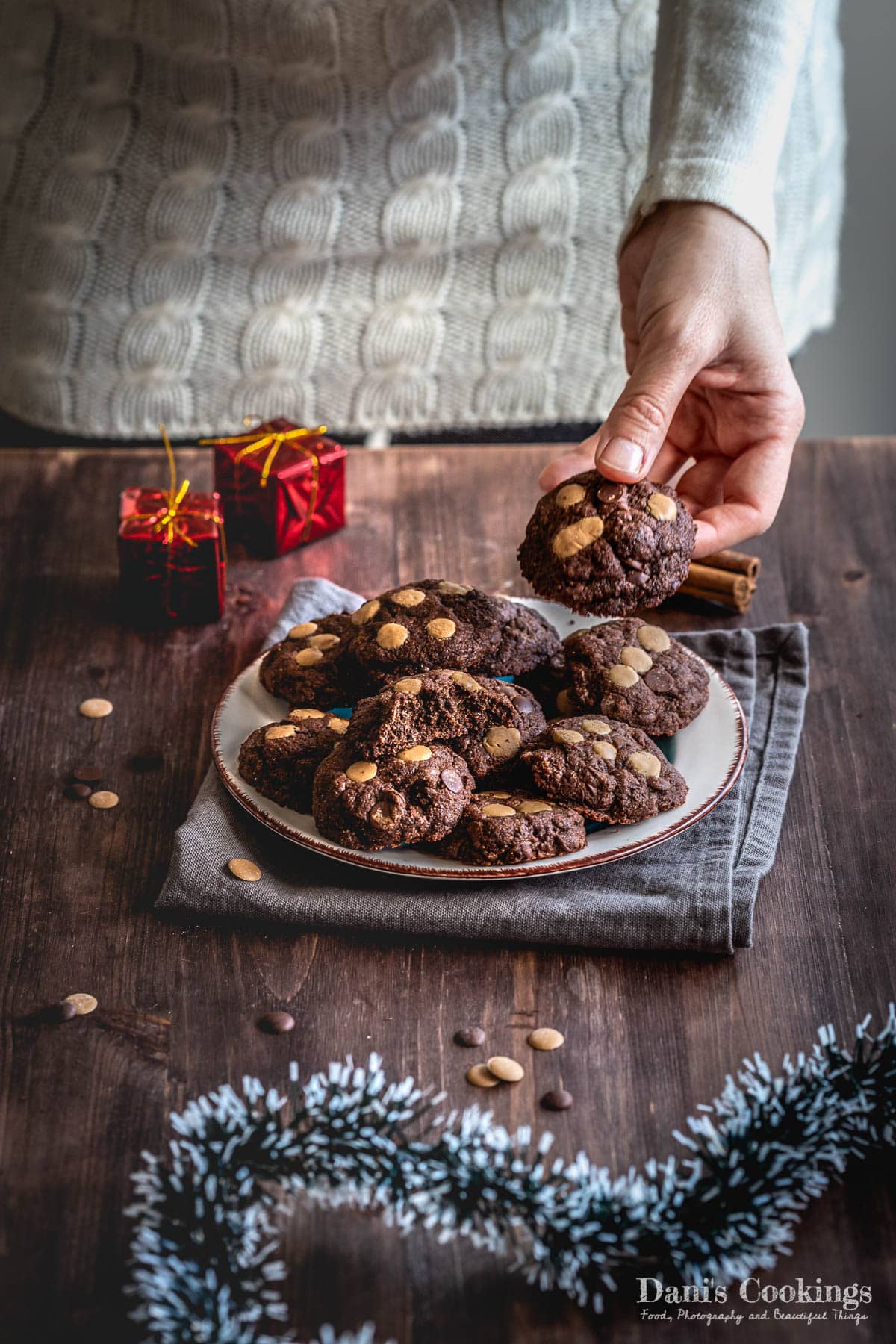 What ingredients you need
The secret for making these cookies insanely delicious is to use quality cocoa powder and chocolate chips. Both ingredients are a very essential part of this recipe so they have to be good.
As these cookies are gluten free, we don't use wheat flour for the dough. Instead the recipe calls for tapioca starch and coconut flour. This is a great combination as the two ingredients have different textures and complement each other nicely.
The sweetener is coconut sugar which apart from being healthier, contributes also with a nice caramel taste.
You would also need flax seed meal soaked in water to substitute the egg and also coconut oil which brings a nice coconut flavour.
Last but not least you would need ginger, cinnamon and baking powder.
You will find the complete list of ingredients and the quantities below the post, in the recipe card.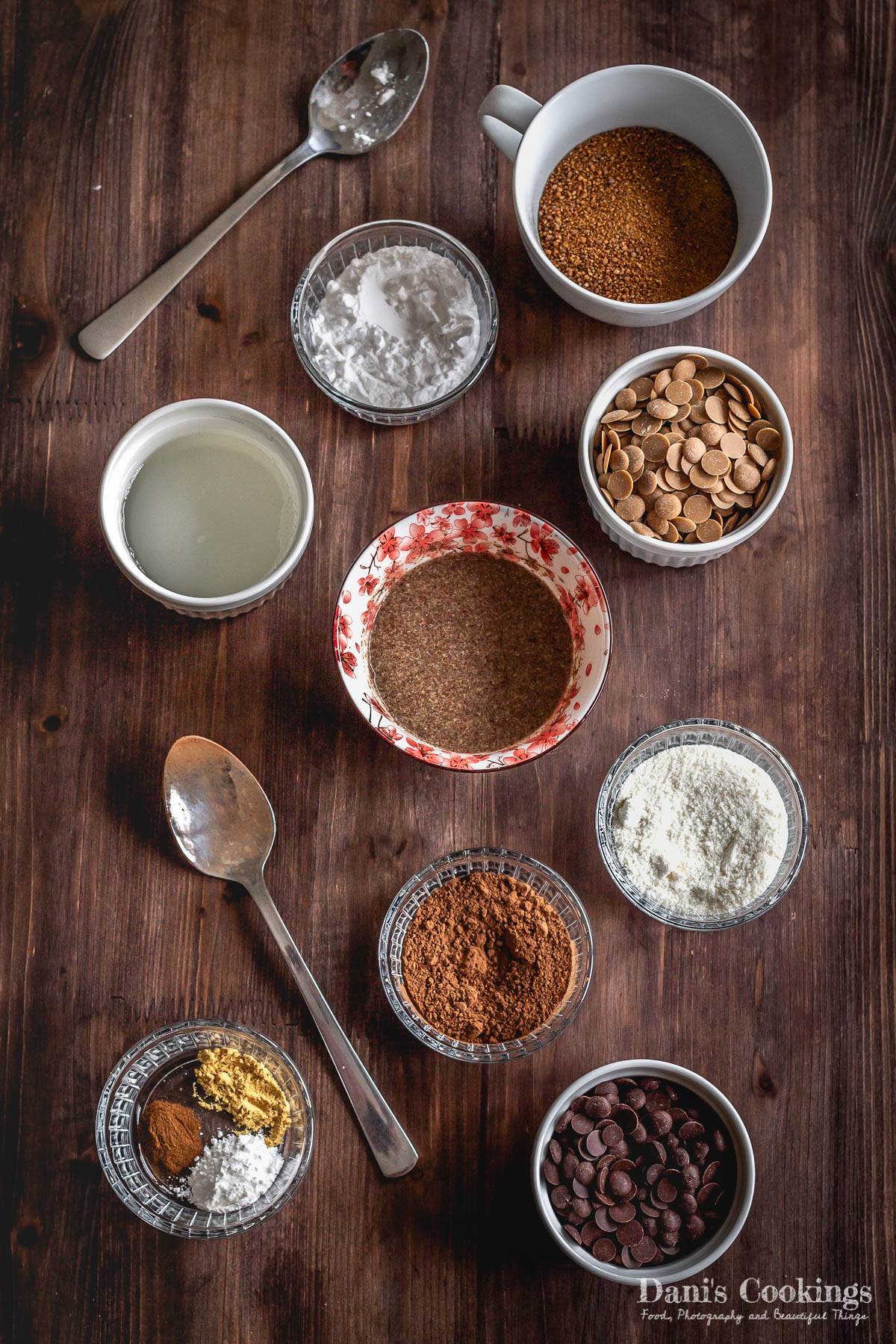 How to make the cookies
These cookies are so easy to make!
First you need to whisk the coconut sugar and the oil and then add the flax seeds soaked in water. At the end you need to add also the dry ingredients, mixed together, and the chocolate chips. The whole process takes less than 10 minutes.
Refrigerate the cookies before shaping them and then bake.
The detailed instructions are listed below the post, in the recipe card.
Recipe tips
I find these cookies best refrigerated. Their texture becomes fudgy in the fridge and they are less prone to make crumbs. Of course, you can also eat them at room temperature.
The dough of these cookies can be eaten even raw! Good news for all cookie dough lovers. And it is so tasty even without baking.
If you don't have tapioca starch, you can use corn or potato starch.
Baking the cookies might be a bit of a challenge as they don't change their colour much when they are done. Baking them takes about 10-12 minutes with the tin placed at the upper half of the oven. Watch them closely and don't allow the bottoms to start bubbling violently. The cookies are done when their edges start getting thinner and darker. The cookies will be very soft and will look unbaked when removed from the oven but they will set at room temperature.
I am sure you would love these cookies because they are simply great! In fact nobody at home guessed that they are vegan. Just don't forget to use the best quality chocolate and cocoa powder you can find!
Did you like this recipe? I would be glad to receive your feedback about it.
If you made it, please share your experience!
Here are few more cookie recipes that I really love:
White Chocolate Pistachio Cookies
Double Chocolate Cookies with Cheesecake Filling
Vegan Double Chocolate Cookies
Ingredients
2

tablespoon

flax seed meal

7 tablespoon/ 100 ml

water

6 tablespoon/ 45 g

tapioca starch

5 tablespoon/ 35 g

coconut flour

⅓ cup / 80 g

coconut oil

,

melted

3 tablespoon/ 20 g

cocoa powder,

natural

½

teaspoon

ground ginger

½

teaspoon

ground cinnamon

¾ cup /120 g

coconut sugar

1

teaspoon

baking powder

1 cup/ 90 g

vegan dark chocolate chips

⅓ cup/ 30 g

vegan white chocolate chips

,

optional
Instructions
In a small bowl combine flax seed meal and water. Stir and set aside.

In another bowl combine all powdered ingredients. Mix to blend.

Whisk together coconut sugar and coconut oil in a large bowl until combined. Add the flax seed mixture and whisk again.

Gradually add the dry ingredients. Mix gently with a wooden spoon to form a dough. At the end add the dark chocolate chips and mix until absorbed.

Let the dough sit in the fridge for 30 minutes.

Preheat oven to 350ºF/ 180ºC. Line two large baking tins with parchment paper.

Make balls out of the dough and arrange them on the baking sheets. Press 4-5 white chocolate chips on top of each cookie.

Bake the cookies for about 10 minutes or until the edges start getting darker and thinner.

The cookies will look unbaked and too soft, which is fine. Let them cool until room temperature before refrigerating them.
Notes
While these cookies can be consumed at room temperature, I find them better refrigerated.
Make sure you use good quality cocoa powder and refined sugar-free chocolate, preferably organic. The chocolate chips I used were sweetened with coconut sugar.
Store the cookies in airtight container (preferably in the fridge) for up to 5 days.