When you want to prepare a quick and delicious lunch with elegant look, this Zucchini Quiche with olive oil crust is the perfect choice. It is hard to believe how easy it is to make it from scratch It will delight all your family and guests.
Until recently I thought that baking a quiche is a very complicated and time consuming job. Until one day I decided that the time had come to make it myself as I had few zucchini in my fridge just starting to go bad together with some dairy products with approaching expiration date. I hate throwing away food much more than I dislike very complicated recipes, that's why I decided to attempt to prepare a zucchini quiche.
I was quite impressed to find out that in fact it is really easy to make a quiche, especially if it has an olive oil crust.
What ingredients do you need
The best thing of this quiche is that its filling can be made in different variations.
You surely need zucchini, some olive oil, a small onion and spices. You also need eggs and dairy products. What dairy products? The short answer is soft cheese and cream. But there are many variations of this combination: you can use sour cream or heavy cream, as per your choice. As for the cheese, I prefer ricotta but you could also use cottage cheese, cream cheese or crumbled feta. It is good to use equal proportions of cheese and cream.
How to make the Olive Oil crust
I have mentioned it before and I will repeat it again: I love olive oil crust! Since I tried it, I can't stop using it for different pies, tarts and quiches, like for example in this Easy Pumpkin Pie. What is the special thing about it? It just tastes incredibly good and is also easier to make than the regular butter crust.
For the crust you need just flour, olive oil, salt and ice cold water. You have to mix them all together, make a dough and spread it on the bottom and the sides of your pan.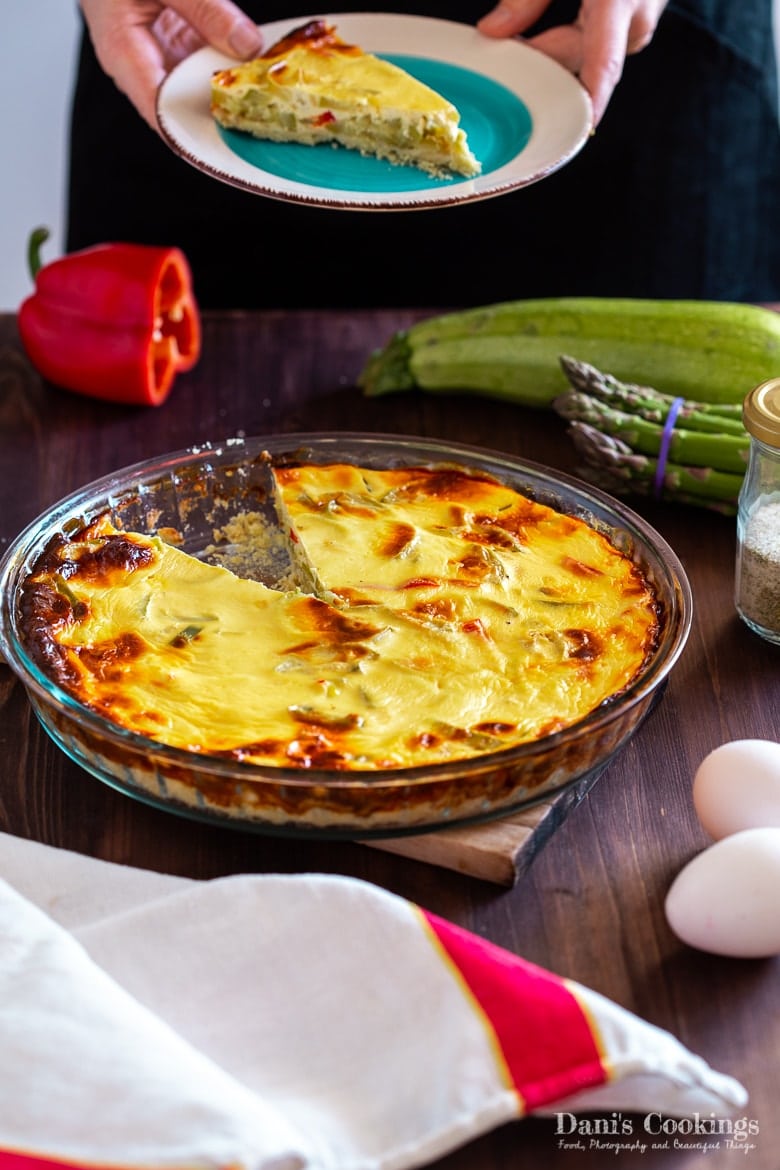 Why is this recipe good
It is quick and easy. It is healthy: of course, depending on the kind of dairy products you would use. It is light so it's great as a starter or even as an afternoon snack. It is tasty and can be served for any occasion. It is especially convenient for potlucks and elegant dinner parties.
Seriously, this is one of the best quiche recipes you can prepare!
Let me know in the comments what you think of this recipe! I would be very happy to receive your feedback. If you like it, please share in social media through the buttons below! That way it will reach more people who could benefit as well 🙂
Zucchini Quiche with Olive Oil Crust
Ingredients
For the crust:
⅓ cup/ 120 ml

olive oil

1 ¼ cup / 150 g

all purpose flour

½

teaspoon

salt

3

tablespoon

ice cold water

optional: ground sage or rosemary
For the filling:
2

small zucchini

,

sliced

2

tbs

olive oil

1

small onion

,

finely chopped

2

eggs

1 cup/ 220 ml

sour cream

1 cup/ 250 g

ricotta

salt and pepper to taste

optional: sage and rosemary to taste

optional: ½ red and ½ green pepper

,

finely chopped

optional: oregano or thyme
Instructions
For the crust:
In a bowl combine all ingredients for the crust. Using a wooden spoon start mixing very well until a crumbly dough forms. Transfer the dough to a 8 -10 inch pie or tart dish.

Distribute the dough around the baking dish with your hands. Make a thin sheet and press it to the bottom and the sides of the dish.

Place the pan in the fridge until you make the filling.
For the filling:
In a large frying pan or skillet heat the olive oil. Add the onion and sauté over medium heat until translucent. Add the sliced zucchini and if desired also the chopped peppers. Lower the heat a bit and mix continuously to avoid burning. The vegetables will start releasing water. Cook until the water is evaporated and the zucchini are softened: about 15 minutes. Season with salt, pepper and other spices and remove from heat.

Preheat oven to 360 degrees F (180 degrees C)

In another bowl mix ricotta and cream until smooth. Add eggs and some salt and mix gently until absorbed.

Distribute the cooked zucchini in the prepared crust. Pour the filling on top and smooth it.

Bake for about 20-30 minutes or until the top becomes golden brown.

Let cool for 15 minutes before serving.
Notes
Instead of sour cream you can use heavy cream or light cooking cream.
The ricotta can be substituted by cottage cheese, cream cheese or any other soft or crumbled cheese.
Don't like zucchini? You can use other vegetables such as spinach or asparagus.
The crust recipe is adapted from Cozy Peach Kitchen