Cherry season is finally here! I love eating cherries so much but I also love baking cherry cakes. Like my super decadent No bake Cherry Cheesecake and the beautiful and tasty Cherry Almond Cake. Both desserts were made with fresh cherries and a lot of love!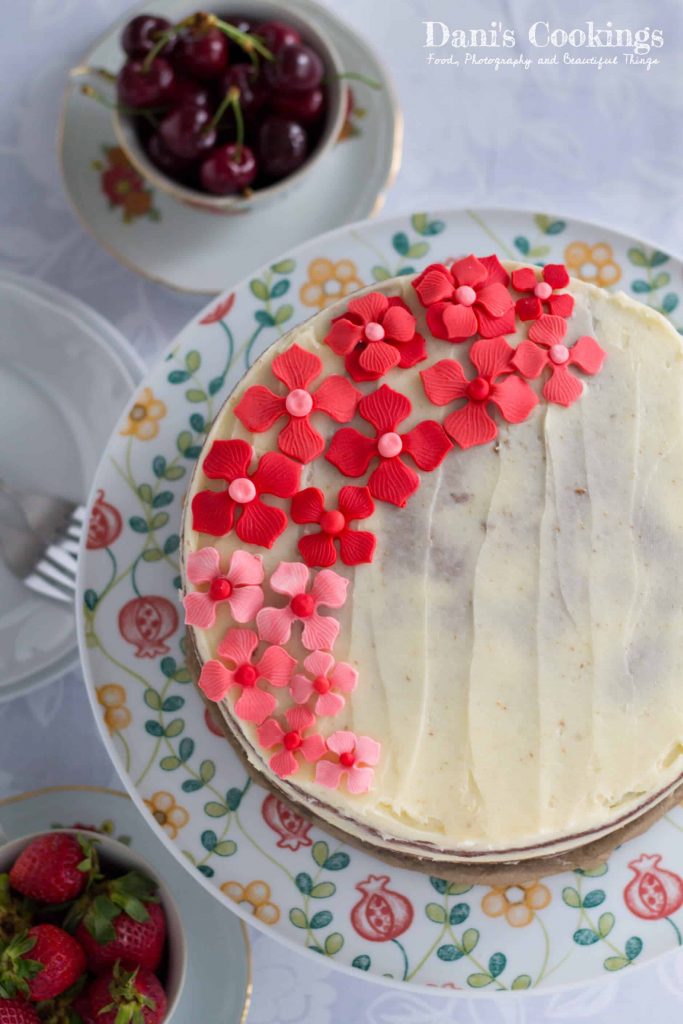 This year I decided to make an experiment and combine cherries and strawberries in a cake. I think I never tried before a dessert with both these fruits together but now I can say affirmatively that they are a perfect match!

Initially I wasn't sure what recipe to use for the cake base. I wanted a moist and slightly spongy cake with perfect texture and fruit pieces inside. After pondering for some time, I suddenly had a great idea.

Not sure if I had mentioned before that about 20 years ago I started a notebook which was my first personal cookbook. I was writing there all the successful recipes I had cooked or baked. This was the very first offline predecessor of this blog – sadly forgotten for many years… I remembered that one of the recipes in my notebook was a cherry cake – a bundt cake that I had made several times and it had turned out quite delicious.

Luckily I still knew where to find this notebook: in my mom's house. I checked the recipe and I adapted it for the current Easy Cherry Strawberry Layer Cake. Well, as far as I remember, that old recipe was also adapted from one of my mom's vintage cookbooks dating back from the 1960s or 1970s.
To make the flavour of the cake more intensive I added strawberry custard powder. This little change turned out very successful also for the dessert's texture because custard powder is literally flavoured cornstarch.

But I also wanted the cake to look pretty, flowery and full of joy. I didn't have time for much elaboration so I had to keep it simple. I found some fondant in my pantry: just enough to make several flowers on top. I coloured it in different shades of red and I cut flowers out of it with fondant cutters. That was a very easy and relatively fast decoration which created that joyful and pretty look of the cake. Surely you can make it too: just follow the simple instructions below.

After tasting the finished cake I already new: that was the perfect late spring or early summery dessert! It had a moist, velvety texture, nice strawberry and cherry flavour and cheerful aspect! I just loved that cake – and surely you will love it too when you try it 🙂
Easy Cherry Strawberry Layer Cake with Fondant Flowers
Ingredients
For the Cake Base:
280

g

cake flour

100

g

strawberries

,

, chopped

150

g

cherries

,

, pitted and halved

1

tbs

powdered sugar

2

tbs

cornstarch

40

g

(1 pack) strawberry custard powder

60

ml

walnut oil

,

(or other vegetable oil)

190

g

sugar

4

eggs

,

, divided

200

g

plain yogurt

1

teaspoon

baking soda

1/3

teaspoon

salt

2

teaspoons

vanilla extract
For the Whipped Cream:
200

g

heavy cream

1

teaspoon

rum extract

2

tbs

powdered sugar
For the Buttercream Frosting:
150

g

butter

,

, soft

120

g

powdered sugar

1

teaspoon

rum extract
For Decoration:
50-100

g

fondant

red food colouring
Instructions
Cake Base:
Preheat oven to 180 degrees C (350 degrees F). Line the bottom of a 23 cm cake pan with a circle of baking paper and grease well inside the pan.

In a medium bowl combine flour, salt and custard powder.

In a large mug combine yogurt and baking soda and stir.

In another bowl combine the chopped fruits with powdered sugar and cornstarch. Stir gently so that all the fruits are covered well by the powder.

In a large mixing bowl beat together sugar and oil at high speed of the mixer, until smooth. Add the egg yolks and continue beating 3-5 minutes until the mixture thickens. Add vanilla and the yogurt with the baking soda and beat at a lower speed until homogeneous. Аdd the flour with custard and gently whisk just until absorbed in the batter. Using a rubber spatula, carefully stir in the prepared fruits.

In another bowl whip the egg whites until thick and foamy. Gently fold the egg whites into the cake batter.

Pour the batter into the prepared pan and bake for about 60 minutes or until a wooden skewer inserted in the centre comes out clean. Remove the cake from the oven and allow to cool for 10 minutes before taking it out of the pan.

When you start assembling the cake, the base should be at room temperature or refrigerated.
Whipped cream:
In a large bowl beat the cream at a high speed of the mixer until it starts to thicken. Add powdered sugar and rum extract and continue beating until hard peaks form.
Buttercream frosting:
In a large mixing bowl cream together butter and rum extract. Add in the sugar and keep beating at high speed until light and fluffy.
Assemble the cake:
Using a serrated knife cut horizontally the cake base into 2 equal layers (if the top is not even, level it with the knife: eat the trimmed part or break it in smaller pieces and spread it evenly over the first layer, under the whipped cream). Place one layer on a cake stand or on a large plate and spread evenly on top the whipped cream. Cover with the second layer. Spread the buttercream frosting over the top and sides of the cake. Decorate with fondant flowers.

Refrigerate for at least 2 hours before serving.
Decoration:
Divide the fondant into 2 parts. Colour one part with the red food colouring. Now you will have 1 white and 1 red fondant pieces. Take a small part of each piece and mix them until the new colour becomes uniform. Now you will have a second red fondant piece with less intensive colour then the first one. You can make more shades following the same process.

Using a small rolling pin roll out the fondant into thin layers. Cut out flowers with flower cutters. Place one flower on top of a sponge and press its centre with a round tool: that will make the petals look more natural.

With your hands make small balls out of the remaining fondant and press them gently in the middle of the flowers. Optionally using a toothpick make small holes in the ball to create texture.

Arrange the prepared flowers on top of the cake.