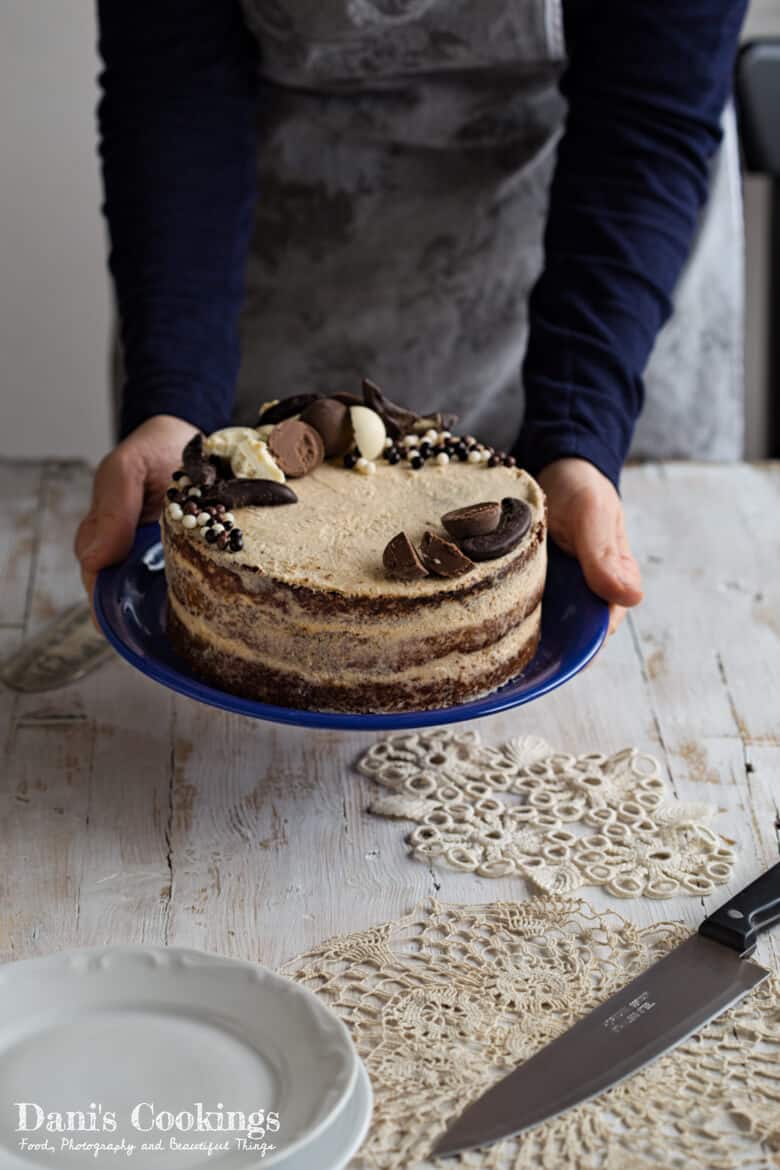 This cake tastes like the special dessert of someone's grandmother. It has a soft texture and is wonderfully delicious – the perfect layer cake! Hard to believe how easy it is to make this Chestnut and Spelt Cake with Beer!

Chestnut flour has been a bit of an obsession for me recently. Until few weeks ago I had never baked anything with it so I wanted so badly to make a chestnut dessert! I have to confess that as much as I like the taste of chestnuts, I rarely buy them because I find it unbelievably annoying to cook and peel them afterwards. There are so many nice and interesting recipes with cooked chestnuts which I would probably not try soon… But what about chestnut flour? It sounded really intriguing so it didn't take me long to buy some.

Chestnut flour has a very nice nutty flavour. It is gluten free and contains some healthy vitamins and minerals. It is great used in combination with other flours: all purpose flour, whole grain wheat flour or spelt!

You might have noticed my absolute obsession with spelt flour! I love it for a variety of reasons: it is healthy, with excellent taste and makes the baked goods really moist and fluffy. I have made many deserts with it and mixed it with different fours. I can say that the combination with chestnut flour is one of the best I have tried so far. The texture of the cake is really nice, it is almost as moist as if it has been made with nut flour. Well, practically chestnuts are nuts but not as rich in fats like the walnuts or the almonds.

Why beer? Because it gives an interesting taste and additional moisture to the cake. And by the way, very little of this beverage is used in the cake so it won't be a problem for your kids to eat it as well. But if you are too concerned, use a non alcoholic beer.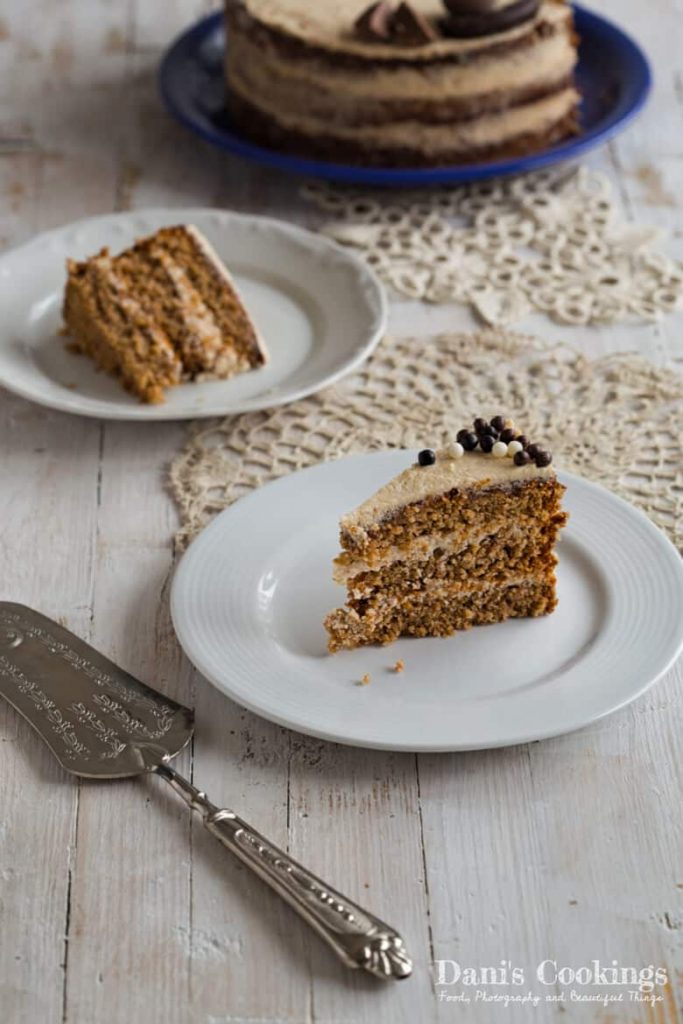 The frosting of this Chestnut and Spelt Cake is wonderful too! It is made with chestnut flour and also with butter. It adds additional nutty flavour to the cake and contributes for its fantastic taste… So it is not surprising at all that I am eating a third piece today: that cake is a really a thing! I advise you to get some chestnut flour and to make it – it will be totally worth it!
Chestnut and Spelt Cake with Beer
Ingredients
For the Cake Base:
100

g

brown sugar

120

g

white sugar

150

g

whole grain spelt flour

70

g

chestnut flour

3

eggs

80

ml

beer

1,5

teaspoons

baking powder

80

ml

vegetable oil

2

teaspoons

vanilla extract
For the Frosting:
30

g

chestnut flour

100

g

sugar

150

ml

milk

120

g

butter

,

soft

1

teaspoon

vanilla extract
Instructions
Cake Base:
Preheat oven to 180 degrees C (350 degrees F). Line a 18 cm cake pan with a circle of baking paper. Grease well the pan.

In a bowl combine spelt flour, chestnut flour and baking powder. Mix to blend and set aside.

In a large mixing bowl beat eggs and the two kinds of sugar for 5-6 minutes, until the mixture gets thickens and increases its volume significantly. Add vanilla extract, beer and oil and beat shortly until absorbed.

Gradually add the dry ingredients, mixing gently with a rubber spatula, until incorporated.

Transfer the batter to the prepared pan. Bake for about 40 minutes or until a wooden skewer inserted in the centre comes out clean. Let cool until room temperature before assembling the cake.
Frosting:
In a small saucepan over medium heat combine chestnut flour, sugar and milk. Stir with a hand whisk until there are no more crumbs and the mixture begins to simmer. Lower the heat and keep stirring until the mixture starts thickening. Let cool until room temperature. You can even cool it in the fridge but it shouldn't be warm!

In a large bowl beat together butter and vanilla until light and fluffy. Gradually add the chestnut flour mixture and keep beating until a fluffy and smooth texture.
To assemble the cake:
With a long serrated knife cut the cake horizontally in three equal layers (you can refrigerate the cake for easier cutting). Place one layer on a serving plate and cover with ⅓ of the frosting. Place another layer on top and cover with another ⅓ of the frosting. Finish with the third layer. Cover the cake all around with a thin coat of frosting. Decorate with chocolates and candied chestnuts.
Notes
For a taller cake double the ingredients and bake two layers in the same size baking pan. This cake is almost naked. you can double the quantity of the frosting if you want a cake covered very well by frosting all around.