One Saturday morning I woke up with the idea that I had to bake a dessert with pears. A layer cake? No, I didn't have enough time for it. A cheesecake? Well, maybe not. Then I remembered that it had been a long time since I baked any cupcakes… So that was it: I had to bake the best cupcakes with pears. Not an easy task!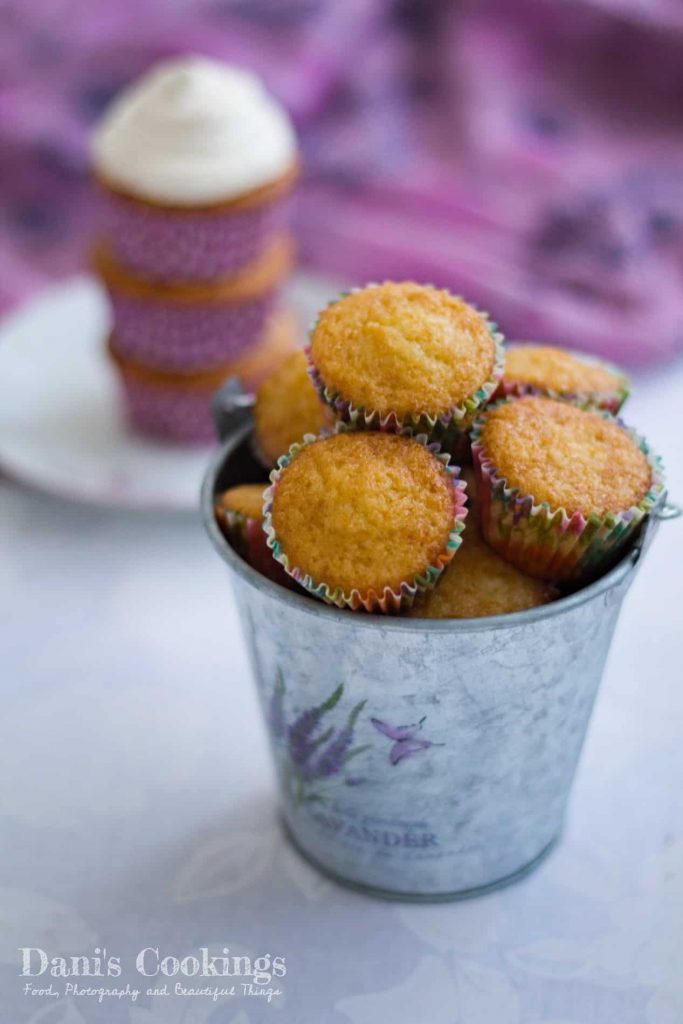 I guess the main reason why I thought about pears was because: 1) I found a forgotten jar of nice pear jam in the kitchen and 2) The previous day I had bought 2 pears and they looked so nice and ready to be used in a dessert.

After deciding that the cupcakes were the best desert choice of the day, it took me almost half hour to find where I had put the muffin paper cases. I knew for sure that I had dozens of them because few years ago I was almost collecting them. When eventually I managed to discover that they were literally in front of me (I had put them in a very handy place on top of the kitchen cabinets), I realised that their colours were not very convenient. I had imagined the cupcakes in green or yellow cases but at the end I selected purple cases because these were the ones I liked most.

Remembering that long ago my grandma was baking cakes with lemonade, I decided to include in my cupcake recipe some pear cider. I added also a bit of yogurt which made them really nice and moist. I was very happy with the result!

The frosting on top makes them even more irresistible! It contains sour cream, white chocolate and cream cheese – three key products for a really delicious dessert. In addition the pear jam adds a nice touch of fruity sweetness.

I decorated the cupcakes with candied pears: very easy to make. In my case it took them nearly 3 hours in the oven to get properly dry and caramelised.
Cider cupcakes with pear frosting
Ingredients
For the cupcakes:
1 ¼ cup/ 160

g

all purpose flour

2 tablespoon/ 30

ml

olive oil

2

eggs

⅓ cup/ 70

g

butter

,

soft

3 tablespoon/ 25

g

cornstarch

1 cup/ 180

g

granulated sugar

1

teaspoon

baking powder

½

teaspoon

baking soda

⅓

teaspoon

salt

½ cup/ 100

ml

pear cider

,

apple cider works too

½ cup/ 100

g

plain yogurt

1

teaspoon

vanilla extract
Instructions
Cupcakes:
Preheat oven to 350° F/ 180° C. Line a 12-cup muffin tin with muffin cases. Line a second muffin tin with 4 cases or alternatively line a mini muffin tin with 10 cases.

In a bowl combine cornstarch, flour, baking powder, baking soda and salt and set aside.

In a large bowl beat together butter, oil and sugar until smooth. Add eggs, one at a time. Add in vanilla, cider and yogurt and mix until smooth. Gradually add the dry ingredients and mix at a lower speed, just until incorporated in the batter.

Spoon the batter into the muffin cases filling them ⅔ full. Bake for about 20-25 minutes or until a toothpick inserted in the center comes out clean. Remove the pan from the oven, let the cupcakes cool for 2-3 minutes and then transfer them to a wire rack. Frost them after they cool down to room temperature.
Frosting:
In a large mixing bowl beat together cream cheese, powdered sugar, sour cream and pear jam (purreed in advance if not smooth enough). Gradually add the melted chocolate, mixing quickly with a rubber spatula, before it hardens (to avoid issues, before starting the frosting make sure that the sour cream and the cream cheese are at room temperature and not cold). When the frosting is smooth, place the bowl in the freezer for 10 minutes to thicken. Alternatively place it in the fridge for 30-40 minutes.

Use a piping bag or an icing knife to frost the cupcakes. Decorate with fresh or candied pears.
Notes
Store the cupcakes refrigerated for 2-3 days.