I admit: I never tried to make Linzer Cookies before. But now I don't understand why I waited so long before doing it!
In this post you will find a recipe for Linzer Cookies that is not only insanely easy but makes some of the best cookies I ever tried! The delicious almond taste, the fine texture and the flavour of the jam will guarantee you a perfect taste experience.
Origin of the recipe
Linzer Cookies are a sandwiched cookie version of the famous Austrian Linzer Torte. Its name comes from the city of Linz.
The cookies are originally called Linzer Augen, which means Linzer eyes. The traditional holes in the top cookie are round, made with special cutters with 3 holes. But I think I like more the modern variation with hearts or stars.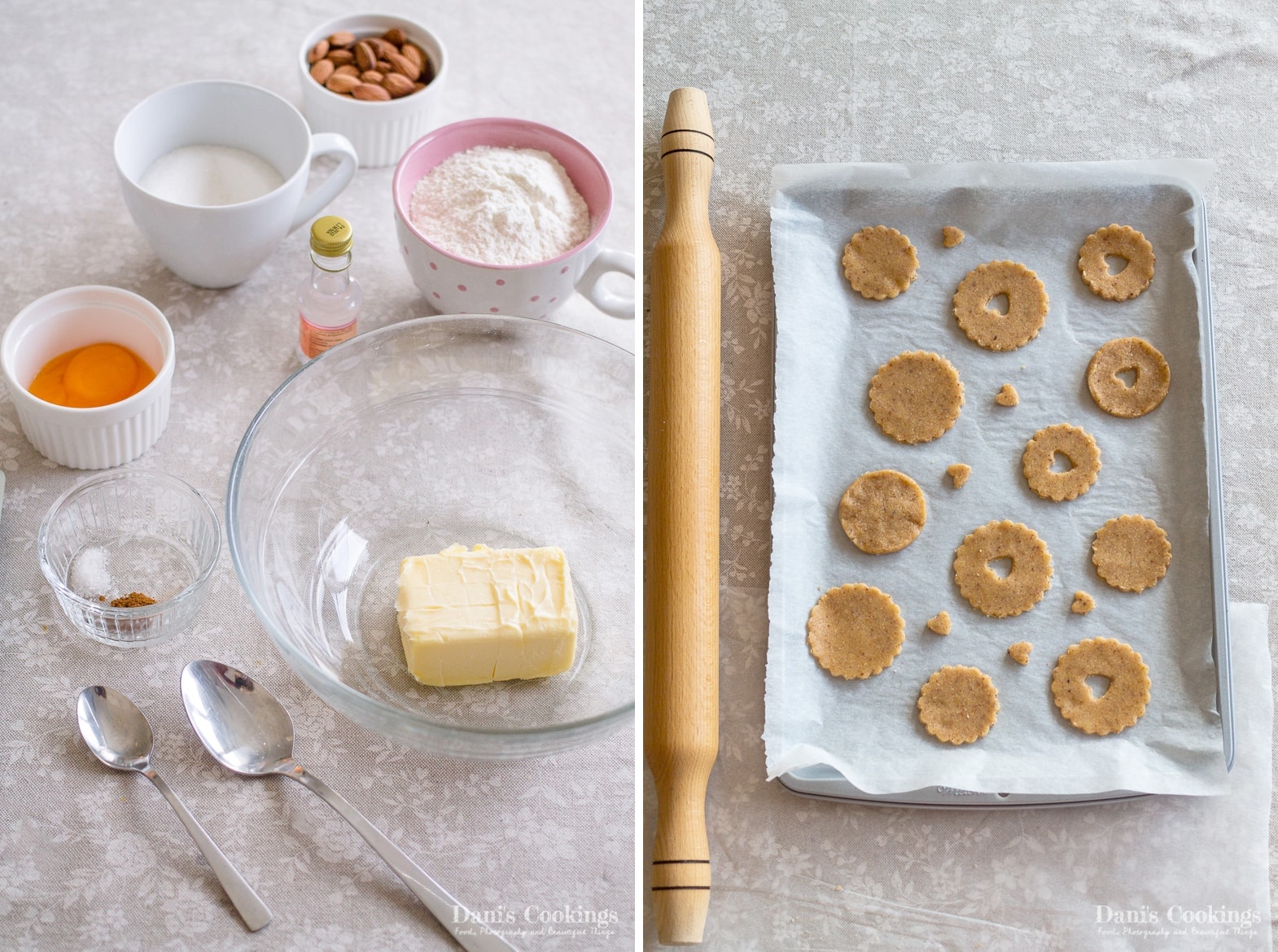 What ingredients you need
The ingredients for this recipe are not hard to find.
The main thing that fascinated me was to make them with roasted almonds: which I believe or just hope to be the original way. In my view this way is nicer than making them with almond meal because I loved the moment of processing the almonds together with the flour in the food processor.
One peculiar thing you might notice about this recipe is that you don't need baking soda or baking powder. That's right: no leaveners. The reasons for that are simple: first you don't want your cookies to change too much their shape during baking. Also the dough contains lots of fats. That ensures a smooth texture which will not allow the cookies to become hard.
Which are the ingredients that bring fat to this recipe? Egg yolks, butter and also almonds. Of course you also need sugar, flour, vanilla extract, some salt and a pinch of cinnamon for perfect decadence!
Regarding the equipment, make sure you have round cookie cutters and also smaller ones to cut the inside pieces.
About the preparation
Preparing Linzer Cookies is not hard at all. First you need to process the almonds in a food processor together with the flour, until the mixture becomes very fine. Add salt and cinnamon and mix.
The next step is to cream the butter with the sugar. Gradually add the egg yolks and vanilla. At the end add the dry ingredients and make a soft dough. Refrigerate it for 30-60 minutes and roll it out between two sheets of baking paper.
Cut out cookies with round cutters. Cut a small shape inside half of the cookies. Bake and let cool. Sandwich the two parts (one plain cookie and one cookie with a hole) with cranberry jam. Sprinkle with powdered sugar. Serve them in 4-6 hours or on the next day: if you manage to keep them away from your kids.
How long to store them
When you sandwich the cookies with jam, consider storing them in an airtight container in the refrigerator for up to five days. The reason is that the moisture will make them become bad faster if stored outside of the fridge.
If you want to make the cookies in advance, you can keep the plain cookies (without the jam) for two weeks or even more if they are well covered. You can even freeze them: again preferably without the jam.
I hope this recipe will inspire you to make delicious Linzer Cookies for the holidays! If you like it, share it in social media so it can reach more people. And if you made it, I would be glad to hear how it went!
Linzer Cookies
Equipment
round cokie cutter and another smaller one
Ingredients
½ cup/ 120 g

butter

,

soft

¾ cup/ 150 g

cup

sugar

¾ cups/ 2,8 oz/ 80 g

cups

roasted almonds

1 ⅓ cup/ 160 g

cup

all-purpose flour

⅓

teaspoon

salt

⅓

teaspoon

cinnamon

2

teaspoons

vanilla extract

2

egg yolks

cranberry jam

,

to sandwich the cookies

icing sugar

,

for sprinkling
Instructions
In a food processor combine almonds and flour. Process until the almonds are made into powder and the two ingredients are completely blended. Transfer to a bowl and add salt and cinnamon. Stir and set aside.

In a bowl with an electric mixer cream together butter and sugar until fluffy. Gradually add yolks and vanilla and beat for 1-2 more minutes, until smooth. Little by little add the dry ingredients. Mix gently with a wooden spoon until a soft dough forms.

Let the dough stay in the fridge for 30-60 minutes covered with cling film.

Preheat oven to 360 degrees F/ 180 degrees C. Line two large baking tins with parchment paper.

Use round cutters to cut the cookies. Use another smaller cutter of any shape (round, heart or star, for instance) to cut a small hole inside half of the cookies.

Bake for about 10 minutes, until the edges start becoming golden brown but the tops are still light. Be careful not to overtake them because they can become all brown in seconds.

Let them cool until room temperature before sandwiching them with some cranberry jam. Let rest for 4-6 hours or overnight, before serving them.

Serve the cookies sprinkled generously with powdered sugar.

Store in an airtight container in the fridge for up to five days.
Notes
Instead of roasted almond you can use the same quantity of almond meal and sift it together with the flour.
If the cookies become brown by a chance, they are still tasty and are good to be consumed. When sprinkled with powdered sugar they will also look better.
You can use any red jam, if you don't have the one from cranberries.
Ideally sprinkle the cookies with powdered sugar just before serving them. However you can sprinkle the whole batch and store them in the fridge afterwards. The sugar will not melt if they are kept in a closed container.
If you want to store the Linzer Cookies longer, don't assemble them immediately but 1 day before serving them.