These Prune Cocoa Energy Balls are the ideal healthy everyday dessert! Even though they don't contain sugar, they are wonderfully tasty and you can indulge with them without guilt!

As much as I love sweets, I am also trying to eat healthy. Well, I am trying but it doesn't work all the time. Same as many other people, I often feel guilty after eating too much deserts. However my personal opinion is that the balance is the best thing not only regarding the diet but in everything in life.
For that reason my rule number one is to eat only food that I find delicious. I enjoy equally sweets and salads not because I have to eat them but because I love them both. I can't resist chocolate but I also enjoy eating dried fruits…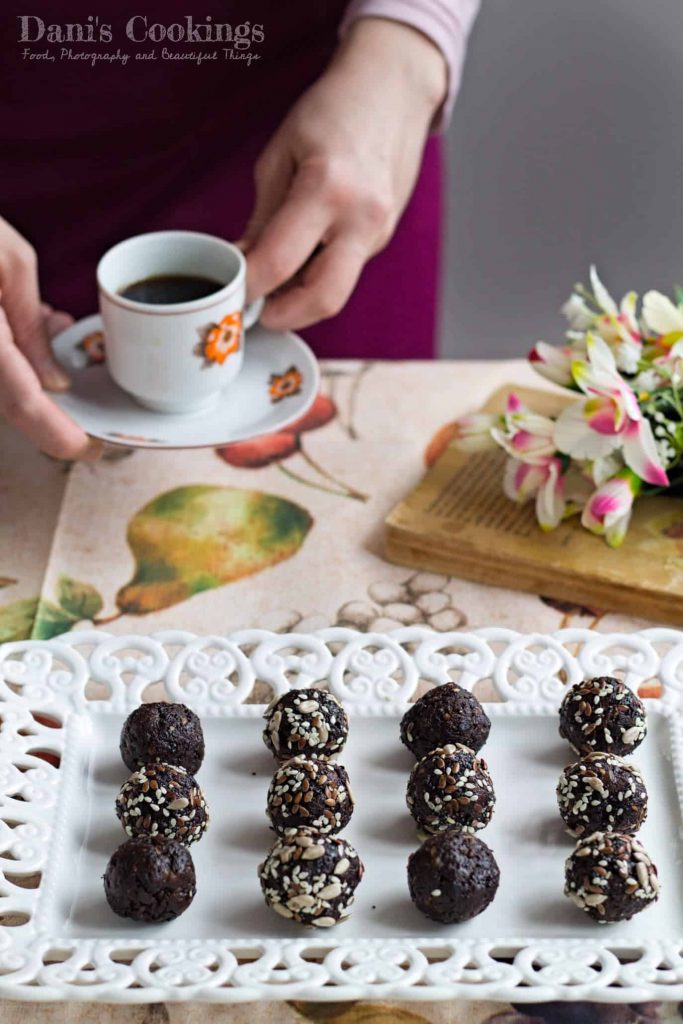 Of course, sometimes I might overeat desserts. Normally on the next day I feel bad and I put myself on a diet. I always find this quite challenging.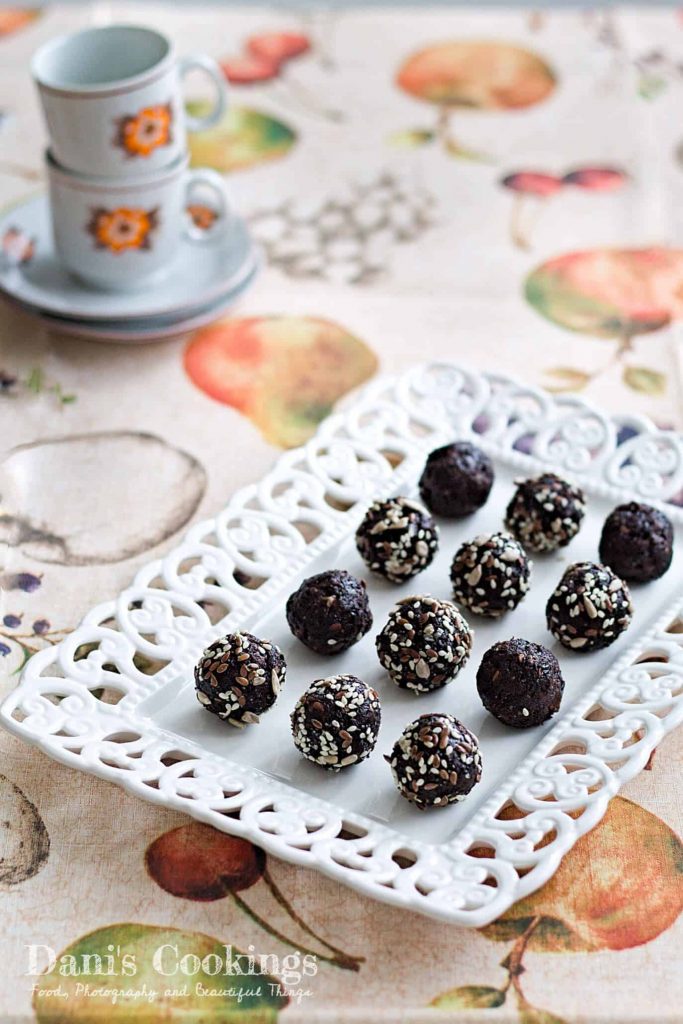 If same as me you are not able to resist desserts during the days when you are trying to avoid them, the good news is that you can have healthy desserts. For example the dates are incredibly sweet but they are also full of vitamins and micro elements. Even the sweetness in them is healthy and has nothing to do with refined sugar.

But what happens when we combine dried fruits with good oils, nuts and seeds? The result is a great mixture of natural tastes and healthy ingredients!

That's exactly what today's Energy Balls recipe consists of: the sweetness and richness of the dried fruits plus some additional healthy ingredients. It is well known that peanut butter is a very nutritious product and cocoa powder is full of antioxidants. And of course, the seeds also contain a number of healthy components.

These Prune Cocoa Energy Balls are good to eat at any time of the day and they are suitable with almost any diet! They are made with less than 10 ingredients and even better: you need less than 30 minutes to prepare them!

Prune Cocoa Energy Balls
Ingredients
200

g

prunes

100

g

dates

1

tbs

peanut butter

1

tbs

raw honey

1

tbs

mixed seeds

,

(poppy, flax, sesame, sunflower) + more for coating

1

tbs

cocoa powder
Instructions
In case the dried fruits are too dry, soak them for 10 minutes in hot water and drain before processing.

Place all ingredients in a food processor or a blender. Process at medium to high speed for about 2-3 minutes or until all ingredients are shredded and a sticky ball is formed.

With your hands make balls out of the mixture, as big as small walnuts. Optionally coat the Energy balls into mixed seeds.
Notes
You can use any kind of seeds for this recipe. You can also use only one or two kinds of seeds instead of four.
Inspired by Minimalist Baker