Recently soft cookies are a little addiction of mine. I prefer that kind more than other varieties of cookies because they melt in your mouth in a wonderful way. These Soft Apricot White Chocolate Cookies are in addition incredibly flavourful as they contain one of my favourite fruits: apricots.

Everyone loves quick and easy desserts. The best thing about them is that you need little time in order to create something that would satisfy your cravings. Soft cookies are a perfect solution for the moments when you don't have much time to bake a cake but you still want to eat a homemade treat.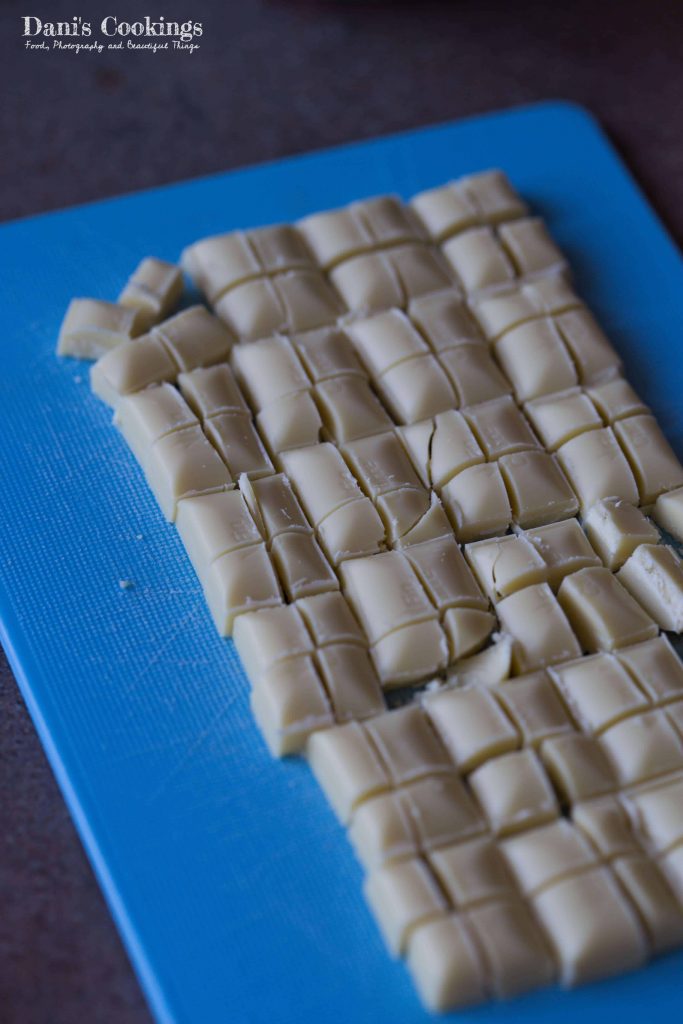 In fact the recipe for these cookies is adapted from my Soft Lemon White Chocolate Cookies which were a huge success. I decided that it would be great to experiment a similar recipe with other fruits – like apricots. And as now is the apricot season, I thought it would be really great to use some seasonal fruits.

But you know what is the best thing about these cookies? You can make them with both fresh or dried apricots. That means that you can prepare them in all seasons during the year! You can even mix fresh and dried fruits, as I did. You just need to consider that with fresh fruits you will need a bit more flour as they tend to release liquid. That's why I created a basic recipe using dried apricots and if you decide to use fresh ones, you would need to add about 10 g of flour for every apricot. Bear in mind that it is always better to choose hard fruits instead of soft ones.

One important point of these cookies is to bake them on the top rack as they tend to burn easily on the bottom. You need to watch them closely and if you see the edges getting brown while the tops are still not baked well, switch the heat jot bake only on the top. This might seem challenging at the beginning but once you understand the minutes you need, your cookies will turn out perfect. And don't worry, even if they get a bit toasted on the bottom, they will be still very tasty.

These are definitely my new favourite cookies now! I certainly recommend you to bake them and taste the wonderful flavours of apricots and white chocolate!
Print Recipe
Soft Apricot White Chocolate Cookies
Ingredients
8

dry apricots

,

cut into small pieces (or 4-5 fresh)

100

g

white chocolate,

cut into small pieces (or chocolate chips)

50

g

white sugar

100

g

brown sugar

220

g

all purpose flour

,

+10 g for every fresh apricot if using fresh fruit

1

egg

2

tbs

vanilla extract

110

g

butter

1/3

teaspoon

salt

1/2

teaspoon

baking powder
Instructions
In a bowl combine flour, salt and baking powder. Stir and set aside.

Place the butter in a small bowl over a pan of simmering water. Whisk until almost melted. Remove from heat and whisk until melted completely.

Transfer the butter to a large bowl. Add the two kind of sugar and whisk shortly with a hand whisk. Add egg and vanilla and whisk until combined. Add the chopped fruits and the chocolate pieces and whisk gently, until combined. Gradually fold the flour mixture into the batter, mixing gently with a wooden spoon until just absorbed. A soft buttery dough should form (if using fresh fruits you might need to add 1-2 more tbs flour, if the dough still looks runny).

Leave the dough in the bowl and cover it with cling film. Refrigerate for 30-60 minutes.

Preheat oven to 180 degrees C (350 degrees F). Place the oven shelf on the top position in the oven.

Line 2 large baking tins with parchment paper.

With your hands make balls out of the dough and arrange them on the prepared tins. Leave some distance between the cookies as they will grow a bit during baking.

Bake for 8-10 minutes or until the cookies start to get brown on the edges. If they still look uncooked on the top, switch to top heat only for few minutes.

Let them cool on the tin for 5-10 minutes (they will be too soft and fragile when hot).

Transfer with a spatula to a wire rack to cool completely.
Notes
For my batch of cookies I used 2 fresh and 5 dried apricots with 240 g flour.