This Broccoli Filo Pie is an old recipe of mine which I have forgotten for some time. I decided recently to update it and refresh it with new photography. The updates of the original 2012th recipe are mainly in the products: I added butter and yellow cheese for even better taste!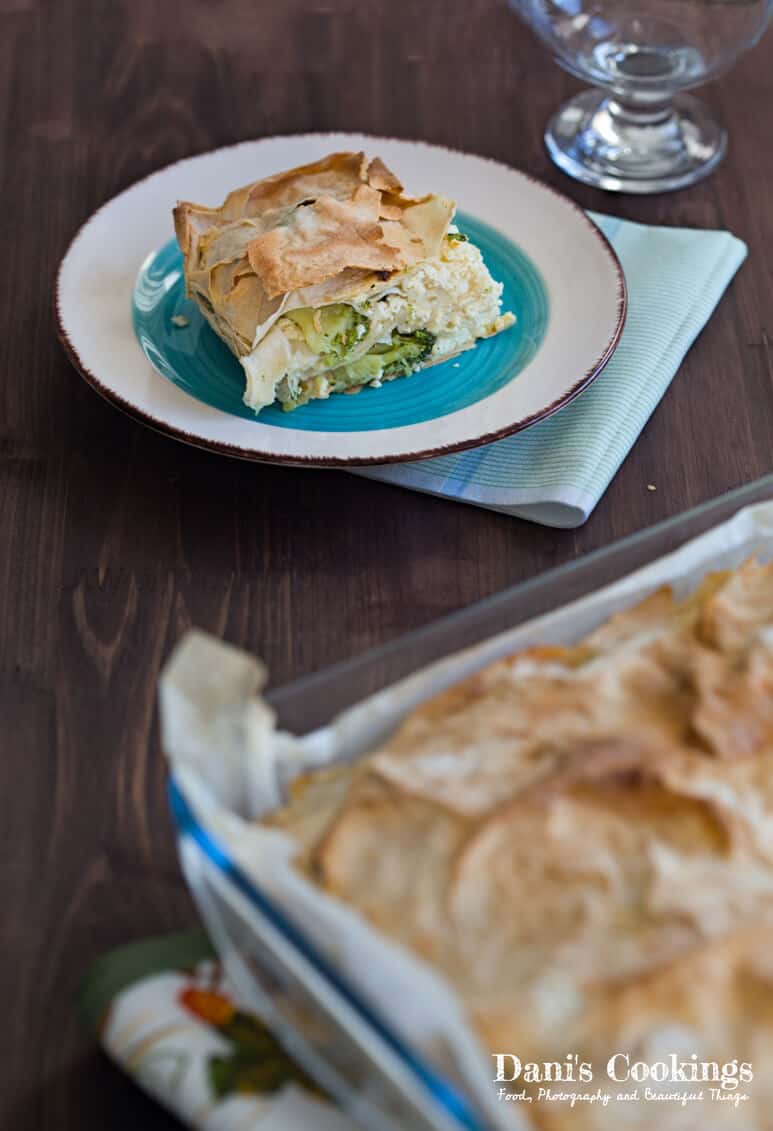 How did I come up with the recipe
This filo pie recipe has a long story. The very first and original version, just with white cheese and eggs, came up when I was in high school. At the time I weighted about 50 kilos (110 lbs) and starving was almost a lifestyle for me. That's why the filo pie I was making back then was kind of skinny: with very little oil. I liked it a lot and I proudly prepared it for many occasions. I made it even in US and in Ireland: that's how I discovered cottage cheese as it was the best non Bulgarian product to use for this recipe there.
When I was still a student, once I had the idea to add frozen green peas and corn together with the cheese. I loved that variation and I for some time used to prepare it very often.
I don't really remember how I came up with the broccoli version. It was at the time when I was almost addicted to this vegetable. The result was unexpectedly good and even my friends approved it when I served it during lady's parties.
Variations
As I mentioned, the first version of this filo pie was made with cheese and vegetable oil. Since then I also stared adding butter as it has an amazing taste. The more is the butter, the richer is the taste of the baked goods! At some point I realised that some grated yellow cheese would give additional taste burst to the filo pie and will go very well with the broccoli.

Keep in mind that the quantity of the cheeses and the butter can vary according to the personal preferences. If you are on a diet, you can add less butter and use low fat cottage cheese. If you want a really tasty pie, melting in your mouth, you can increase the butter and the yellow cheese indicated in the recipe.
In terms of the white cheese, you can use cottage, ricotta or even feta. The original filo pie is made with Bulgarian white cheese but it is also perfect with the other listed cheeses.
Recommended recipes
As you might guess, I like to experiment with filo pastry. Below you can find some more recipes with this product:
Filo pie with cheese and black olives
Minced Meat Filo Rolls
Meat and Leek Filo Pie
Sesame filo pie
Broccoli Filo Pie
Ingredients
1

lb

filo pastry sheets

,

(400 g)

1

lb

frozen broccoli

,

(400 g)

2

cups

cottage cheese

,

(400 g)

2

tbs

olive oil

,

(30 ml)

¼

cup

butter

,

melted (60 g)

3

eggs

1

cup

sparkling water

,

(250 ml)

1

teaspoon

salt

1 ½

cups

grated yellow cheese

,

(150 g)
Instructions
Take the broccoli out of the freezer about 10 minutes before starting to cook. Cut the big pieces into smaller ones (bite-size).

Preheat oven to 200 degrees C (400 degrees F). Grease well a large rectangular baking dish (optionally you can line it with baking paper).

In a bowl mix together white cheese, olive oil, melted butter and salt.

Extend two filo sheets in the baking dish, so that they cover the bottom without hanging outside. You can break them or cut them if they are too big. Arrange some of the broccoli on top and some of the white cheese filling. Sprinkle with grated yellow cheese.

Continue the same process until using all the ingredients: filo sheets, filling and grated yellow cheese. Cover with the last 2 filo sheets on top.

Lightly beat the eggs in a bowl and add the sparkling water.

Pinch the filo pie with a fork in order to create deep holes. Pour the sparkling water and egg mixture on top. Let sit for about 5 minutes so that the liquid get absorbed evenly. Bake for 30-40 minutes or until golden brown.

Let the filo pie cool for at least 30 minutes before serving it.

Keep the leftovers in airtight container in the fridge for 3-4 days. Reheat before serving.