This five ingredient Coconut Grapefruit Dessert with greek yogurt and white chocolate is ridiculously easy! And you will be impressed to find how delicious it is!
It is one of the simplest recipes I ever made. And I am almost certain you have all ingredients in your pantry right now.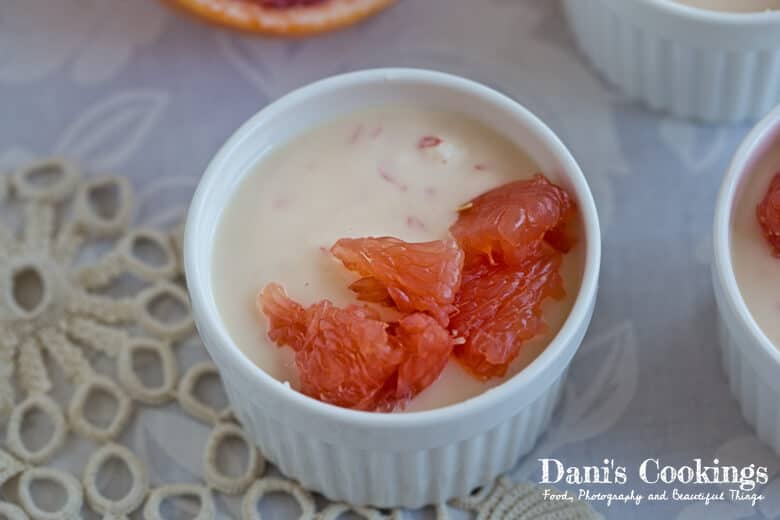 How did I come up with this recipe
I made this dessert for the December 2018 edition of the magazine So Into Food as citrus fruits were its theme. It was a total improvisation of mine which turned out really tasty. I wanted to combine coconut and grapefruit in a way to complement each other, avoiding any clash in their tastes. This turned out unexpectedly easy to accomplish.
Is this recipe easy
This dessert is anything but challenging. There is nothing that can go wrong in the recipe. I would say that making it is as easy as preparing an instant pudding or a no bake desert from a package.
However the combination of tastes and textures has nothing to do with the desserts from packages. The white chocolate and the greek yogurt are contributing for the pleasant softness of the texture while the coconut and the grapefruit are bringing the tasty fruity flavours and texture.
Why is this recipe good
One of the secrets in this dessert is the grapefruit glaze. It is made of grapefruit juice and condensed milk only but it is velvety and creamy. This is due to the chemical reaction that happens when you add the acid citrus juice to the condensed milk and whisk them: the resulting consistency becomes slightly thicker and makes the perfect glaze for the coconut yogurt.
Recipe tips
As mentioned, this dessert is incredibly easy. However there is one challenge in this recipe: to wait few hours for the dessert to get refrigerated. You might want to eat it right away but trust me, it becomes even better after staying in the fridge.
The best would be to prepare it at night and leave it for the next day.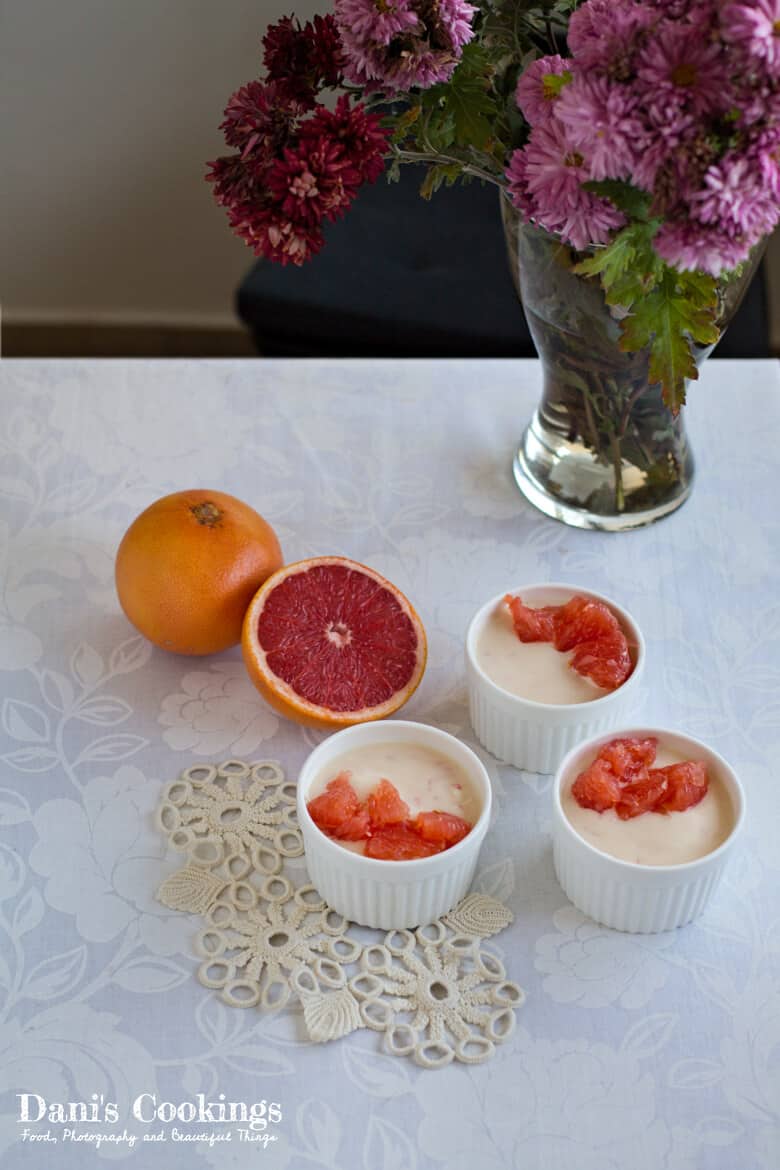 I hope you would enjoy this delicious recipe! If you made it, please let me know in the comments how it went!
Here are few more simple desserts in glasses or ramequins that you can prepare:
Coconut Grapefruit Dessert
Ingredients
For the glaze:
⅞ cup/ 200

ml

sweetened condensed milk

,

about ½ standard can

juice of ½ grapefruit
Instructions
Coconut Yogurt:
Melt white chocolate on a double boiler.

In a large bowl using an electric mixer or a hand whisk beat together the greek yogurt and shredded coconut until creamy.

Using a ribber spatula, fold melted chocolate into the coconut mixture. Divide the Coconut Yogurt into four ramequins or cups.
Glaze:
In a bowl whisk together grapefruit juice and condensed milk until smooth. Spoon the glaze on top of the Coconut Yogurt in the cups.

Refrigerate 4-6 hours. Before serving decorate with fresh grapefruit.
Notes
Store this dessert 2-3 days in the fridge, covered.