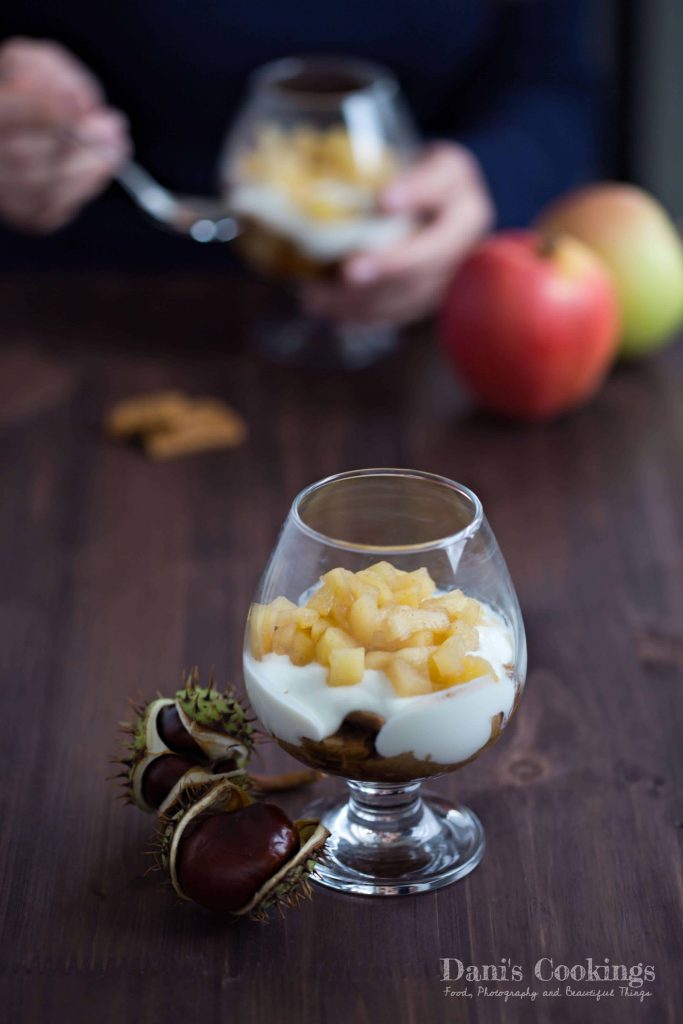 I always loved apples! They might not be the most interesting and exciting fruit but they are healthy, fresh and reliable. That's the fruit you will always find on the markets, in all seasons and almost everywhere in the world. And if you buy too many apples you don't need to worry much about them as they are the most long lasting fruit I know. Apples are great to eat on their own and they are great in desserts as well! And as it is autumn and apples are everywhere around us, I couldn't help but prepare a tasty apple dessert.

In fact apple probably is the fruit I used in my desserts most than any other. During the years I have made so many kinds of cakes with apples that I don't even remember them all. Among the best ones are this wonderful Apple Biscuit Cake and the healthy Apple Date Layer Cake. But there are also many others which I am still planning to prepare so you can surely expect more apple cakes from me this autumn and winter 😉

In the last several days I was craving a fresh and creamy dessert in a glass… like something with apples and yogurt. The combination is great indeed and in order to reach a creamy texture I thought about using greek yogurt. In addition I had a box of cream cheese in the fridge which I also decided to add in this dessert. And because I love peanut butter (well, who doesn't love it?), I mixed some with the cream cheese. In fact the peanut butter is not mandatory here so in case you have an allergy or you are one of the 0,0001% of the humanity who doesn't like it, you can happily skip it.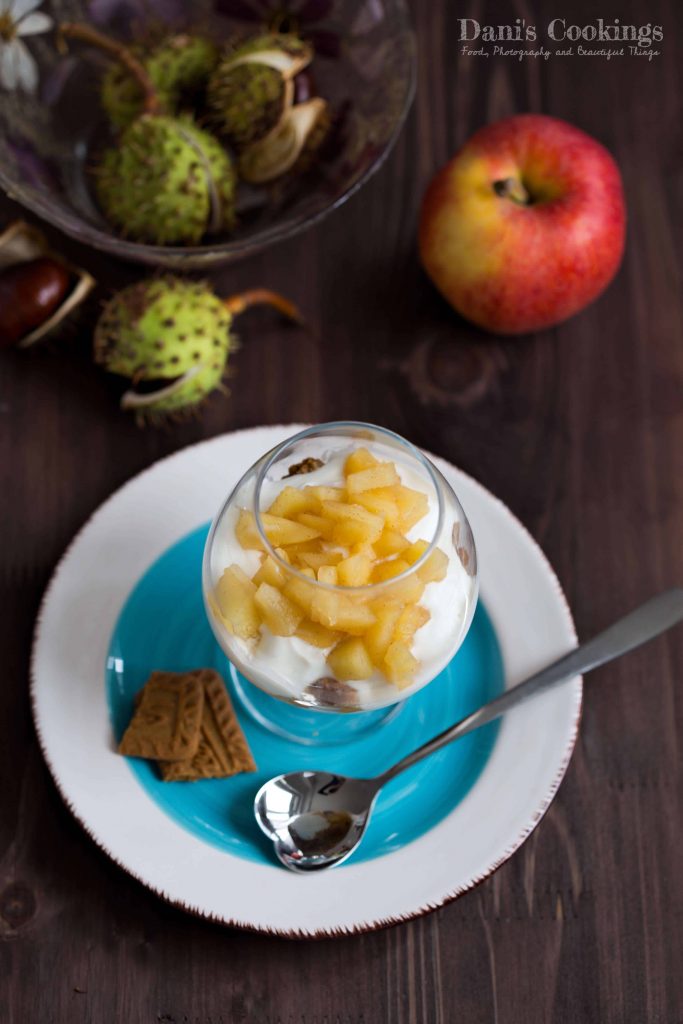 What is mandatory is that you use honey as a sweetener instead of sugar. The reason is that apart from being healthy honey adds a wonderful taste and flavour and goes so well with the apples and the yogurt.

This dessert is very easy to make: in 30 minutes or less you can fill up the glasses with deliciousness! I managed to prepare it while my son was throwing a huge tantrum in the kitchen because he wanted CAKE RIGHT NOW! I explained him that the cake was being prepared (he thought that this dessert was a cake), so he had to wait. That didn't satisfy him so he went completely crazy (it was one of those days). Eventually when I realised that things were not going well, I made him a quick "cake" by sandwiching two plain biscuits with kids yogurt and spreading the yogurt all around and on top of the biscuits: that was the less unhealthy thing I could come up with in this tense moment. After seeing his cake he immediately stopped crying, smiled happily and ate it joyfully like if it was the nicest and the most special cake in the world… and I finally finished preparing my Honey Apple Yogurt dessert in a glass.

If you don't have time to make complicated sweets but you are craving something fresh and delicious, that is the best dessert you can prepare in 30 minutes! And you might even have all the ingredients in the fridge right now!
Easy Honey Apple Yogurt Dessert in a Glass
Instructions
In a small saucepan over medium heat combine apples and cinnamon. Whisk from time to time until the mixture starts bubbling. Lower the heat and let simmer until the water evaporates (about 5 minutes). Remove from heat and add 25 g honey. Whisk until the honey dissolves in the mixture. Set aside to cool until room temperature.

In a bowl combine cream cheese, 50 g honey and peanut butter. Whisk until creamy.

In a separate bowl combine greek yogurt with 50 g honey and whisk until combined.

Place on the bottom of each glass two small biscuits broken into pieces. Spoon the cream cheese mixture on top, dividing it between the 4 glasses. Spread some of the apple mixture over the cream cheese - about a tablespoon per glass. Spread another layer of biscuit crumbs (2 biscuits in each glass). Cover with the yogurt mixture, distributing it equally between the glasses. Spoon on top the rest of the apples.

Cover the glasses with cling film and let sit in the fridge for 2 hours before serving.