This delicious and creamy Keto Chocolate Delight is the perfect treat for everyone who loves melt-in-your-mouth desserts! Originally made with instant pudding, cream cheese and cool whip, you can have it guilt-free with this healthy and low carb recipe. Equally tasty like the original, it is also very nutritious and easy to prepare from scratch.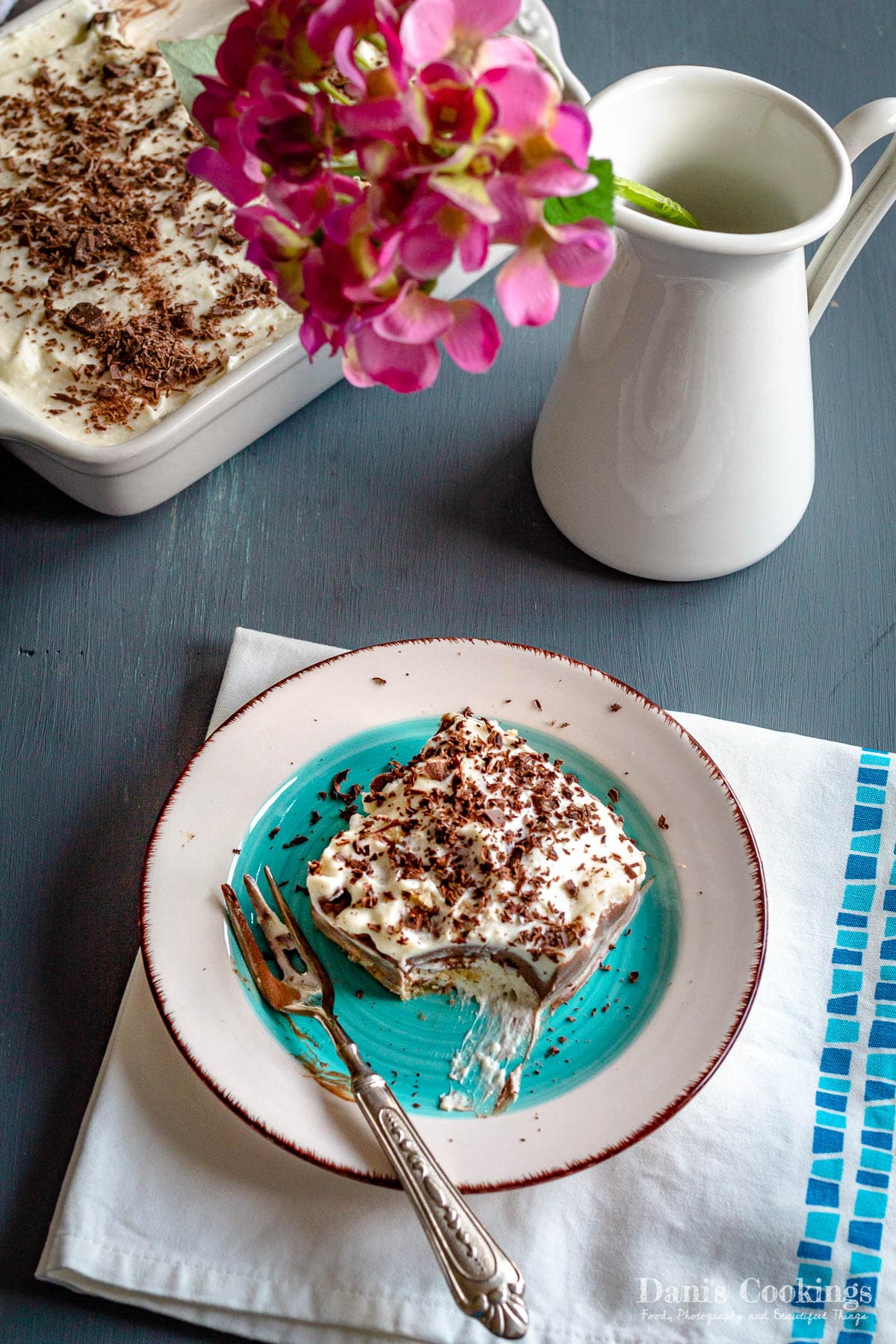 What kind of dessert is this
This cake is creamy, fluffy and literally every bite melts in your mouth! No wonder it is also known as "Sex in a pan dessert". Another popular name for it is "Chocolate Lasagna", even though it is not completely made of chocolate. It consists of 4 different layers: crust, chocolate pudding layer, cream cheese layer and cool whip layer. That's in fact the original version which is a bit different from the recipe below. The main difference is that our Keto Chocolate Delight is low in carbs, prepared completely from scratch with only good ingredients.
What ingredients you need
For the crust you would need walnuts, butter, coconut flour and xylitol. The last is my preferred low carb sweetener but you can also use others: stevia, erythritol or monk fruit sweetener.
The chocolate pudding is made with sour cream, dark chocolate and some xylitol. The result is a thick, pudding-like texture which is also creamy and tasty.
The cream cheese layer is obviously made of sweetened cream cheese. It also contains some whipped cream which makes the mixture very fluffy and light.
Lastly the top layer is made of whipped cream and xylitol.
Find the complete list of ingredients and their quantities below the post, in the printable recipe card!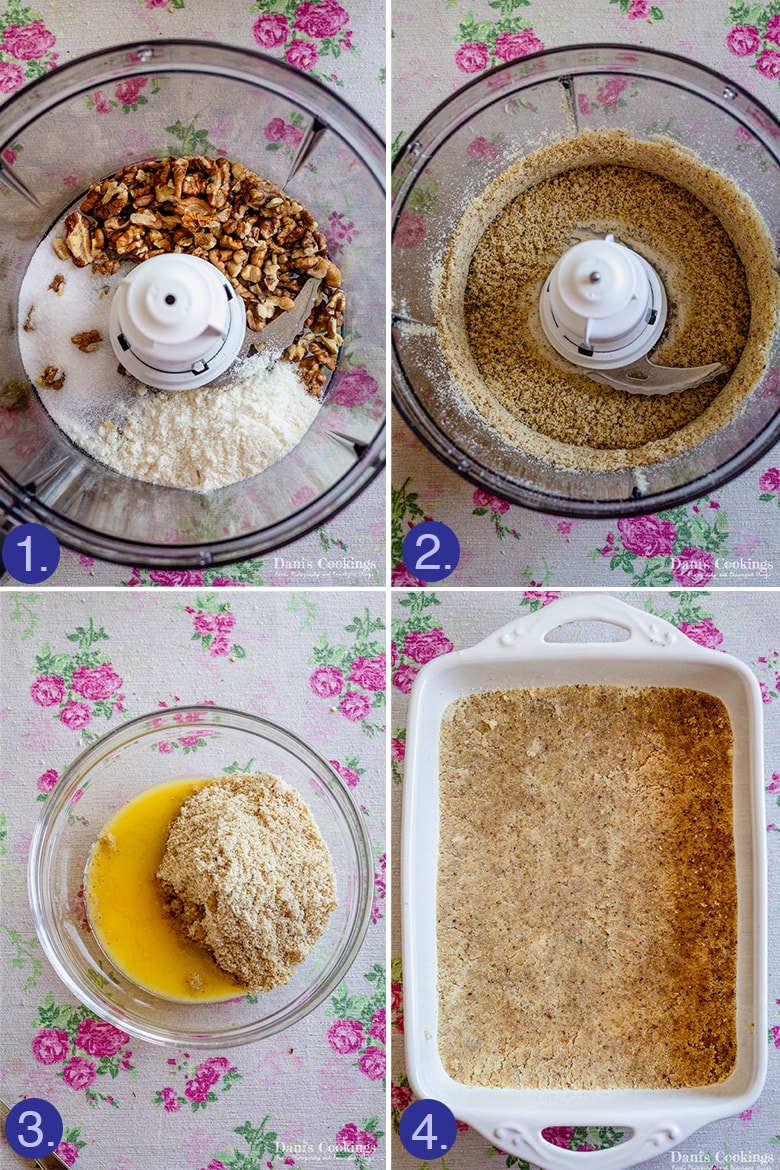 How to make this cake
Even though this dessert is made from scratch, it is quite easy. Preparing the crust is similar to any cheesecake crust: by mixing the ground dry ingredients with the melted butter and spreading the mixture on the bottom of a pan.
Then you just need to mix separately the ingredients for every layer and spread the mixtures one on top of another.
Is this cake healthy
This cake is made with only nutritious ingredients so it is healthy indeed. It does not contain sugar, neither gluten or wheat. Of course, you need to make sure you use a high quality cream cheese and whipping cream.
I am sure you will love this delicious Keto Chocolate Delight! Even if you are not following a low carb diet, you will still enjoy it so I encourage you to try it out!
Let me know in the comments what you think of this post. If you like it, please share the link in social media, so it can be useful for other people too!
If you love creamy desserts, you may also enjoy the recipes below:
Tiramisu without eggs and alcohol
Easy Strawberry Charlotte
Easy Tres Leches Cake
Keto Chocolate Delight
Ingredients
Instructions
Crust:
In a food processor combine walnuts, xylitol and coconut flour. Pulse for 2-3 minutes or until the mixture becomes like flour.

Transfer the mixture to a bowl and add the melted butter. Mix very well. Spread the crust on the bottom of a rectangular pan (about 9 x 7 inch/ 23 x 20 cm or similar).

Place the pan in the fridge while preparing the other layers.
Pudding:
Melt the chocolate on a double boiler together with the xylitol. Little by little add the sour cream to the chocolate, mixing with a rubber spatula until smooth.

Spread the resulted pudding on top of the crust. Place in the fridge again.
Cream Cheese Layer:
Combine all ingredients in a large bowl. Beat with an electric mixer until creamy and fluffy (about 2-3 minutes).

Spread on top of the pudding. Place in the fridge.
Whipped cream:
Whip the cream in a large bowl together with the vanilla and the xylitol. Beat until thick and fluffy. Spread it on top of the cream cheese layer.

Cover the pan with cling film and let sit in the fridge for at least 4 hours before serving.

Sprinkle with chocolate shaves, chopped nuts or cocoa powder before serving.
Notes
Xylitol can be substituted by powdered erythritol. In this case you need to use 30% more. You can use also stevia or monk fruit sweetener - check the product packaging for the exact proportions in comparison to sugar. Keep in mind that in therms of sweetness xylitol is equal to sugar.
Store the Chocolate Delight for 3-4 days in the fridge.
Nutrition
Calories:
439
kcal
|
Carbohydrates:
26.8
g
|
Protein:
4.9
g
|
Fat:
40.9
g
|
Saturated Fat:
24.5
g
|
Fiber:
2.8
g
|
Sugar:
21.6
g