Not all incredibly delicious desserts have to be bad for your health! This perfectly decadent Keto Chocolate Walnut Cake is also healthy, gluten free and low carb! The recipe is inspired by the famous Bulgarian Garash cake which is a local favourite. In this post you will find out how to make a Garish-like chocolate walnut layer cake in a healthy, keto version.
What is a Garash cake
The original Garash cake is made with walnut layers and thick chocolate frosting. There are several recipe variations of Garash but I found that they can be separated in two main kinds:
1. The first kind does not call for chocolate as an ingredient. The layers are made most commonly with walnuts + egg whites + in some cases part of the egg yolks + sugar. The frosting is made of yolks, cocoa powder, butter and sugar. The downside of this method, in my view, is the presence of uncooked yolks in the frosting: something that I don't approve in my recipes.
2. The second kind of Garash recipes call for dark chocolate and only egg whites but not yolks. The layers are made of walnuts, sugar and egg whites and the frosting is made of chocolate and cream (heavy or sour). What I don't like here is that you are left with a big number of egg yolks which you might not know what to do with.
That's why I decided to create a new Garash cake recipe by eliminating the downsides of the existing ones. The current recipe is not only low carb, it is also very practical, safe for adults and kids (as long as not allergic or sensitive to cocoa or nuts) and easy to make. It is basically a chocolate walnut sponge cake frosted with chocolate ganache.
What ingredients do you need
Most of the ingredients for this recipe are easy to find: walnuts, cocoa powder, coconut flour, eggs, dark chocolate (over 80% cocoa), heavy cream. You also need a low carb sweetener: I normally use xylitol but you can substitute it with stevia or erythritol.
Preparation summary
To make the layers, first you need to grind the walnuts together with the xylitol in a food processor. Then beat the egg whites until thick and foamy. Beat the yolks separately and start adding from the walnut mixture, cocoa powder and coconut flour. When the yolk mixture becomes very thick, start adding also from the egg whites. Whisk gently all the ingredients in order to keep the air in the batter.
When all ingredients are absorbed and the batter becomes smooth, divide it in 3 or 4 parts and bake them separately in cake pans, covered with parchment paper.
To make the frosting you need to heat the cream until it starts simmering, but not boiling. Pour it over the chocolate and stir the mixture until smooth. Let it cool until room temperature and then refrigerate for 1-2 hours. Beat the cold ganache with a mixer until fluffy.
Assemble the cake after the layers are completely cold.
Decoration ideas
Traditionally the Garash cake is covered with a chocolate glaze and sprinkled with ground pistachio or shredded coconut. You can make a glaze, if you prefer, by melting some dark chocolate together with butter or olive oil and pouring it over the cake.
I left my cake without glaze but sprinkled it with thin chocolate pieces and placed some walnuts on top. Other decoration options would be to pipe some of the whipped chocolate ganache on top or to arrange dark chocolate pieces or shaves. Anything related to chocolate and nuts will go well on this cake!
Is this cake healthy
This recipe contains only ingredients that are known to be very nutritious. It is a cake predominantly made of walnuts, eggs and dark chocolate. In order to make it as healthy as possible, make sure you are using a high quality chocolate with the highest cocoa content you can find: usually over 80% – 90%. Make sure you check the carb content on the package: you want to use only chocolates containing up to 10-15% carbs. Alternatively you can use chocolate sweetened with stevia or erythritol, again with low carb content.
Can you make this cake in a high carb version
Absolutely! The cake will be perfectly good as a non keto dessert. In this case you can use sugar instead of xylitol or stevia. Also the carb content of the chocolate won't matter so you may use chocolate with 60% or 70% cocoa content. In this version the cake will be very tasty as well and still gluten free.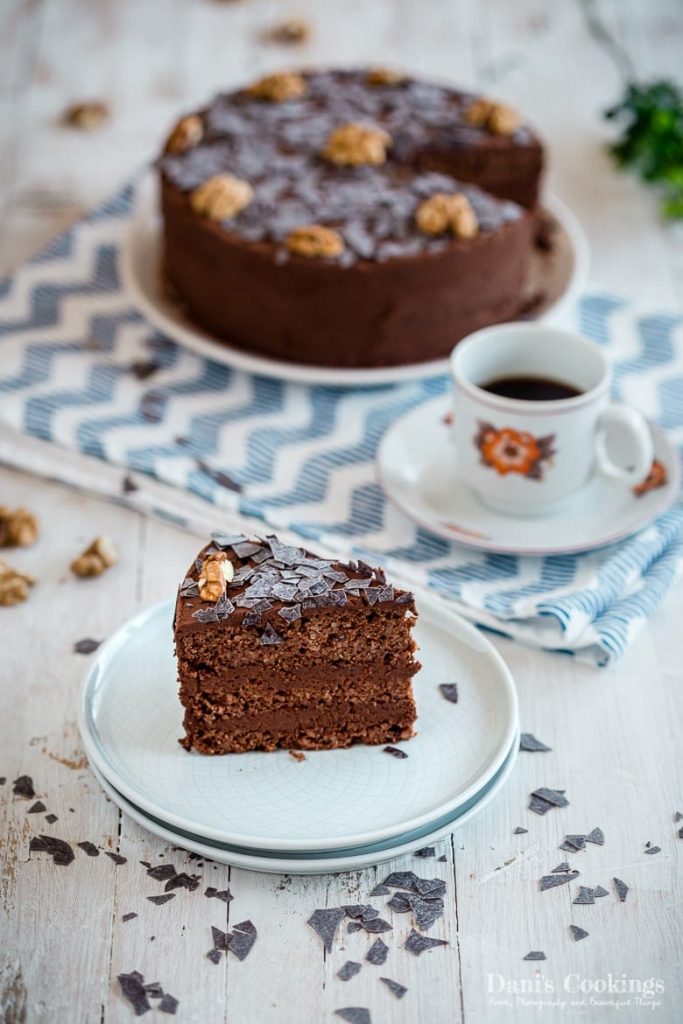 Did you like this recipe? Feel free to share the link so more people can benefit from it!
And if you want to see more keto birthday cake alternatives, check out the following selection:
Keto Birthday Cake Recipe
No Bake Keto Cheesecake
Keto Cheesecake Recipe
In case you are interested to see other Garash cake recipes, I have gathered some for you:
Garash Cake (Walnut Meringue + Dark Chocolate cream) – Viktoria's Table
Garash Cake – Cooking LSL
Garash Cake – Kiflichka Cuisine
Keto Chocolate Walnut Cake – Garash
This decadent Chocolate Walnut Cake is inspired by the traditional Bulgarian cake Garash. It is very delicious, low carb, gluten free and healthy.
Equipment
2 x 8 inch / 17 cm cake tins

Electric mixer

Food Processor
Ingredients
For the cake base:
1,5 tbs/ 10 g

coconut flour

1 ¾ cup/ 200 g

chopped walnuts

6

eggs

,

separated

½ cup / 100 g

xylitol

3 tbs / 20 g

cocoa powder
For decoration:
Chopped walnuts

Dark chocolate shaves/ pieces
Instructions
Cake Base:
Preheat oven to 360 degrees F/ 180 degrees C. Line two 7 inch/ 18 cm cake pans with circles of parchment paper. Grease well the pans inside.

In a food processor grind the walnuts finely together with the xylitol.

In a large bowl beat the egg whites with an electric mixer at a high speed until thick and foamy.

In another mixing bowl beat the egg yolks at high speed until pale. Start adding from the walnuts to the yolks, beating with the mixer at a lower speed. When the mixture becomes thick, switch off the mixer. Start adding also from the egg whites and mix gently with a rubber spatula. Alternate with the walnuts, cocoa powder and coconut flour, folding carefully to maintain as much air as possible inside the batter.

When all ingredients are absorbed and the batter is smooth, divide it in three or four equal parts. Bake two parts together in the prepared pans for about 20 minutes and keep the rest of the batter in the fridge. Test the layers with a toothpick: when it comes out clean, take the pans out of the oven. Let cool for 15 minutes and then remove the layers from the pans. Line the pans with new circles of parchment paper and bake the rest of the batter.

Let all the layers (3 or 4) cool until room temperature before assembling the cake.
Chocolate Ganache:
Break the chocolate into small pieces and place it in a heatproof bowl.

In a small saucepan heat the cream together with the xylitol until it starts simmering. Pour it on top of the chocolate. Let sit for 5 minutes and then start whisking, until the mixture becomes smooth.

Let the ganache cool until room temperature, whisking from time to time. Cover with cling film and refrigerate for 1-2 hours.

Beat the cold ganache with an electric mixer at a high speed until fluffy.
To assemble the cake:
Place one walnut layer on a serving plate and cover it generously with ganache. Place another layer on top. Continue the process until all layers are used. Leave about ⅓ of the ganache to frost the cake all around.

Decorate with chopped walnuts and chocolate. Alternatively leave aside some ganache to pipe on top.
Notes
Instead of xylitol you can use erythritol or stevia
When choosing chocolate for this recipe, check the carb content on the package. Use only chocolate with not more than 10-15% of carbohydrates as otherwise the dessert might not be keto friendly.
You can make a non keto version of the cake by using sugar instead of low carb sweetener. In this case the carb content of the chocolate is not important.
Nutrition
Calories:
299
kcal
|
Carbohydrates:
16.2
g
|
Protein:
8.8
g
|
Fat:
23.5
g
|
Saturated Fat:
8.8
g
|
Cholesterol:
109
mg
|
Fiber:
2.9
g
|
Sugar:
9
g