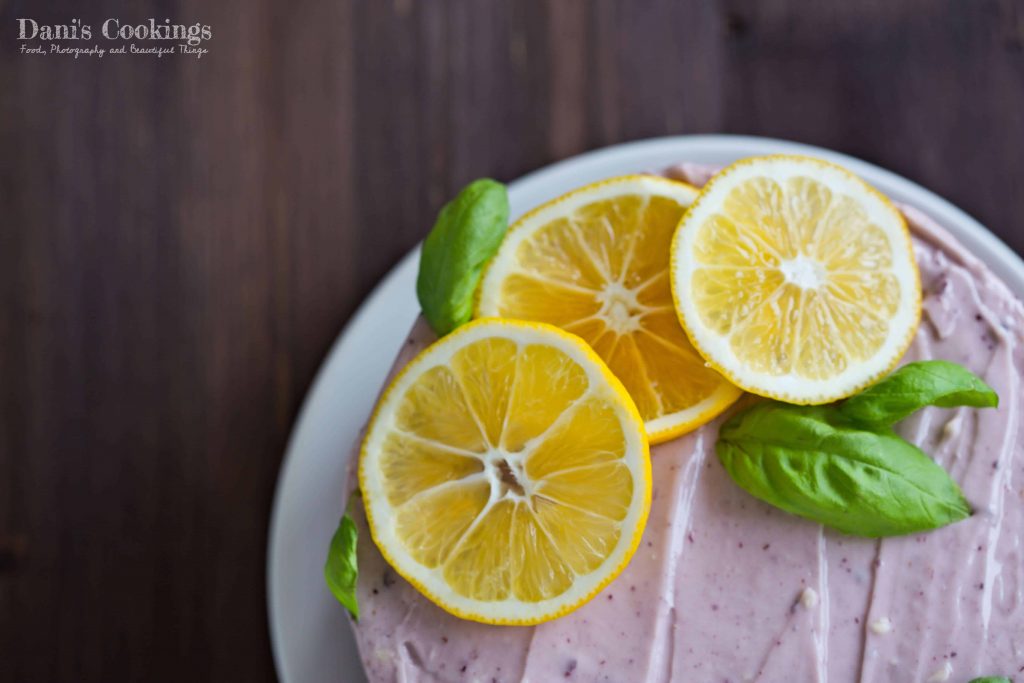 Cake is always, always good! A classic mood booster and my best friend forever. If I have cake in the fridge, the world becomes a better place and the everyday challenges seem easier to overcome. My philosophy in life is that cake does not make us fat, only our (extreme) gluttony makes us fat!

The inspiration for this Lemon Cake with Marmalade Cream Cheese Frosting came from the blog Searching for Spice. I fell in love with the recipe immediately after seeing it. It seemed to me somehow charmingly old-fashioned and full of flavours. I decided to make it with lemon instead of orange flavour as I had recently made another quite delicious Orange Cake…

After baking the cake I realised that the recipe was even better than I had expected. Indeed this cake is just amazing! It tastes and feels a bit like sponge cake even though it is not made with the same technique. And definitely the citrus taste makes it unforgettable! If you like lemons, you will surely fall in love with it.

As mentioned in the original recipe, that wonderfully tasty cake is great even without the frosting. But you know, frosting is always good so I couldn't resist to make it. I prepared it with blueberry jam as lemon and blueberry is one of my most favourite fruit combinations. In fact few years ago I baked a Lemon Blueberry Layer Cake and Lemon Blueberry Loaf Cake. More recently I also made Lemon Blueberry Panna Cotta. Well, the current cake is much more Lemon than Blueberry but still it is full of wonderful flavours!

Like many other desserts in my blog, this cake is also quite easy to make. It takes about 20 minutes to prepare the batter, another 45-55 minutes to bake it and then it's only a matter of waiting it to cool down. The frosting is made literally in 5 minutes. If you prefer a more simple cake, you can just spread the frosting on top without cutting the cake in layers. In this case just use a slightly bigger pan (23-24 cm or 9 inch) instead of 7-8 inch or 18-20 cm.

The best way to enjoy that cake? On a cozy Saturday afternoon with a nice cup of tea with many slices of lemon, reading a nice book or relaxing in your own way!
Lemon Cake with Marmalade Cream Cheese Frosting
Ingredients
For the cake:
230

g

yogurt

245

g

all purpose flour

2

eggs

1,5

teaspoons

baking powder

1

teaspoon

vanilla extract

200

g

sugar

2

teaspoons

lemon extract or zest of 1 large organic lemon

60

g

butter

,

melted

⅓

teaspoon

salt
For the frosting:
60

g

butter

,

soft

175

g

cream cheese

1

teaspoon

vanilla extract

2

teaspoons

lemon extract or zest of 1 large organic lemon

200

g

powdered sugar

50

g

jam or marmalade by choice
Instructions
Cake:
Preheat oven to 180 degrees C. Line a 18-20 cm (7-8 inch) cake pan with a circle of parchment paper. Grease well the pan.

Combine flour, salt and baking powder and set aside.

Beat sugar and eggs in a large bowl until the mixture thickens and becomes pale (5-6 minutes).

Add yogurt, vanilla and lemon extract and beat until smooth. Add butter and beat shortly, until combined.

Gradually add the flour and mix gently with a rubber spatula or a wooden spoon until just combined. Pour the batter into the prepared pan.

Bake for 45-55 minutes. Make sure that a wooden skewer inserted in the centre comes out clean or just with a few crumbs. Let the cake cool until room temperature before frosting it.
Frosting:
In a large bowl beat butter and powdered sugar for 2-3 minutes until fluffy. Add the rest of the ingredients and continue beating until smooth and creamy.
Assemble the cake:
With a serrated knife cut the cake horizontally into 2 or 3 layers. Place one layer on a cake stand and spread some frosting on top. Repeat with the remaining layers. Spread the rest of the frosting all around the cake. Decorate with lemon slices and basil leaves.