It is no secret that I just love filo pies. I certainly prefer filo pastry on a savoury dish rather than with sugar. My favourite combinations are with cheese, with vegetables or with meat. And in my view the best filo pie recipes have to be easy and not very time consuming. This Meat and Leek Filo Pie is exactly that kind of recipe!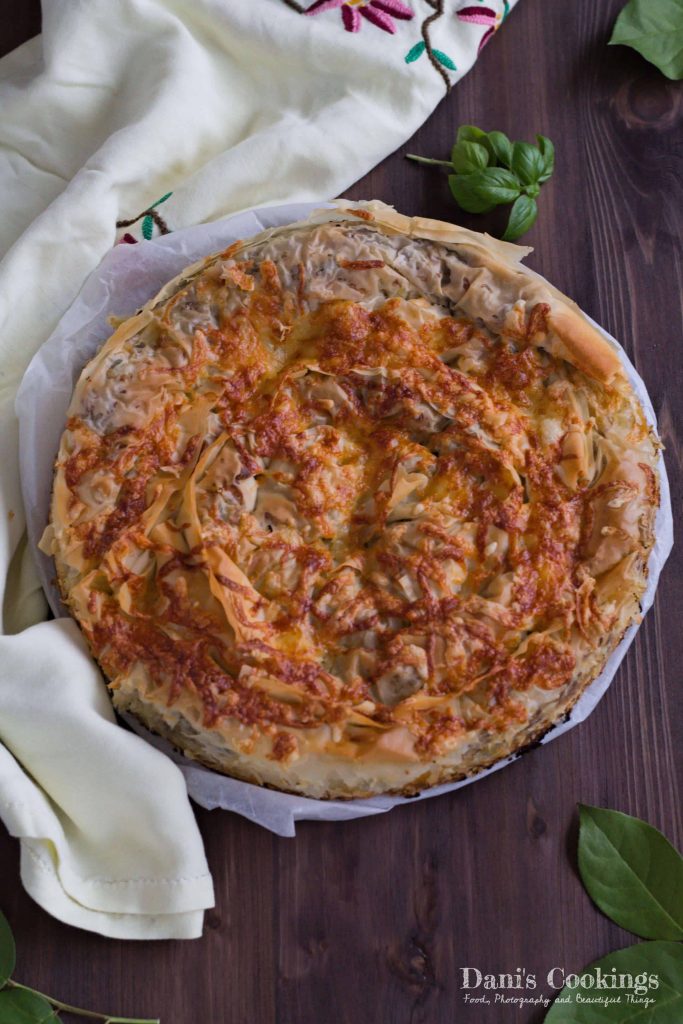 I am not a vegetarian but I can't eat too much meat. I feel overwhelmed after three-four bites, while at the same time I can eat 2 pieces of cake without any effort. Steaks, chops and ribs are not at all tempting for me. My better half, on the opposite, is a huge meat lover. He eats burgers and bloody steaks with the same pleasure that I eat cakes. You can imagine it is not easy in our family: he is not incredibly happy with the constant presence of cakes in the fridge as he always craves dishes containing meat which I almost never cook… Our son unbelievably seems to like equally sweets and meat but obviously we try to limit his sugar consumption.

One day, after feeling a burst of guilt, I decided to prepare a dish equally enjoyable for both of us. Something with meat, of course not sweet. Filo pie with minced meat and vegetables seemed the best option. However I wanted to make this pie somehow unusual: a pie that you can eat both for breakfast and for dinner; a pie that is delicious enough for adults but also suitable for kids. I decided that leak would be a great addition, same as carrots and parsley. I wanted to avoid excessive spices but parsley goes well on almost everything.

Certainly my idea was good: the Meat and Leek Filo Pie looked promising even before being baked. For a perfect finish I covered it with grated yellow cheese on top. This created a really great crust with yummy look and delicious taste.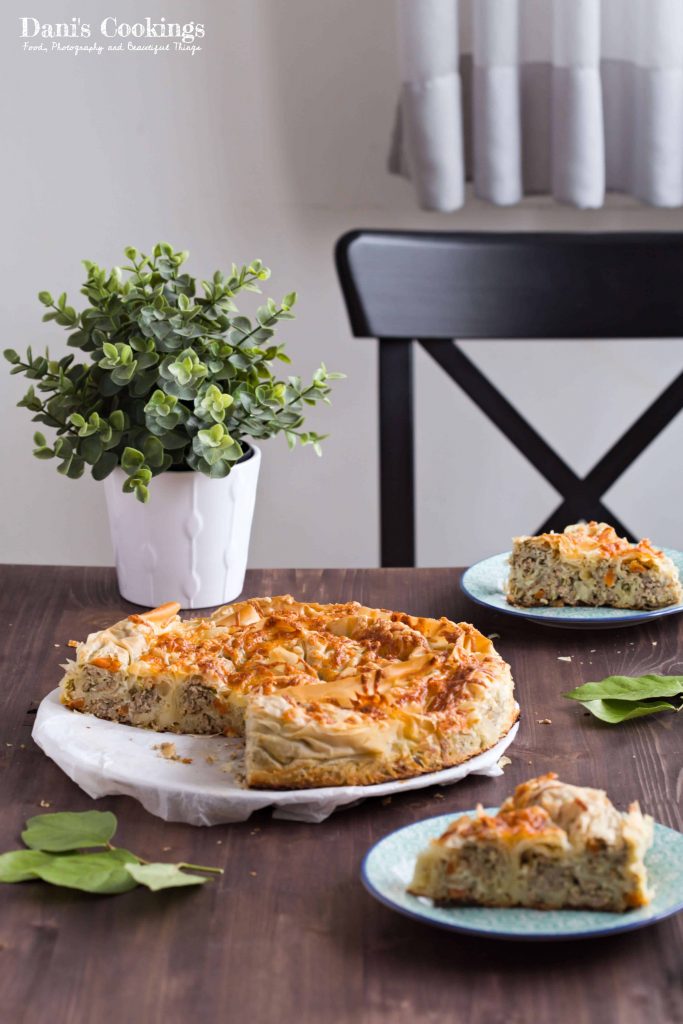 My better half was very happy and so was I. We finished the pie before realising it. Our son also had a good portion and enjoyed it quite a lot.
Meat and Leek Filo Pie
Ingredients
1-2

leeks

,

finely chopped

1

small onion

,

finely chopped

2

eggs

200

g

yellow cheese

,

grated

500

g

minced meat

400

g

filo pastry sheets

1-2

tbs

parsley

,

chopped

1

large carrot

,

or 2 small

1

teaspoon

salt

pepper to taste

3-4

tbs

olive oil
Instructions
In a large fry pan or skillet over medium heat cook the onions, the carrots and the leeks in the olive oil for 3-4 minutes. Stir from time to time. Add the minced meat and stir frequently, separating the meat with the wooden spoon. You could also add some water for easier separation of the meat. Cook until all the minced meat is browned and there are no raw pieces (about 10 minutes). Add salt, pepper and parsley and remove the pan from the heat. Mix well and set aside for 15 minutes to cool.

Add the eggs and about ¾ of the yellow cheese to the cooked meat and mix well.

Grease very well a 30 cm round baking pan. You can also use a rectangular one.

Preheat oven to 200 degrees C (400 degrees F).

Stack the filo sheets on the kitchen counter. Spread some filling evenly on top of the stack. Take two sheets at the same time and roll them together with the filling to form a log. Place the log around the edge of the prepared pan. Continue placing more filling on the filo sheets and rolling 2 together, until all the pan is filled with rolls and the filling is finished.

Bake for about 25-30 minutes covered with aluminium foil. Remove the foil and bake for another 10-15 minutes or until the top starts becoming golden brown. Spread evenly the rest of the grated cheese and bake for another 4-5 minutes to melt it.