I can't have enough fruits this summer! I can't wait for the weekends to arrive just to go hunt for fruits and make deserts out of them. I would use any fruit that I find on the market, even the ones not in season… like oranges.

On the day I made that wonderful Orange Cake with Peach Buttercream Frosting I was initially planning to bake a dessert focused on peaches. But you might have noticed that recently I rarely use only one fruit as a star in my desserts. Somehow the combinations of different fruits seem more interesting to me…

I decided to add some orange flavour because I got inspired by a wonderful recipe from the book The Cake Bible by Rose Levy Beranbaum. The recipe was calling for a very little quantity of orange juice. I thought that it would be fantastic to make a sponge cake with orange flavour and peach frosting. I got so excited by that inspiration that I immediately started putting my plan into action.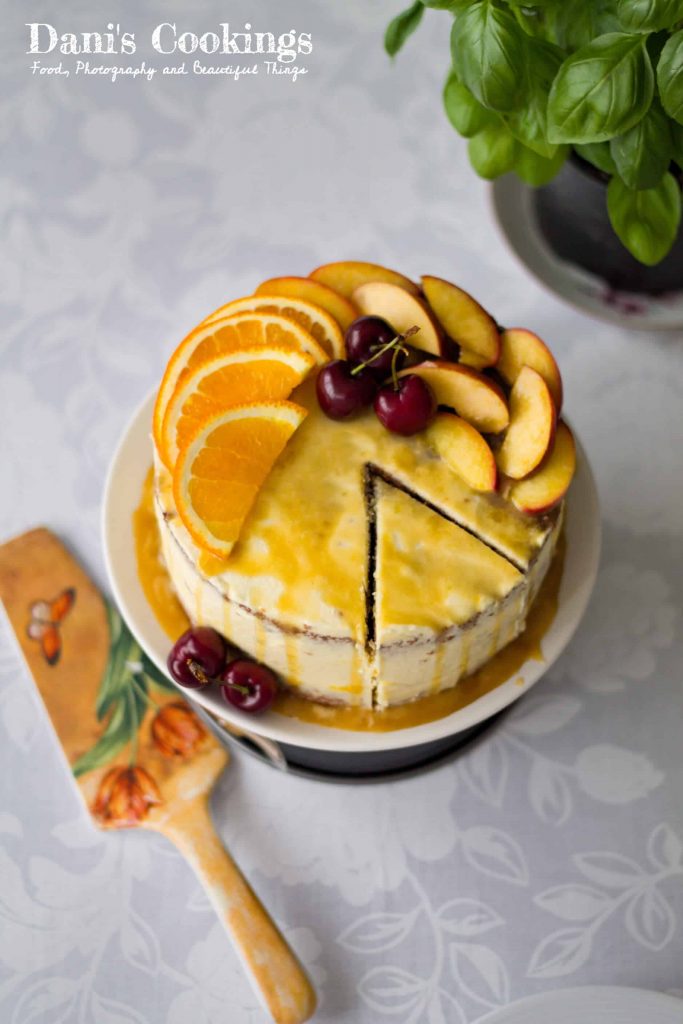 What is the most efficient way to make a cake with a smell and taste of orange? To use orange zest or orange extract. Eventually I did a mix of both: I had in my pantry two kinds of products based on orange zest (one organic and one not) so I used them both for different elements of the cake: one for the cake base and the other one for the orange mousse. I also decided to soak a bit the layers with orange juice… So it was orange all over the place!

When the cake was assembled and it was time for decoration, a was a bit reluctant. My initial idea was to use just peaches and oranges and to leave the cake semi-naked. Somehow at that point that didn't seem to me good enough any more. Then I accidentally found that fantastic cake of Linda Lomelino which was a great new inspiration for me. As I love dripping cakes, immediately it came to my mind that I could make a caramel topping and add one more kind of fruit for the decoration just to make a contrast. Which was a fantastic idea because it made the cake so wonderful 🙂

Needless to say that cake was so delicious! I would love to make another one soon, just before the cherries are completely gone for the season.
Orange Cake with Peach Buttercream Frosting
Ingredients
For the peach buttercream frosting:
3

peaches/ nectarines

,

finely chopped

2

tbs

sugar

80

g

powdered sugar

140

g

butter

,

soft

1

tbs

vanilla extract
To assemble and decorate:
3

+ 2 tbs orange juice

2

tbs

brown sugar

30

g

butter

Sliced peaches

,

nectarines and oranges

whole cherries or berries
Instructions
Cake base:
Preheat oven to 180 degrees C (350 degrees F). Line the bottom of a 18-20 cm baking pan with a circle of parchment paper and then grease well the pan.

In a large bowl beat egg yolks with sugar and vanilla extract on high speed of the mixer. When the mixture becomes thick and creamy, add orange juice and orange zest and stir. Gently fold in flour and salt just until combined.

In a separate bowl whip the egg whites until thick and fluffy. Carefully fold the egg whites into the yolk mixture.

Pour the batter into the greased pan. Bake for about 40-45 minutes or until a wooden skewer inserted in the centre is clean. Let the cake stay 10 minutes in the pan before removing it.

Allow the cake to cool until room temperature (preferably on a wire rack) before assembling it.
Orange Mousse:
In a mixing bowl whip 150 ml heavy cream (cooled in the fridge for at least 6-8 hours).

In a heatproof bowl combine white chocolate and the remaining 50 ml heavy cream. Place the bowl over a pan of simmering water. Stir until the chocolate is completely melted. Remove from heat and add the orange zest. Stir until absorbed in the chocolate.

Gradually fold the chocolate mixture into the whipped cream until both parts are well combined.

Leave the mousse in the fridge for an hour before assembling the cake.
Peach Buttercream Frosting:
Combine peaches and sugar in a small saucepan over medium heat and bring to boil. Let the mixture simmer for 10-15 minutes. When it starts thickening remove from heat and set aside to cool.

In a large mixing bowl combine butter, vanilla and powdered sugar and beat until soft and fluffy. Gradually add the peach mixture (cooled until room temperature) and continue beating until well combined.
Assemble the cake:
Cut the cake base horizontally in 3 equal layers.

Place one layer on a serving plate. Sprinkle it with 1 tbs orange juice. Evenly spread half of the orange mousse on top. Cover with a second layer, sprinkle orange juice and spread the remaining orange mousse on top. Place the third layer, again sprinkled with juice. Spread the Peach Buttercream Frosting all around the top and the sides of the cake. Transfer the cake to the fridge for few hours.

Before serving make a caramelised butter: in a small saucepan over medium heat combine brown sugar, butter and 2 tbs orange juice. Whisk until the butter and the sugar are completely melted.

Let the caramel cool for 2-3 minutes and spoon it on top of the cake, around the sides so that it starts dripping down. Decorate with fresh fruits on top.