It won't be exaggerated to say that these Ricotta Cupcakes are just amazing! They are fluffy and nicely sweet, covered by decadent tasty chocolate frosting. Learn how easy it is to prepare these heavenly little deserts!
How did I come up with this recipe
For a long time I was craving fluffy, moist cupcakes with delicious and satisfying frosting. And I got the perfect excuse to bake them: I had in the fridge a box of ricotta cheese approaching its expiration date. I love ricotta and I wouldn't allow it to go bad, so I had to use it in some recipe. In addition I really liked one Chocolate Frosting recipe that I found in the Hummingbird Bakery Cookbook and wanted to adapt it.

I must have mentioned already about my cookbook obsession. This particular book was gifted to me by my better half for Valentine's day, together with several others. It is really great: it contains really good recipes which everyone can make! So I adapted a Chocolate Frosting, changing a bit the original recipe for my needs.
What is special about the recipe
I need to say that these cupcakes are wonderful on their own. They are spongy and moist, nicely sweet, with a wonderful taste of vanilla. On the other hand the frosting gives them decadence and richness.
Is this recipe easy
Believe it or not, the cupcakes are among the easiest desserts you can bake! The batter is prepared in one bowl only, without too much elaboration or extensive mixing. The cupcakes are much faster to bake than the regular cake because they are small. They normally bake in a maximum of 20 minutes. And they are quite quick to cool down too.
The frosting is easy as well. You can prepare it while the cupcakes are cooling. Just make sure they are at room temperature when starting to frost them.

Decoration ideas
The thing I mostly love about cupcakes is that you can make them all different, even when they are all made by the same recipe. Below are few examples for easy cupcake decoration:
Use paper cups in different colours
Decorate the cupcakes with different sprinkles, ground nuts or dried fruits
Pipe the frosting in various shapes
Frost the cupcakes with a butter knife or a small spatula
Isn't it such a fun to make cupcakes!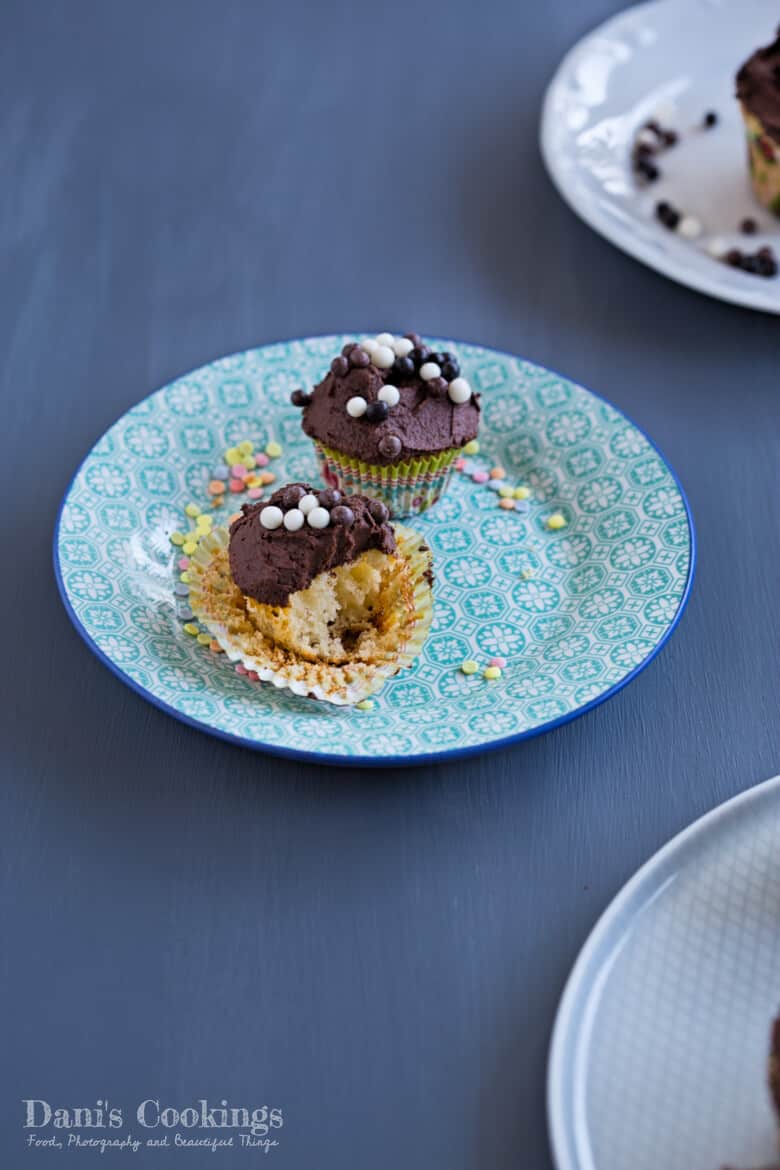 I would be very happy to see your cupcake creations, following my recipe below! Post a photo in Facebook or Instagram and tag #daniscookings!
Ricotta Cupcakes with Chocolate Frosting
Ingredients
For the cupcakes:
3 tablespoon/ 40 g

butter

,

soft

2 tablespoon/ 30 ml

olive oil

1 ⅞ cups/ 230 g

all-purpose flour

1 ¼ cups/ 240 g

cups

caster sugar

3

teaspoon

baking powder

⅓

teaspoon

salt

1 cup/ 250 g

ricotta cheese

⅞ cup/ 200 ml

milk

2

eggs
For the frosting:
⅞ cup/ 130 g

butter

,

soft

1 cup/ 100 g

cocoa powder

3 ⅓ cups/ 410 g

powdered sugar

⅓ cup/ 90 ml

milk

2

teaspoon

vanilla extract

,

optional
Instructions
Cupcakes:
Preheat oven to 180 degrees C (350 degrees F). Line a muffin tin with paper cases.

In a large mixing bowl combine butter, oil, sugar, flour, baking powder and salt. Beat with an electric mixer at a lower speed until combined. Gradually add milk and beat slowly, until combined. Add eggs, one at a time, ricotta and vanilla, beating at low speed until smooth.

Using an ice cream scoop fill the paper cases ½ full. Bake for about 20 minutes or until the cupcakes are light golden and a toothpick inserted in the centre comes out clean.

Let the cupcakes cool until room temperature before frosting them.
Frosting:
In a large bowl combine butter, cocoa powder and powdered sugar and beat with the mixer at a low speed until combined. The consistency will be sand - like and the butter might not be completely spread: this is ok. Gradually add milk, increasing the speed of the mixer. When the whole milk is absorbed add vanilla extract and beat few minutes at a high speed until light and fluffy.

Use a kitchen knife or a pipe to frost the cupcakes.

Keep them in airtight containers for up to 5 days.