These spelt cookies are incredibly tasty! They are a healthier and version of the ordinary cinnamon or ginger cookies, being refined sugar-free. This recipe is great not only for Christmas but also for any other time of the year.
What ingredients you need
If you need a cookie recipe without refined ingredients, you are in the right place! To make this cookies you need maple syrup and honey as sweeteners. They are somehow healthier than the regular sugar (even the brown one) as they contain more nutrients.
In addition you would need whole grain spelt flour. This wonderful grain is famous for being not only highly nutritious but the kind of gluten that it contains might be tolerated by some people who are normally gluten intolerant.
Other than that you would need butter, one egg, baking powder and spices: all simple ingredients, easy to find.
Preparation summary
Preparing the dough for these cookies is incredibly easy. You need to mix first the dry ingredients and add all the rest afterwards. After making the dough you need to refrigerate it so that the butter thickens.
Then you need to roll out the cookie dough and bake the cookies at a preheated oven until the edges start getting golden-brown.
Recipe Tips
These cookies are easy to make but there are few important rules you need to follow for the best result.
When you start rolling the dough, it would be rather soft: that is normal. You may find it challenging to roll it out and then transfer the cookies to the baking sheet. To make it easier, roll the dough between two sheets of baking paper.
Avoid adding more flour, unless the dough is really impossible to roll up. Also keep the rest of the dough refrigerated, while you are rolling one part.
It is important also to watch the cookies during baking: remove them from the oven when just the edges start getting golden-brown. Don't overbake as they would be too crispy and potentially dry (unless that's the texture you like).
If you follow the above tips, you will make wonderful soft and chewy rolled our cookies, perfect for a Christmas gift or just for you to enjoy at any time of the year!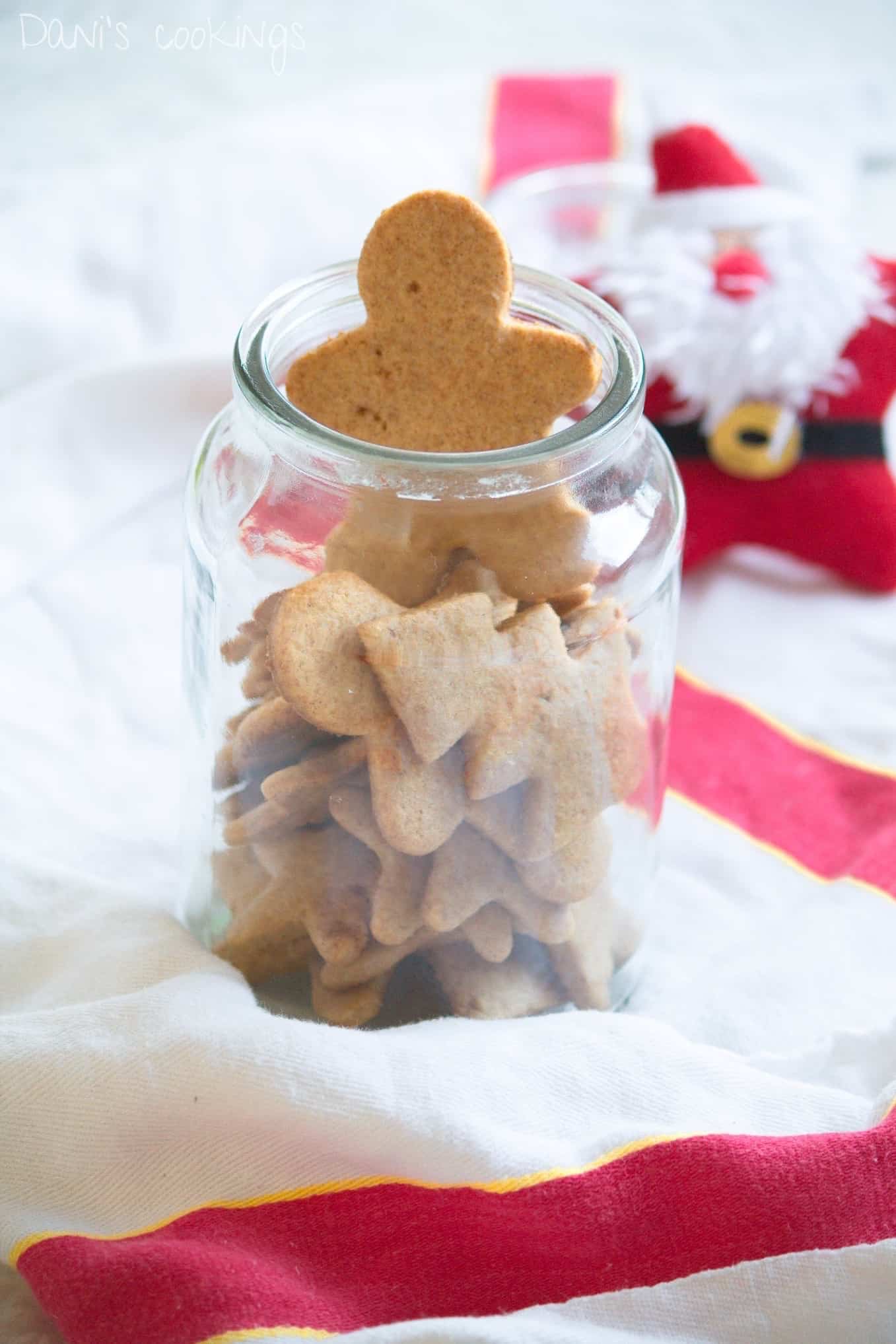 I recommend you trying these refined sugar-free spelt cookies: they are much healthier than any regular cookies and as delicious as the best honey cookies could be!
If you liked this recipe, you may also like the following cookie recipes:
Honey maple cookies with spelt flour
Ingredients
⅓ cup / 100

g

maple syrup

⅓ cup / 100

g

honey

2 ½ cups /300

g

whole grain spelt flour

½ cup / 100

g

butter

,

melted

1

large egg

½

teaspoon

ground cinnamon

¼

teaspoon

ground nutmeg

1

teaspoon

baking powder
Instructions
In a large bowl combine spelt flour, baking powder, nutmeg and cinnamon. Add all the remaining ingredients and stir until a soft dough forms. Wrap the dough in a plastic wrap and let stay in the fridge for 2 hours or overnight.

Preheat oven to 350º F/ 180º C. Line two large baking pans with parchment paper. Roll out the dough between two sheets of baking paper and cut cookies with cutters (alternatively you can also make small balls with your hands, without using the cutters).

Place the cookies on the prepared baking pans and bake for 10-12 minutes or until the edges start getting brown.

Let the cookies cool for 2-3 minutes and then transfer them to a wire rack.
Notes
You can store these cookies in airtight containers for 2-3 weeks.
The quantity of flour is approximate: you may need a bit more to make a soft dough that can be rolled up.
However in order to keep the cookies consistency soft and chewy, avoid using more flour when rolling up the dough. Using two sheets of baking paper for the rolling helps remove easily the cookies and transfer them to the baking sheet without ruining their shape.